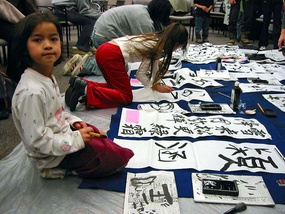 As I walk with my four kids into the U-M Center for Japanese Studies, we are heartened by the thump thump thump of the kine hitting the rice in the usu. It reminds us of the burly farmhands with whom we used to celebrate Mochitsuki many years ago.
[inline:mochitsuki 2006 pounding_sm.jpg]
The girls start giggling, though, when they see who's grasping the wooden mallets: skinny little professors who seem unable to capture the rhythm of pounding in a large wooden mortar.
Mochi is a pounded rice cake, and Mochitsuki is the traditional rice cake making that happens at the …