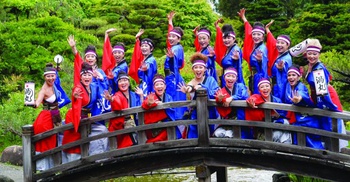 SAN JOSE — It's a brand new form of Japanese dance in the U.S. that its members describe as like a whirlpool, although it could also be likened to a colorful undulating cloud, accompanied by the sounds of flutes and drums.
It's gaining in popularity in San Jose.
"We're not very well known here in the states but we're catching on," said Uzumaru dance member Sarah Chan.
"There are five (Yosakoi) teams in the U.S., in San Jose, San Francisco, Kansas, New York and Colorado."
A one-year-old dance ensemble, the "San Jose Uzumaru" performs dancing in the "Yosakoi" style, uniquely …