Imagine Little Tokyo Short Story Contest III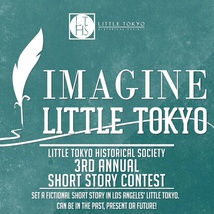 He strolled leisurely through the Japanese Village Plaza, squinting slightly in the light of a five-till-noon sun. Gone were the hustle and bustle of the weekend, replaced by the tranquil aura known only by a Tuesday morning in Little Tokyo. At the smell of fresh imagawayaki, his fingers danced around his wallet with indecisiveness.
No, I came here for one reason.
Reassured, he confidently strode through the doors of the market, making a beeline to a familiar shelf with the efficiency of a shopping pro. His eyes searched the area to no avail. It had to be here; it always …