Nikkei View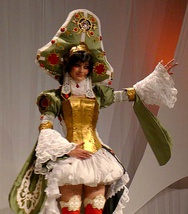 As an outsider to the anime and manga community Erin and I are drawn to Nan Desu Kan, Denver's anime convention that celebrates its 16th year this weekend at the Marriott in the Tech Center, in large part for its attendees' passion for cosplay. We're not that familiar with the plethora of contemporary anime titles (though I did grow up as a kid in Japan watching the likes of Astro Boy).
[inline:joieha-amyng-ndk2012.jpg]
But you don't need to be an anime expert to appreciate the crazy freakshow (in the good way) of cosplay.
Cosplay is a word coined …