Happy New 2023, everyone! What better way to begin than with the beauty of poetry and prose from Amy Uyematsu and her most recent collection, That Blue Trickster Time (What Books Press). Here, we have three selections from a wise and fiery collection with a life force she breathes through her words of the inanimate, the historical, the body, the memory that sings, dances, and cries throughout—enjoy!
—traci kato-kiriyama
* * * * * *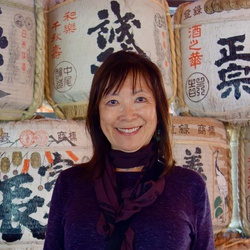 Amy Uyematsu is a Sansei poet and teacher from Los Angeles. She has six published collections, including her most recent, That Blue Trickster Time. Her first poetry collection, 30 Miles from J-Town, won the 1992 Nicholas Roerich Poetry Prize. Active in Asian American Studies when it first emerged in the late 60s, she was co-editor of the widely-used UCLA anthology, Roots: An Asian American Reader. Her essay, "The Emergence of Yellow Power in America" (1969), has appeared in numerous publications.
Amy was a poetry editor of Greenmakers: Japanese American Gardeners in Southern California (2000). In 2012 Amy was recognized by the Friends of the Little Tokyo Branch Library for her writing contributions to the Japanese American community. Amy taught high school math for LA Unified Schools for 32 years. She has also taught creative writing classes for the Little Tokyo Service Center.
Sister Stone
i
These are the stones that sing to me
not the granite boulders
transported from canyons
or rocks the size for hurling
like those thrown at Grandpa
when he came to America
The stones I choose are washed in by the tides
their ocean sleek skins
polished by current and time
the sheen of wet black
on these pebbles I save
like treasure

ii
A wise man says, "The stones cry out,"
and even the most ordinary rock
carries a history
rapturous as the stars
bursting sky and mountain
with longing

iii
My ancestors built gardens of gravel
the dry landscape a place
for meditation
our monks tending to
seas of white stones
with rakes
I have long called myself
a stone lover
somehow knowing
my unfinished story is carried
in the wordless stones
that fill my path
*This poem was first published in the Bamboo Ridge Journal in 2021.
The Suitcase
- a Manzanar tale
In 1945 Dad and Grandpa
get a travel permit from Manzanar
officials to visit Star Nurseries,
the business Grandpa starts
back in the 30s and flourishes
even in the Depression years.
They take a bus bound for L.A.
Stopping in the small town
of Mojave, Dad tells
Grandpa to stay on the bus -
knowing the war is still
being fought and how
dangerous it is for them -
but Grandpa gets off anyway.
Like many issei, Grandpa
is short – 5'2" at the most -
not exactly threatening,
but as he walks downtown
the cops arrest him, put
Grandpa and Dad in jail
to spend the night.
Around 2 AM FBI agents
pick them up and drive
them to Fresno, never
suspecting the hatchet
Grandpa packs in his suitcase,
the hatchet not so unusual for
this gifted plant grower.
Dad recalls how dark it is
on the winding mountain roads.
Already nervous, he starts to panic
when one of the agents turns on
the light inside the car, looks
hard at both of them
sitting in the back seat.
Dad warns Grandpa, speaking
in Japanese, "Don't do anything
to make them suspicious."
The FBI never inspects the suitcase.
Once in Fresno, they are questioned
then put back on a bus to L.A. -
Grandpa's hatchet in tow.


*This poem was first published in the Cultural Daily in 2020.
Zumba Gold at 9 AM
We are a throng of older women – yes, we are silver- and white-
haired, or in my case, color-enhanced reddish brown, some with
new knees and hips, others sporting flashy neon wristbands
to tally how many steps, all of us ready to rumble in our rubber-
soled shoes. Our teacher Yvonne used to weigh 300 pounds.
Now she zumbas and runs, sports a modified mohawk, sparkly
bracelets stacked from wrist to forearm, and pink, lime, or
lavender tank tops and sweats. Her constant command: "Smile!
This is spoze to be fun!" And it is, though a few in the crowd
just don't get the steps, their faces so labored and lost. Most
of us, though, are having the best time we've had in decades,
feel like we did in our teens, maybe better since we no longer
care if we look uncool - heck, no pressure anymore from ogling
adolescents or lascivious men. Now nothing matters more than
the way this Latin music pulls us in - our bodies set loose to
congas and timbales. We learn salsa, very New York City
smooth, while Dominican merengue is frenzied and almost too
fast to keep on beat. We all like the song where we gyrate our
hips, follow Yvonne in an unhurried blend of hula and belly
dance, then raise arms and hands to shoo away something toward
the sky, all of us joining the chorus, "amor – amor, amor, amor" –
not sure if we're sending love out to the universe or saying
goodbye to a lover, our voices rising as one. But my favorite,
as always, is cha cha, which we got from Cuba. I didn't know
this in the sixties, when I cha cha cha'ed to Chicano and Motown
discs, doing it Eastside style with a swivel and dip. Cha cha
feels like I'm coming home, so easy and free, just a zumba-crazed
grandma with bad knees - that's me.


*This poem was first published in the Rattle (Spring 2016).

*All poems are copyrighted by Amy Uyematsu and included in her latest book, That Blue Trickster Time (What book Press, 2022).