Before World War II, there were sixteen Japanese families (including children, about 100 individuals) living in the resort town of Coronado on a peninsula in San Diego Bay, California. These were Issei who were mostly from Kagoshima, Japan and their Nisei children. Many of the Issei worked at the luxurious Hotel Del Coronado as gardeners, maids, or cooks, or at the nearby North Island naval base as cleaners or doing laundry.
Shizue Koba was the only Coronado Issei woman who knew how to drive and was able to pick up and deliver laundry. Najiro Nakamura worked as a chef for the "sugar king" John D. Spreckels, the San Francisco businessman who owned most of Coronado and much of San Diego. Nakamura later opened his own restaurant, the Brown Bear, in La Jolla. Ikuyo Takeshita's family credits his experience as a cook's helper at Hotel Del Coronado for the Thanksgiving dishes he later prepared for his family.
The recent exhibit Uprooted, The Story of Japanese Americans in Coronado was presented by the Coronado Historical Association at their museum. It was also sponsored by the Japanese American Historical Society of San Diego (JAHSSD) and the Japanese Friendship Garden at Balboa Park.
One of the programs presented in conjunction with the exhibit, was a zoom interview with Setsuo Iwashita and historian Linda Canada (former JAHSSD archivist and president). The Iwashitas were residents of Coronado before World War II and one of only two families that returned to live in Coronado after the war.
Setsuo's—also known as Sets'—father, Zembei, immigrated in 1919 when he was 16 years old. Sets' mother, Tamiko, was born in the US while her father was attending Stanford University, but the family returned to Japan when she was only 5. Both Zembei and Tamiko were from the same village in Kagoshima. They had an arranged marriage in 1933. Tamiko was able to immigrate to the US despite anti-Asian laws, since she was an American citizen.
Setsuo was born in the old Coronado Hospital. He had two older siblings, Florence (5 years older) and Bobby (3 years older). In April 1942, when Sets was only 14 months old, his family was sent to Santa Anita Racetrack. In addition to having three small children, his mother was pregnant with Sets' little brother, who was born at Santa Anita. The Iwashitas were later sent to Poston in August 1942. Though he was very young at the time, Sets can still remember the "heat and cold" of Poston.
When the Iwashitas returned after the war, the family of six lived in a small utility room with outdoor toilets. Zembei became a gardener for the young stockbroker, E.F. Hutton. Hutton lived in opera singer Enrico Caruso's former estate in Coronado. His estate was next door to silent screen star, Mary Pickford, and down the street from L. Frank Baum (Wizard of Oz author). The Iwashitas moved out of the utility room and lived on Hutton's property in a one bedroom apartment above a three car garage.
When Sets started first grade, he only knew how to speak Japanese. Later a "nice Jewish lady" helped the family find another place to live and they moved out of the one bedroom apartment.
He graduated from Coronado High School where he was active in sports. His father was very involved with the San Diego Buddhist Temple and was one of its founding members.
Coronado Japanese Tea Garden
America's fascination with Japan began in 1853 with Commodore Perry's visit and the "opening of Japan." Americans were introduced to "exotic" Japan at fairs and exhibitions. San Francisco businessman John D. Spreckels wanted to attract tourists to Coronado by adding a Japanese-style garden. Spreckels commissioned George Turner Marsh to build a Japanese tea garden near the Hotel Del Coronado.
Marsh's family had immigrated from Australia to San Francisco in the mid-nineteeth century. They had stopped enroute in Yokohama, Japan, where a teenaged Marsh was so captivated by the culture that he asked to stay. His father helped him to get a job with a tea exporter. During his stay in Japan, he became knowledgeable about Japanese and East Asian textiles, pottery, jewelry, and the artisans who produced them. At age 21, he had enough contacts to be able to sell these goods.
In 1876, he returned to his family in San Francisco and opened G.T. Marsh & Co.: Japanese Art Repository inside the Palace Hotel. By the end of the century, he had opened stores at the Pasadena Potter Hotel and the Los Angeles Ambassador Hotel.
In 1900, Marsh came to Coronado to oversee production of the garden. He used Japanese gardeners and artisans to produce his vision. His gardens were "replicas of gardens in Tokyo and Yokohama." Materials were prepared in Japan and San Francisco and set up on-site by Japanese laborers. While the garden was being constructed, visitors could pay 15 cents to view it. A "bazaar room" served as a gift shop of Japanese goods.
In 1901 a cherry tree was brought over from Japan, as well as other plants such as chrysanthemums. Even Japanese mandarin ducks were imported for the garden. Tea and refreshments were served by Japanese workers in kimono. Guests could arrive by automobile or jinrikishas (rickshaws) from the Hotel Del Coronado or the nearby Tent City. On September 15, 1902, the opening of the garden was celebrated with a party. Admission was raised to 25 cents.
The Japanese gardens were heavily damaged by a series of storms in 1905. Areas near the Hotel Del Coronado were damaged and parts of Ocean Boulevard were washed away. Rocks were installed along Ocean Boulevard to protect Coronado from future storms. The gardens and its buildings were relocated to a different location.
Original 1906 prices are reflected in a 1936 inventory of the garden (the year it closed) by the Wilshire Rockcrafts and Cactus Gardens of Santa Monica, CA (no longer in business). The appraiser was R.F. Kado, assisted by C. Nishimura. Every plant or tree is noted in Latin or English. The total appraisal of the garden was $12,095.60 with trees and plants making up $1,713.60 of that amount. The remaining value consisted of the structures including House ($3500), Keeper's House ($875), Tea House ($850), Silk Worm House ($450), Half Circle Moon Bridge ($150), and wooden bridges ($40). Lanterns and towers ranged from $20 to $275.
Marsh died in an automobile accident in 1932. The Coronado garden closed in 1936.


The Dragon Painter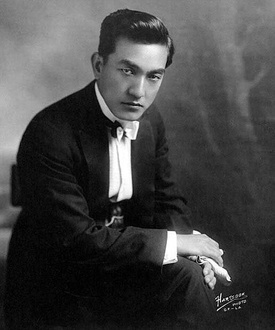 The 1919 silent movie, The Dragon Painter, was filmed at locations in the Coronado Japanese Tea Garden and Yosemite. The star was the "broodingly handsome" Japanese actor, Sessue Hayakawa, one of the first silent film sex symbols. In the 1910's and 1920's, he was as popular as Charlie Chaplin and one of the most highly paid actors of the time. In 1915, he earned $5,000 per week. Unfortunately because of racism, he was forced to play the villain or "forbidden lover" in American movies.
He described the roles he had been playing as "not true to our Japanese nature . . . . They are false and give people a wrong idea of us." In 1918, dissatisfied with being stereotyped, he formed his own production company Haworth Pictures. From 1918 to 1921, Hayakawa's company produced 23 films in all, making $2 million per year.
The Dragon Painter was produced by Haworth Pictures. Hayakawa plays a wild artist who believes his beloved princess has been captured and turned into a dragon. While he searches for her, he paints brilliant pictures of dragons. However, he loses his inspiration to paint once he finds her. His "princess" was played by Hayakawa's wife, actress Tsuru Aoki.
Hayakawa's movie career faltered once "talkies" were introduced. He left Hollywood for awhile in 1922 and performed on Broadway or in Europe and Japan. In 1930 he performed for King George V and Queen Mary. He starred in a Hollywood "talkie" with Anna May Wong in 1931. He was "enthusiastically embraced" by the French, who loved him. German audiences thought he was "sensational." He was trapped in Paris during World War II, after the Nazis invaded. Hayakawa survived by selling watercolors. He was rumored to have helped the French Resistance.
Hayakawa's international stardom has been largely forgotten by American film history. He is mainly remembered for his 1957 role as Colonel Saito in The Bridge on the River Kwai. He was nominated for an Academy Award for Best Supporting Actor for the role. A lifelong practitioner of Zen Buddhism, he returned to Japan after his 1966 retirement to practice zen full time. Hayakawa passed away in Tokyo in 1973.
The Dragon Painter was rediscovered and restored in 1988. Mark Izu composed the musical score for the restored silent film. Though the Coronado Tea Garden is long gone, one can glimpse its lush grounds and graceful buildings in the film. Both Dragon Painter and Bridge on the River Kwai have been added to the National Film Registry.