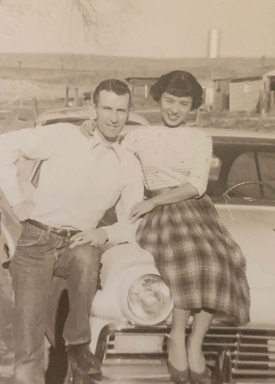 Becoming a U.S. citizen is a reality many Americans take on without appreciation and, be that as it may, Lilly had one of her proudest moments in 1960 when that dream came true for her. She laughed while telling the story of passing the citizenship exam issued by a judge, experiencing some possible divine help of answering the question of the date of Abraham Lincoln's birthday. She easily knew the answer because the former 16th president shared this special day, February 12th, alongside her husband, Lloyd. Her additional answer to the question of the writing portion was to write "I'm going to town," something she did easily, except not lacking anxiousness on account of hearing about a German woman who had previously failed this portion of the test three times.
She changed her first name; she put it on the citizenship paperwork as Lilly, the English namesake of the beautiful flower of humility and devotion by reason of Yuriko, meaning Lily Child in Japanese. Thereafter, she tried hard to fit in as a new American though, sadly on many occasions and just like times before, she had ongoing difficulty with speaking English and avoided people as a result.
Lilly, now a proud U.S. citizen, was eager to take the next step in her American life by starting a family. While stationed at Fort Knox Army Post in Kentucky, the Krohn family adopted a baby girl and their only child, Carol. She was brought home in 1961 on Christmas Day, just a day after she was born.
Following that, normal family life continued for the Krohns' until the country's involvement in the Vietnam Conflict heavily escalated; Lloyd left in 1968 for three tours of duty lasting two and a half years. With news of the war and its images filtering into the U.S., Lilly and Carol only became more anxious waiting for an occasional phone call or mailed cassette recording letting them know he was alright.
Once, Lloyd returned home with the help of the Red Cross for 30-day emergency family leave as Lilly was hit head-on in a car accident, severely breaking her nose along with attained facial abrasions. This unfortunate incident occurred after dropping her then 7-year-old daughter off at school. Luckily, with a week-long hospital stay and continued rest at home, she went on to make a full recovery.
Succeeding his tours and returning to Fort Knox, Lloyd almost immediately felt the best thing to do was to raise his daughter in a rural area. The family in due time settled in Southern Indiana, buying a small farm in 1971 surrounded by a rustic landscape of rolling hills. It was located less than a 35-mile drive south crossing the Ohio River to Lloyd's military post, and similar distance drive northeast to Louisville.
When Lilly's parents found out about their buying of a farm, they became worried; thinking that all farmers were poor, her father sent money. Even so, Lloyd insisted without any question the check be returned right away. They may have been a little over their heads as farmers at first since Lilly was raised as a city girl, though she learned how to take care of the cows and round pigs; she even helped her husband with heavy work of bailing and stacking hay exceeding any perceived physical strength limitation.
Lilly felt her husband at his core was a military man, not a farmer. This was proven by the way he was always putting great effort into washing and waxing his farming equipment for an untarnished appearance, something Lilly was for sure made the local farmers laugh. Lloyd turned out to be a good businessman, gaining respect for his personality of a straight shooter and treating people with respect while expecting the same in return.
Lloyd retired from the military in November of 1971 after 28 years of service. As a veteran of WWII, Korea, and Vietnam wars, he ultimately succeeded at achieving rank of Army Command Sergeant Major—but not without a price—significantly from the Vietnam War.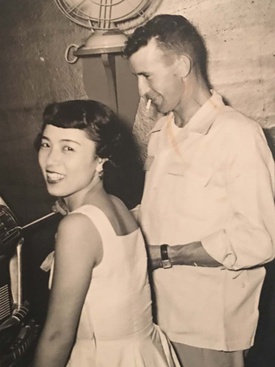 Following Lloyd's return from Vietnam, Lilly felt like many other American wives: their husbands didn't return from war as the same men they were when they left. Lloyd had made it through terrible physical and emotional times. He had risked his life commanding troops on the front lines through the South Asia jungle. He protected himself and the other troops by setting up underground at times to avoid the relentless attacks; he even got accustomed to relying on the howling from overhead monkeys signaling the always approaching enemy. On many occasions without hesitation, Lloyd comforted his soldiers, severely wounded from a land mine or an attack as they lay taking their final breaths. Foremost, he survived two horrific helicopter crashes, shot down upon battle with the enemy from the air.
During those times, military veterans requesting psychological help was considered a weakness and looked down upon. Lloyd was immensely proud of his military service and an intense believer in love for your country, so he tried hard to hide any despondent attitude or problems that he obtained from the horrid images of the war, mostly not talking about it. Unlike some veterans, he still publicly wore his uniform with pride back in the U.S.; veterans being spat on was a common occurrence.
Distinctly, he was a strong-minded individual, never one to back down from a fight; however this battle was much different. Lloyd started to exhibit some strong indications of problematic behavior as his drinking began steadily increasing. Showing signs of what we consider PTSD or post-traumatic stress disorder today, he started on multiple occasion thinking he was back in Vietnam reliving a moment in real time.
In one instance, Lilly remembered sitting out in her yard and relaxing in the shade when, all of a sudden, Lloyd began to scream in complete distress and calling out for her as Corporal. She recollected on many times taking his bottles of hard alcohol into the bathroom, pouring half down the sink drain and filling the rest with water in hopes he would not notice. Sadly, though the family understood Lloyd loved them, they felt Vietnam had taken away the husband and father they once had known.
In due time, Lloyd seemed to quit drinking just as quick as he started. His decision was highly due to his deteriorating health, but it was mostly due to his love for his granddaughter. In a lot of ways, this change returned him to the man he was prior to the war.
In the late 1950's, Lilly's health problems first began to aggressively resurface, now becoming a patient at Ireland Military Hospital at Fort Knox as she was eligible for care as a spouse of an enlisted U.S. service member. She underwent a hysterectomy caused by cancer triggered by her past radiation exposure from the bomb explosion. Also, during this time her youngest sister back in Japan had to have a lung operation for cancer removal. Moving onward to 1972, Lilly was a patient again at Ireland though subsequently, she was transferred to Walter Reed Army Medical Center-Washington D.C. due to the seriousness of her illness. Quickly upon arrival to Walter Reed, Lilly's temperature spiked to 105 degrees from an abdominal infection—remarkably like the one she had years earlier—forcing her to sit in ice baths to help lower the fever. Lilly's health worsened.
Again, consequently from the reemergence of cancer brought about from the radiation exposure, she required more treatment. Her stomach, a small portion of her esophagus, and small intestine had to be excised. She was in the hospital for six-months that year and had shown improvement. However, due to the high invasiveness of the surgery, doctors gave her only three months to live.
Lilly prayed that she would live until her daughter, a 5th grader at the time, was a teenager so she could take care of herself. She fought hard and surpassed that mark with Lloyd by her side, although not easily, having to live on baby food. She also had to perform the difficult task of stretching her esophagus by swallowing a mercury-weighted rubber hose once a week over a 15-year span to improve swallowing ability.
Lilly continued the esophageal stretching regiment until 1987, having an advanced new surgical procedure at Walter Reed Hospital called the esophageal-small intestine bypass. This was done by creating a small stomach pouch and better performing digestive system. This procedure was not without heavy risks, having only a 20 percent survival rate at the time.
In one instance while on the operating table, her core body temperature bottomed out; overhead surgical lights had to be positioned all around her body in an attempt to raise it. The surgeons, fatigued and drenched in sweat, finally finished after eight long hours in the operating room. Lilly survived and surprisingly walked the next morning. It could be said that bringing her back from the brink of death was a full-circle moment. In an ironic twist of fate, the U.S. Military's flagship medical facility, Walter Reed, saved her life after the U.S. military years earlier attempted to take it.