Who uses Tonari Gumi (TG)? What kind of services do you provide?
The most frequent and loyal users of TG are Japanese-speaking seniors aged 75-plus. Although we do have some activities and programs that target English-speaking seniors, such as a Japanese conversation class and our craft club, most of our programs cater to Japanese speakers.
In 2019, prior to the pandemic we started our Nikkei Social Club on Saturday afternoons where mostly English-speaking Nisei and Sansei would gather for Japanese food and activities such as "gaji" card games and English language documentary films on the Japanese Canadian community such as the Asahi baseball team and Linda Ohama's Obaachan's Garden, etc. These activities were quite popular, especially the food, and we regularly had between 40-50 people attend.
One of the programs we are hoping to have funded by the Japanese Canadian Survivors Health & Wellness Fund is an expanded Nikkei Social Club, which we are calling our Nikkei Plus Social Club to emphasize that we will be having them more frequently and including outings to various community events and to places such as the Tashme Museum in the Sunshine Valley near Hope, and the Steveston Salmon Festival, etc. that would appeal to our English-speaking Nisei, Sansei, and other generations as well.
All of our services, such as referral services for housing and pension assistance, plus tax return assistance for low-income seniors are all available in both English and Japanese. Well, some non-Japanese seniors do consult with our staff on these issues, they can also access these same services from within the wider-community whereas the Japanese-speakers have nowhere else to come to besides TG.
We also have some of our other clubs, such as the ping-pong group and the TG Garden Club which focus on both Japanese and English speakers and are quite active. Also, pre-pandemic, our most popular activity was our twice weekly Japanese lunches which attracted a wide range of both Japanese and English-speaking seniors.


Do you have a food service?
Food is a major secret weapon for Tonari Gumi. As noted previously, our most popular activity was our lunches on Wednesdays and Fridays. Pre-pandemic they were prepared by our volunteer chefs and we regularly attracted between 30 to 40 participants. Individuals needed to reserve in advance and the fee for a three-course Japanese lunch was $4.50 for members and $6 for non-members—a good deal whichever price. Because of kitchen capacity we had to limit the numbers to about 40 for each meal.
During the pandemic, we couldn't hold our lunches anymore, so we went to an expanded bento delivery service. We always had a Japanese meals-on-wheels service but this had usually been limited to about 30 to 40 participants. Starting in September 2020, we gradually expanded our bento lunches to around 70 each week. The charge was $6 per bento, which would be delivered by volunteer drivers throughout Vancouver, Burnaby, Richmond, New Westminster, and Coquitlam.
Each spring we have a "High Tea" event which attracts a couple of hundred clients and our spring and fall bazaars were extremely popular for our home-made manju and Japanese foods such as "hakozushi" (boxed pickled mackerel sushi), tsukudani, and tsukemono. Also, each year at the Powell Street Festival, Tonari Gumi had one of the larger food booths selling cold noodle salads (hiyashi chu-ka), inari sushi, California rolls, and manju. Hopefully, we can return to some or all of these food-related activities in the near future.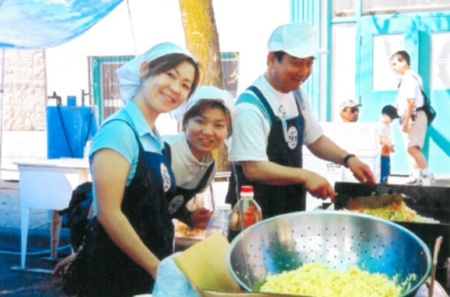 What insight has working at TG given you into Vancouver's JC community? How important are the services that TG offers?
TG's services and programs for the Japanese-speaking population are essential as there are very few if any alternatives. Moreover, because of Vancouver's location on the West Coast, the Japanese-speaking senior population is not declining as it might be in other regions of the country. Many Japanese-speakers like to retire to Vancouver, because of its vibrant Japanese-speaking community, Japanese food, and close proximity to Japan.
While "Mosaic," an immigrant services organization, does have one Japanese-speaking counselor, very few other sources of help in Japanese are available other than TG. Nikkei Place and Nikkei Seniors do have some Japanese-speakers within their staff, but generally speaking they refer to Japanese speakers needing assistance for health services, pensions, etc. to TG. We also participated with BC Health Care to assist Japanese speakers during the pandemic and so other care facilities and caregivers called TG for help dealing with Japanese speaking clients.
As for what insights I have gained by working at TG regarding the JC community, they are probably two-fold: First of all, Japanese Canadians have pride in their community and, in general, do try to look after their seniors and others in need within the community. The Nisei generation, in particular, have been very generous in contributing to maintaining various Japanese Canadian organizations and the facilities that have been built to support the community.
Secondly, however, the Japanese Canadian community is too split up into too many small organizations which have difficulties in obtaining adequate funding. Moreover, many of these organizations are not willing to cooperate with each other which limits the impact our community might have on the wider community and our ability to influence public policies.


What are the factors that are affecting change in the JC community in Vancouver e.g., new Japanese immigrants?
I think that the three most important factors affecting change in the Vancouver Japanese Canadian community are: First, the passing of the community leadership baton from the wartime Nisei generation to the post-war Sansei and/or the post-war Japanese immigrants; second, what the new leadership within the JC community will stand for — are we legacy organizations or do we have something to say and contribute for the future; and, lastly, whether or not Covid-19 and its aftermath will have fundamentally altered the ways in which we socially interact, such as: how we work, where we choose to live, and how we care for our seniors.
The changing of the guard from the Nisei to the Sansei and/or post-war Japanese immigrants has already been taking place rather quickly within the Vancouver community over the past five years. But the major JC organizations that found new life and created new infrastructure following the federal redress in the 1990s and early part of this century, now face the need to refurbish those assets and to set new goals with which to mobilize interest. The Nisei did step up to fund the community over the past two decades, but are the Sansei/Yonsei and the post-war Ijusha prepared to step into leadership positions and similarly fund and lead these organizations?
Next, assuming that new leaders are found, just what do they stand for and what are they going to strive for to attract the support of the Yonsei and Gosei generations or the post-war Ijusha? Are we "legacy" organizations or "advocacy" organizations with something to say for the future or is there something that combines both approaches? Also, as a "legacy" organization, there can be a difference between the legacy that the Sansei and Yonsei wish to see preserved (i.e., the wartime triumph over racism and discrimination) and those who see the "legacy" being that of the Japanese language and culture and creating comfortable enclaves to preserve a little of Japan in Canada. As for advocacy, some members of our community are uncomfortable with our organizations standing out and actively campaigning for the rights of others. But if we don't learn from our past to avoid new injustices in the future, what is our legacy and what are we preserving?
Finally, after some two years of being restricted in how we interact, it's not clear how quickly our community will move back to a new normal and what that new normal might be? While younger people may quickly return to interacting as before, our seniors may be more reluctant.
Going forward, seniors' activities might need to be smaller and take place closer to home and both seniors and their caregivers will likely seek both expanded and more customized homecare. With a rapidly aging demographic which is much more spread out than before, governments and families may look to community organizations to do more in providing tailored seniors' services at a lower cost.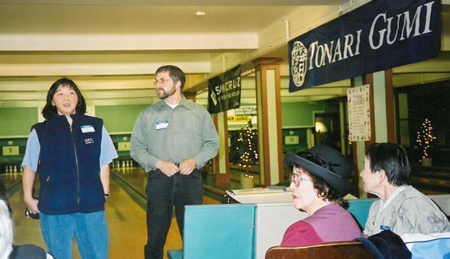 How has the community changed since you joined it?
My wife and I came to permanently live in the Vancouver area in 2009. Over the past 12-13 years, geographic dispersion, rapid aging, and ethnic diversification have all combined to significantly change the location, look, and feel of the Japanese Canadian community in Vancouver.
Ever since Japanese Canadians were allowed to return to the Vancouver area after 1949, they have been dispersing into more areas in the Lower Mainland. By the 70s and 80s, they had largely abandoned the Downtown East side and moved further afield within Vancouver and into the near suburbs of Burnaby, North Vancouver, and Delta.
When we arrived in the early 2000s, with the explosion of housing costs, particularly in Vancouver, there was a significant further shift outward, into Surrey, Langley, Coquitlam, Port Moody, and Pitt Meadows. While the eastern neighbourhoods of Vancouver plus Burnaby and Steveston still had the largest numbers, the Japanese Canadian community became much more scattered than ever before, making it difficult to service their needs from any single location.
The past decade has seen a very rapid aging of the community with almost all leadership positions shifting from Nisei to Sansei or Yonsei generations. The first generation of postwar Japanese immigrants has also aged, but not many first generation or second generation Ijusha have moved into leadership positions within the Japanese Canadian community. Instead, many have remained within their own organizations which are centred on the Japanese language.
The massive influx of Chinese, Koreans, Filipinos, and South Asians over the past two decades has diminished the relative importance and influence of the Japanese Canadian community within Vancouver. This means that in the future, the Japanese Canadian community will need to consider working with and creating alliances with other ethnic communities to a greater extent in order to have an impact and to be noticed.