When I asked Takeo Yamashiro, a founding member of Vancouver's Tonari Gumi community help group, about why young Nisei and Shin-Issei in the 1970s decided to help needy Issei, he shared the following experience:
"Let me share with you a couple of encounters which totally blew my mind at the beginning of my involvement in the JC community:

One day, I visited an old rundown rooming house in a back lane of Gastown (Vancouver). An old Issei man was lying in bed and mumbling. Through the visitation, I discovered he was not on a federal guaranteed income supplement program.

In another instance, another ailing man was confined to his bed and had a bucket hidden underneath the bed, full of feces. A JCCA president and its Issei rep came to lecture me and told me all the Issei people visiting our drop-in centre were those who failed and idled their life away. Therefore, there's no need to look after them so D-O-N'-T help!!!"
Founded in 1973, Tonari Gumi (TG) was formed with the goal of improving the lives of Vancouver's Japanese Canadian (JC) Issei population, many of whom were living precarious lives in the rooming houses of Vancouver's downtown eastside.
After being interned from 1942 to 1945, JCs were banned from returning to Vancouver until 1949. Starting lives over after being released from internment camps proved overwhelming for many of these forgotten Issei. Like the bachelors who I've heard about who had lived on the Harris Ranch outside of New Denver, many did not have family support during those troubled times and suffered in silence. Perhaps expecting some sort of reprieve, many returned to Vancouver, the city that had shunned them.
So, homeless, with savings, properties, and businesses now gone, how to start all over? As a community, these are important stories of the dispossession that are rarely ever heard about. Where indeed did the neediest JCs go? How did they live? Who, if anybody, was helping them during those racist and precarious post WWII times?
Thankfully, Jun Hamada (1934-1980) a young Sansei from Brampton, Ontario was studying economics at Vancouver's Simon Fraser University in the late sixties. Jun saw the need and was inspired to do something to help. So, the seeds of Tonari Gumi were planted in the early 1970s when Jun, along with four young Shin-Issei, serving under the name "Japanese Community Volunteers," started cultivating relationships and ties with Issei seniors while working out of office space rented out from Language Aid.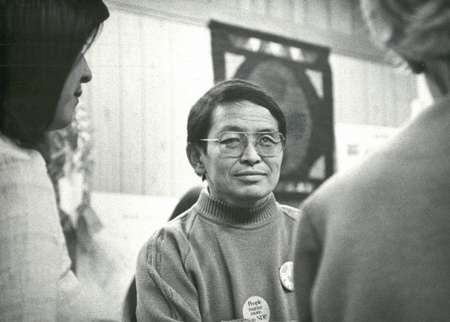 Jun was born in Vancouver. His family had been interned in Tashme and New Denver. They settled in Brampton, ON where his father worked on an apple orchard. Diagnosed with kidney failure, Jun had a second kidney operation in 1976, but that didn't diminish his passion for helping the needy. Even during dialysis, he wrote grant ​applications. The first, a federal government Local Initiative Program (LIP) grant. Early program workers were Takeo Yamashita, Seiichiro Fukumura, Kayako Minami, and Teruko Chinen.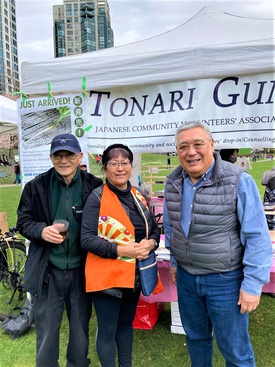 The Tonari Gumi Drop-In Centre located at 573 East Hastings St., opened on August 25, 1975. In 1986, Tonari Gumi moved to 378 Powell Street to work more closely with the Japanese Canadian Society for Seniors Housing and their 'Sakura-So' seniors housing project. They moved to 511 East Broadway in 2000 and again in 2012, to 101-42 West 8th Avenue where they reside today.
Today, Sansei David Iwaasa is carrying on Jun's work as TG's executive director. Born in Raymond, Alberta, David's grandfather moved to Alberta in 1909. I got to know David when I was teaching in Sendai. My aikido friend, Nisei Lloyd Kumagai, had connected me with a Japanese Canadian group of expats in Tokyo to which David and his wife Jane belonged.
Today, Tonari Gumi continues to provide a sanctuary for elder members of the Vancouver community, a place to visit for assistance or participate in a variety of programs. Their remarkable work continues to keep Jun's magnificent dream alive.
* * * * *
Can you talk about how you first got involved with Tonari Gumi?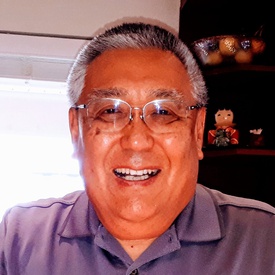 I'm actually a relative newcomer to Tonari Gumi. After returning to the Vancouver area in 2009, I first became aware of Tonari Gumi when my wife saw an ad in the JCCA Bulletin Magazine for an executive director position at Tonari Gumi. It was also coincidental that while I was working in Japan, we had become friends with a member of the Immigration Section at the Canadian Embassy in Tokyo, Joe Greenholtz, and I learned that he was a member of the Tonari Gumi Board of Directors. My wife thought that being the executive director of Tonari Gumi would be a great retirement job and so I talked to Joe Greenholtz about it and he encouraged me to apply.
I should have been suspicious when Tonari Gumi offered me the job in the spring of 2010 after only one interview and despite my almost total lack of experience in running a social service charity. In any case, it soon became an all-consuming involvement with TG and I'm still involved as a volunteer Chair of their Board some 11-years later.
As for my involvement with Vancouver, as you correctly noted, I had been born in Raymond, Alberta and so my connections with this area were not deep. I graduated with a BA from the University of Lethbridge in the spring of 1972 and in that same year went to Japan with my wife to study at the University of Kyoto on a Mombusho Scholarship.
We came back to Canada in the spring of 1974 to do further graduate work at University of British Columbia. I graduated with an MA in economics in 1975 and went to Ottawa that September to work in the federal Department of Finance. So my stay in Vancouver was not quite a year and a half.
From 1975 to 1996 (21 years), I worked as an economist for the Department of Finance, but did so in a number of locations outside of Ottawa. From 1980 to 1982, I served in Washington, DC at the Inter-American Development Bank, returned to the Department of Finance in Ottawa, then from 1985 to 1988, I served at the OECD in Paris, France.


Can you talk a bit about what you were doing in Japan?
As for my involvement in Japan, I've lived in Japan five different times:
First, from 1967 to 1970 as a young missionary for the Church of Jesus Christ of Latter Day Saints, often referred to as the Mormons. It was during this stint that I learned to speak Japanese. Next, from 1972 to 1974 as a graduate student at the University of Kyoto on a Mombusho Scholarship; then from 1992 to 1996 with the Department of Finance as the Finance Attache at the Canadian Embassy in Tokyo; 4) from 1997 to 2006 as the General Manager of the Tokyo Office of the Canadian Wheat Board; and, finally, from 2006 to 2009 as the volunteer President of the Japan, Fukuoka Mission for the Church.
In total, as a result of those five different stints in Japan, I've lived a cumulative total of more than 20 years in Japan. A little over four of those years was as a young missionary and as a graduate student. Then I put in some 13 years as an executive at the Canadian Embassy and a general manager of the CWB office in Japan.
The final stint was again for my church where I supervised a mission in Fukuoka with some 120 volunteer missionaries for 3 years. So I did a lot of different things in Japan, ranging from a young 19-year-old missionary, a graduate student in economics, a financial counselor at the Canadian Embassy dealing with economic policy and trade issues, the head of the CWB office selling wheat and barley to Japan and Korea and finally, a mission president supervising a group of young missionaries and looking after religious matters in Southern Japan.


What impact did this experience have on your understanding of yourself?
What all of that back and forth between Canada and Japan taught me was that I'm very much a Canadian but I'm a Canadian with a unique perspective on Japan and the Japanese people. The other thing that I learned is that while my training and education focused very much on economics, trade, and finance, what I really enjoyed doing was working with people and finding ways to help them to feel better about themselves. I guess that comes from my religious activities and my faith in the dignity of human beings. It also led me to try and be of help to seniors within the Japanese Canadian community.


As a way of being, what is the importance of volunteerism in your life? How does your faith factor into your work at TG?
I suppose that volunteerism and community work has always been an integral part of my life. Born and raised in a small farming community, it was always assumed that neighbours helped each other, and neighbours meant anyone in the community. Also, being a Latter Day Saint further reinforced that sentiment.
The Church of Jesus Christ of Latter-Day Saints is a lay church and so each member is expected to take on responsibilities and to serve others. There is a scripture often cited in our Church which states: "…when ye are in the service of your fellow beings, ye are only in the service of your God." So, serving others is the same as serving God.
Going on a two-year volunteer mission at 19 was expected and I was fortunate enough to be called to serve in Japan. This provided me an opportunity to learn how to speak and read and write Japanese, something that further linked me to the people and culture of my ancestry. Being exposed to Japan while still young broadened my horizons but also led me back to wanting to do something for my own community. Moving to Vancouver after retirement provided me with a community within which I could serve.