Q: How did you come to buy the Panama Hotel?
One day, Mr. Hori informed me that he was planning to sell the hotel. My immediate reaction was sadness when thinking about how those trunks could be lost and recalling how the old Japantown at one time had everything one needed within just a few blocks. History was being lost.
So I asked him, "How much are you selling the building for?"
He looked at me and stated, "I already have several offers."
I replied, "I don't care!"
And then he laughed. But from that point on, I think he realized that I was very serious.
I made a full-price offer to him. I figured he earned it, buying the hotel years ago and working so hard to preserve it. And even after being evacuated to the camps, he came back and checked on the hotel three years later after a friend had maintained it for him. It must have been a shock because he originally thought only Japanese were being evacuated (not Japanese Americans), but later realized that he had only ten days to evacuate himself and his family. It all happened so quickly that many families asked Mr. Hori if they could store their belongings in his basement and soon the basement became full.
And amazingly, nothing was ever taken during the three years while they were incarcerated.
I began going to local banks looking for a loan for the down payment. I was turned down at every bank. Maybe I was naive but I kept going, undeterred. It was only later that I realized I had five attributes that didn't bode well for me at the time: I was female, single, unemployed, Caucasian, and had no credit.
Finally, I went to Bank of America and the officer gave me the loan papers, told me to bring them back to him. After I submitted the papers back, he stated, "You must be special because after all these years, people have been knocking down doors to buy this building and Mr. Hori chose you."
I got the loan and am forever grateful to the Horis for selling it to me.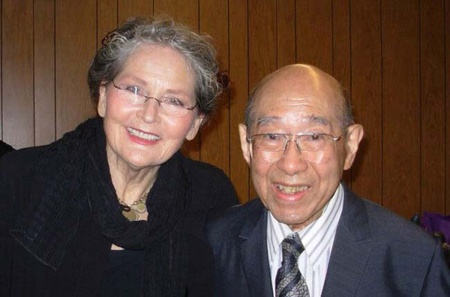 Q: What were the early years like? Were you unprepared for what it took to operate an old hotel by yourself?
There have been many surprises along the way, of course. But the building was structurally very sound. At the time, the hotel was full and we made it through the early months with the help of two Hori close family friends, Katherine and Lutus Fujita (sisters), who stayed in the hotel and helped keep the hotel running at the highest level. In the beginning, there were more longer-term residents and they were all staying for different lengths of time, and remarkably, they all remembered when their rent was due.
Eventually, I wanted to set it up as a hotel because I wanted customers to learn about the history. My early years of training paid off and the Horis spent many months training me and showing me every nook and cranny inside the hotel. They are to be credited for preserving this hotel, and I also give credit to their daughter and son, Susan and Robert Hori, who have enthusiastically supported me.
To this day, I still marvel at the all-leather flooring and the grandeur of the front steps with brass handrails. The light in the hall varies depending on the time of day and year, just like the dome in Italy. I have kept the building, (its) physical attributes, fixtures and furniture as original. I have kept the beams and still operating refrigerator cooler in the tea house. I love the unpainted old-growth timber and the original wood crates that contained the refrigerators that have been recycled into closets.
Before coming here, I knew nothing about the incarceration. You come to visit the hotel and it is a language you feel and see: no words are needed. You will immediately feel and see its own truthful story.
I also learned from my father that you never ask the government and if you lose your job, you must find another job. So the only loan I ever took out was for the down payment. It took me eighteen years to save money, a little at a time, to renovate the Panama Coffee and Tea House. I have taken pride in displaying many personal artifacts, photos, and personal stories about the local Japanese American community.

Q: What is being done with the trunks and personal items in the basement today? And what about the old sento bathhouse?
Mr. Hori tried to reach families to retrieve their items and many families told him to just get rid of the items. When I took over, I also tried to reach the families. Over recent years, many groups and individuals have begun to take interest in preserving and documenting this living history.
Co-author Gail Dubrow's book Sento at Sixth and Main (2004) is an extraordinary book about the hotel and she helped to research and document many items. The National Park Service funded a grant to catalogue and document 8,500 items contained in the basement. Another amazing book is Hotel on the Corner on the Bitter and Sweet by Jamie Ford (2009).
My goal is to turn part of the building into a museum. Today, I am just the "custodian" but others have called me the "proprietress." I have always said that this building belongs to the community and the world and should be preserved for the young people to learn from. And, wouldn't it be great if the bathhouse could be restored to be operating again?
My belief is "saving history saves the future." I like to refer to the "silent voice of the Panama Hotel."
I recall an unfinished handwritten letter, dated April 8, 1942, we found and it said:
"Dear Dad, we've gotten pretty far with our preparation for evacuation. Everything has been packed, but kept open, and…"
The letter was never finished. We eventually found the owner of the letter — it was his brother writing to his father. Now in his 80s, he said how grateful he was that it was saved and how it gave him some closure. I have many stories of families and students sharing the impact from visiting this place.
For me, it is all about prevention so this incarceration and suffering from war can be prevented from happening again.


Q: What is in your future?
I would love to return to Italy and visit and spend time with friends and family and more meaningful adventures!
* This article was originally published in The North American Post on April 23, 2022.