When Japan bombed Pearl Harbor on December 7, 1941 and the United States entered WWII, thousands of American citizens who shared ancestry and facial features with the enemy and suddenly faced an overwhelming question. What would they, Japanese Americans, have to do to prove their loyalty to the country of their birth?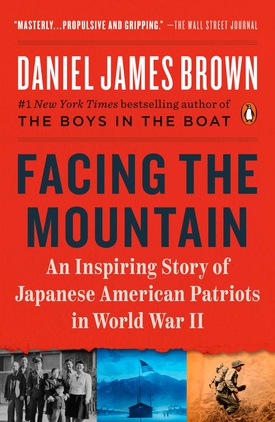 Daniel James Brown's Facing the Mountain examines the price of patriotism Japanese Americans paid through the lives of four young Nisei men—Rudy Tokiwa, Fred Shiosaki, Kats Miho, and Gordon Hirabayashi—three of whom were members of the 442nd Regimental Combat Team and one who fought for justice by resisting.
A few years ago, Brown attended a reception where he received recognition from the mayor of Seattle for his previous book, The Boys in the Boat, a New York Times best seller about the University of Washington's 1936 Olympic crew team. There, he met Tom Ikeda who was being lauded for his work launching Densho, the online archive that preserves and shares the stories of Japanese Americans imprisoned during World War II. From that meeting, Brown's interest in the subject grew, although not for the first time.
Dan Brown grew up in California in the San Francisco Bay area where his father worked in the flower business. Interviewed via email, Brown wrote about his memories of working alongside his father. He recalled:
"many of our customers were Japanese American florists and nurserymen and women, so I had many JA friends and associates when I was young. But the main thing was this—My father was a very soft-spoken, gentle man. He almost never got visibly angry. One of the very few exceptions was when he talked about what had happened to his JA customers during and after the war. Many of them came back from the camps to find their greenhouses smashed, the land they had been growing on taken out from under them, their businesses destroyed. Dad would positively quake with rage when he talked about it, and that was so out of character for him that it made an enormous impression on me from a very early age."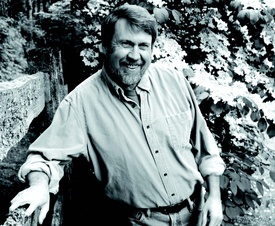 Brown taught writing at the college level and worked as a technical writer. He now focuses on writing historical narratives that involve extensive research coupled with strategies for effectively telling the story. One of his biggest challenges, though, was digging through vast archives of preserved oral and written histories as well as numerous publications about the incarceration of Japanese Americans, the attack on Pearl Harbor and the heroism of the 442nd. Brown wrote:
"I quickly realized that between the Densho archives and all the other great resources that have been compiled there was an overwhelming amount of information. And I didn't really want to write a comprehensive history of the JA experience. For one thing I think that would be pretty presumptuous of someone like me, who is neither Japanese American nor, strictly speaking, a trained historian. Beyond that, though, it's also just not what I do. I try to write deeply personal stories about people who have lived through some slice of history, and use their stories to shed some light on the history.

"So, working with Tom Ikeda, I decided to focus on young men of draft age, and their families. It seemed to me that those young men and their families had a particularly difficult set of circumstances they had to navigate immediately after Pearl Harbor. So eventually I settled on three men who wound up serving in the 442nd and one—Gordon Hirabayashi—who chose to very deliberately challenge the constitutionality of what was happening to Japanese Americans.

"Narrowing it down in this way meant, of course, that I was bound to leave a lot of history out—the MIS, for instance, the 'No No boys,' the 100th Infantry Battalion. I do talk about all of those facets of the larger story but the main focus is deliberately narrowed to the personal lives of those four protagonists so that we get to know them and their lives in a personal way."
Accounts of the "Go For Broke" 442nd generally emphasize the incredible bravery and cohesiveness of the most decorated unit in Army history. However, that unity was hard won. Brown wrote about the differing perspectives of the "kotonk" soldiers, many of whom enlisted while enduring hardships along with their families in internment camps, in contrast to the laid back Hawaiian "Buddhaheads." Examining these conflicts made for good storytelling but it was also essential to understand this part of history. Brown wrote:
"I wanted my readers, first of all, to understand that the Japanese American experience of these years was not monolithic. It was complicated and there were widely different attitudes and reactions to what was happening to them. So partly it's a matter of being honest and historically accurate.

"Second, I think a lot of mainlanders (including me) grew up knowing very little about the JA experience in Hawaii and so it was an opportunity to shed light on that as well. But most importantly, by the time they were in battle, a terrific degree of unit cohesion had finally arisen, not just in spite of the conflict but in some ways because of the conflict. The two groups began to understand each other on a deep level because they had to in order to survive as a unit. So they learned about each other's world views, came to appreciate and respect them, and ultimately became like brothers in their newly forged shared identity. That kind of bonding is powerful stuff when it comes time to enter the battlefield."
Even though Brown grew up in an area with a a lot of Japanese Americans and was familiar with the broad outlines of the history of JA internment and the 442nd, writing Facing the Mountain has had a profound effect on him.
"I'm sure that I, like most white Americans in general, still carried around a lot of assumptions and stereotypes. So certainly, the process of researching this book, particularly meeting and working with some of the 442nd vets and their families, shattered some of those stereotypes. But it also gave me a much deeper understanding of the trauma of the war years, the extraordinary resilience of those who lived through different aspects of the experience, and also how certain traditional Japanese values shaped the way people dealt with the situation, both in the camps and on the battlefield. So my hope is that more non-Japanese Americans will come away from the book with a deeper and more nuanced understanding of all these things, including how 'foreign' values and traditions can strengthen the American fabric."
Brown is currently working on an adaptation of the book for a limited series for television and streaming platforms.
* * * * *
Facing the Mountain, now in hardcover, will be available in paperback in the JANM Store in May, 2022. Read a brief summary here.
Sponsored by the Japanese American National Museum in partnership with Densho, Daniel James Brown and Tom Ikeda will hold a Meet and Greet for JANM members followed by a discussion session (in person and virtual), free and open to the public on May 14, 2022. For more information, click here.