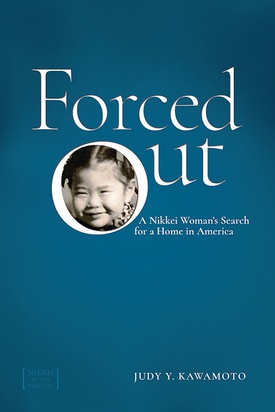 I immensely enjoyed and was greatly enlightened by Sansei psychotherapist Judy Kawamoto's singular book. I would classify its genre as a meditative memoir. As she succinctly notes, "psychotherapy is dubbed 'the talking cure'" (pp. 80). It typically involves a therapist asking patients probing in-depth questions about every aspect of their lives so as to assist them with addressing and redressing their problems. In the case of Forced Out, Kawamoto enacts the twin role of therapist and patient. All of her questions, therefore, are rhetorical ones posed to herself for contemplation, understanding, and healing.
Kawamoto's central problem is intergenerational trauma resulting from the World War II uprooting of her parents and older sister Lillian from their prewar Seattle home in the wake of Japan's Dec. 7, 1941, attack on Pearl Harbor and U.S. President Franklin D. Roosevelt's subsequent issuance of Executive Order 9066 on Feb. 19, 1942. Whereas the overwhelming majority of more than 110,000 West Coast Japanese Americans were evicted from their homes and communities and eventually, incarcerated in American-style concentration camps in remote sites within California, Arizona, Idaho, Colorado, Utah, Wyoming and Arkansas, the Kawamotos were among the some 5,000 "forced out" Nikkei who gained governmental permission to resettle independently in assorted inland areas of the country outside of the military security zones.
As for the Kawamoto family, they moved first to Sheridan, Wyo., where Kawamoto was born and her Nisei father had graduated from high school. There they lived for a short while on the vegetable farm belonging to Judy's paternal Issei grandparents. When an opportunity presented itself to raise food, quite ironically, for the U.S. government that had dispossessed them, all of the Kawamotos moved to Indian country in southeastern Montana's Bighorn River Valley, close to the small town of Hardin. There her parents farmed mainly sugar beets and wheat, aided by German prisoners of war, while her grandparents were growing vegetables for local sale and consumption.
After the war, when Kawamoto was entering junior high school, she and her three siblings, along with their parents, moved once again, this time to Denver, to be near her maternal grandparents and other family members.
In all of these places, the Kawamotos were virtually on their own. Unlike those Nikkei imprisoned en masse in camps during the war who in large part afterward returned to live in their familiar prewar racial-ethnic neighborhoods, the Kawamotos were cut off from the Japanese American community, people who "looked like them, shared a language that wasn't English, ate the same food, automatically held similar beliefs about how to treat and interact with each other, (and gave) them a sense of belonging and a shared understanding that they were all in this together and together they would make it through" (pp. xii).
Moreover, Kawamoto's parents, like many other Nisei who experienced the cultural shame, dishonor, and psychic humiliation of being treated as potentially dangerous pariahs during the Pacific War, suffered "pure trauma." As a survival mechanism, they sought to put the trauma behind them — which meant not talking about it, even to their children — and to get on with their "normal" lives. This process led to gaps in the family story that the next generation had to deal with in the best way they could.
Fortunately, once Kawamoto became a psychotherapist, she not only acquired an understanding of the workings of trauma, but also hit upon how best to "mind" and "mine" the gaps in her family's story so as to achieve psychological well-being.
Readers of her remarkably well-written book, especially Japanese Americans of the post-Nisei generations, will benefit greatly from heeding her therapeutic words and deeds of wisdom. They more than likely will not be bothered by her book's repetitious passages and lack of an index.


FORCED OUT: A NIKKEI WOMAN'S SEARCH FOR A HOME IN AMERICA
By Judy Y. Kawamoto
(Louisville, Colo.: University Press of Colorado, 2020, 202 pp., $29.95, hardcover)
*This article was originally published in the Nichi Bei Weekly on July 22, 2021.