This month, we have the honor of publishing works by two poets who lent their voices to our second annual reading last week for "Nikkei Uncovered"—Shō Tanaka and Paulette M. Moreno. They both took great care in what and how they delivered their words together as a pairing that we featured alongside Amy Uyematsu & Miya Iwataki, and Mariko Fujimoto Rooks & Dr. Curtiss Takada Rooks. I was struck not only by the beauty of their storytelling, but the vessels they are to their layered and intersectional history, calling on us to further contemplate the complexities, pain, and beauty of people who have survived our wrought history, our historical traumas, and come through as interconnected beings with memory excavation that must be shared.
When I read the line, "Dancing in the clouds..." from Paulette's poem featured here, I felt captured by the feeling of suspension in her words, the way I felt last week listening to her and Sho and all the poets. We are so grateful to be able to share their voices here. Enjoy...
—traci kato-kiriyama
* * * * *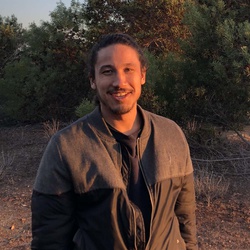 As a writer, Shō Tanaka's creative practice is grounded in a diasporic shimanchu (islander) consciousness. He is committed to cultivating space to tell difficult and complicated stories in hopes of dismantling the separation and stagnation that inform the world he was born into. His grandmother's family(⼭城)immigrated to the Los Angeles area from Taminato, a village in the Yanbaru rainforest in northern Okinawa. His grandfather's family(⽥中)emigrated from Buzen Shoe, Fukuoka to Lingít Aaní settling in Juneau, Alaska. Currently Shō resides on Lekwungen and W̱SÁNEĆ Territory (Victoria, British Columbia).
(poston relocation center, 1942 - land of the colorado river indian tribes)
The Mojave, Chemeheuvi, Hopi and Navajo Nations
as vast as the night sky so is his forgetting
a man so lost he is not permitted sleep
each night comes and he is thrown
from the barracks into this ocean of sand
there are no clouds in the sky and
still the stars don't shine
sounds of english and japanese are
broken glass dust shards clogging his lungs
classmates mocking laughs that cursed
him with a broken tongue broken island
broken boy thrown back and forth in bewilderment
last night they hung him, shimanchu boy
on a pole in the mess hall all the naichi boys
island still wet on his tongue
he understands his loneliness carves
it into his wrists as non-existence.
the desert is silent and so are his ancestors
watta shima ya maa yaga?
watta uyaa maa yaga?

the last speaker of his language left alive
there is a python far from home
escaped from a ship that travelled from guangdong
to okinawa, freeing itself in the ports of california
sent eastward into the desert horizon
the snake finds the boy's body
and begins to wrap himself around
what will soon become a corpse constricting
his pain devouring his sadness
75 years later i return to the desert
to this memorial for incarceration
and find their bodies - the boy and the snake
embracing in wind swept dunes flesh
still rotting and as if waiting for me
the snake skin slips free
from bone and like some old ancestral psalm
i fashion it taut over my water canister and the
boy's hair becomes strings that stretch from neck
to tip / a sanshin conjured from teachings that time
forgot a memory lodged somewhere else
i begin to pluck the strings
and with the sad song rain begins
to pour down that once in a decade torrent
and this arid desert might as well
be tomigusuku or kin-town or chatan for the monsoon
has obscured all proof of place and as
a cactus bloom a song springs forth
and from the corners of manzanar
and rohwer and jerome and poston a weight is lifted
on every shimanchu soul silenced
*This poem was copyrighted by Shō Tanaka (2021)


* * *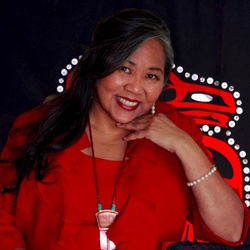 Paulette M. Moreno is a civil rights leader, poet, musician, speaker, and current Grand President of the Alaska Native Sisterhood. Her ancestry is Japanese, Hispanic, and Alaska Native of the Tlingit Nation. Paulette was born near Mount Edgecumbe, a volcano in Sitka, Alaska. Her grandfather, George Miyasato Sr., and her uncle, George Miyasato Jr., were incarcerated during World War II. She is working with her mother, Harriet Beleal, to find healing from the racism and discrimination her family experienced during the war and in the years that would follow because of their Native and Japanese heritage.
"Feather Dancer / City Youth"
We feel a pull of our heritage
A long hungry pull of driven desire
To understand
The Sacred Secrets in our Old Mens' Eyes
We wander city streets
With stoned faces
As if we don't feel
What this nation's hands have made
We feel the chill
We see……..
Our tired hearts of our mothers
The rougher hands of our men
Who work for soft tender skinned people
We need you to learn the ways of our ancestors
The call is as fast as an old free breathing drum
Can you see him
Dancing in the clouds
Feathers winding with the wind
Spirit possessed by unrivaled freedom
He sees you
Know you
Believes in you
For the spirits
Have selected you!
Spearing through
City buildings
And ice aged hearts
And the very shield
Of your almost dying spirit
A powerful breath runs through you
As if your blood runs again
Redder
the sensation the power
STOP!
My brothers My Sisters
Open the palm of your hand
Free your Spirit
And capture the feather

Earth's Aging
Together we pray for our families of our ancestor's lands
May our Mothers be Comforted and our Fathers Strong
For Nature has taken her course
And with her has went many of the brown people of our skin
And may our people's children believe in eternal freedom
Our heart's cry
Tears upwelled
For thousands toil the pain stricken earth
Some have journeyed and some still amongst us ….
Deep with the skin our our mother earth
Be strong now
Hand in hand
For our people have toiled the land
And created a nation from within their home
To take a stand
The Pride! My Brothers My Sisters
Be strong now
Hand In hand
For within the stillness
You will see
The eyes of tomorrow today
And today you will see
Our Children's Earth Aging (Carefully)
*These poems are copyrighted by Paulette M. Moreno (2021)