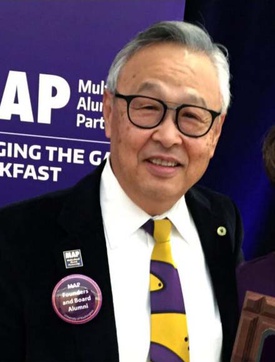 Larry Matsuda, higher education Ph.D. Racial/social-justice activist leader. Accomplished educator. Award-winning author, poet, and more. This writer was intrigued to explore what is so unique about Dr. Larry to have accomplished so much and in such diverse arenas. These interviews seek to capture key experiences that molded his life: being born in Minidoka internment camp during World War II, growing up with his family's post-incarceration trauma, and his indefatigable efforts to bust through the many racial barriers of the 1960's and beyond. He was more than prescient in the '60s to understand the importance of multi-racial and Pan-Asian unity, as both are still so relevant today.
These days, Dr. Larry continues to "do" and not just "observe." In his seventh decade of life, he is as engaged as he was in his 20's. We look forward to, with anticipation, his noteworthy contributions still to come.
* * * * *
What in your upbringing do you think had the greatest impact on your life's truly extraordinary career and direction?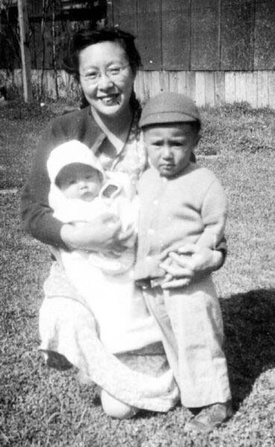 I believe that my mother's "fear chemicals" were passed on to me in the womb during the WWII Japanese American (JA) incarceration camp experience. As a result, I have a high tolerance for stress and can perform difficult assignments that others avoid.
My mother would say, "Remember your Japanese name means 'bamboo.' So you bend, but don't break."
Her advice helped when she was hospitalized when I was three, and later when my dad was seriously ill and I was seven. My mother was at Western State Hospital for depression when I was 14. Two years later my father was given one year to live. Fortunately, he lived another 30 years.


What were some of your stress-filled and challenging positions? Did you have any early successes?
In 1979-80, the Seattle Public Schools (SPS) Year 1 "controlled choice" student assignment plan took ten months to assign 50,000 students to schools. It was called a "failed effort" by The Seattle Times since some students had no assignments when school started. The challenge at the time was figuring out how to fairly racially integrate the schools, through busing, which had begun system-wide in 1977, a time when computer data processing was still in its infancy.
If white students wanted to attend minority schools in south-central Seattle, it was easy. The dilemma was when minority students wanted to attend north-end or West Seattle white schools, they had to compete for spaces with white students already there.
As Executive Director, I was put in charge of the second year's high-profile implementation. There was a great deal of public angst and some board members predicted another failure. I worked with teams and we automated the process through hiring data-entry clerks to make a new task-specific student-choice computer file to replace prior, slow, mainframe processing of individual-student files. Then we gave "tiebreaker" points for (a) sibling attendance at the same school, (b) desegregation positive, and (c) proximity, with ties being broken by random lottery numbers.
With it, we were able to assign 50,000 overnight, which we made corrections to, a few times, until all students had school assignments that worked. It was a success and I got promoted to Assistant Superintendent.
In 1998, I returned from retirement as a principal under Superintendent John Stanford to combine two schools, Coho Elementary and New Options Middle School, and create COHO/NOMS K-8. I led the move/relocation process during the summer months and made the change seamlessly. After combining the schools, I performed the duties of two former principals.


You are a social justice leader/activist, educator, writer/author, poet, and more. The world sees you as a very accomplished person. How would you describe yourself?
I'm mentally and physically restless. As a result, I always look to new challenges. My resume attests to this: award winning writer, regional Emmy winner, former K-6, middle school, and K-8 principal, UW Daily newspaper reporter (University of Washington), published poet, author/presenter, administrator, grant writer, printer, teacher/visiting professor, and former army reserve medic.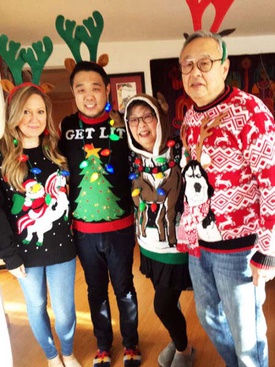 My volunteer activities include: former 37th District (South Seattle and Renton) precinct committee person, political campaign worker, former UW Alumni president, and volunteer at many organizations.
I am a husband, father, gardener, sports fisherman, photographer, and former wine taster for the State. I enjoy collecting comic books and am a Marilyn Monroe fan!
Even though I've accomplished a number of things, success is not my primary motive. Challenges feed my restless nature and fuel my social justice work.
A relevant quote I like is:
"Success is not final. Failure is not final. It is the courage to continue that counts." —Winston Churchill
Were there individuals along your path who greatly impacted your life's direction?
When I was 14, I got a job at Andy Shiga's Import Shop in the "U District," north Seattle. I swept floors, washed windows and made window displays. Andy taught me how to interact with customers and sell.
Andy was a Quaker and proponent of "world peace." During WWII, he was a conscientious objector and would not fight. To show his patriotism, he participated in wartime food deprivation experiments for the army. He claimed that's how he lost his hair.
Because of Andy and the University "Ave" environment, I was exposed to a wide range of ideas and ethical/philosophical issues. The experience took me physically and mentally beyond my limited comfort zone of the redlined International District (ID), Beacon Hill, and Central District.
From this early experience, I dreamed of attending the UW, doing creative things, and aligning my activities with larger societal causes like Andy.
But it was Malcolm X's autobiography that made me realize that there were really two Americas and one had less justice based on race. This idea motivated me to take action and work on history and social justice projects.
*This article was originally published in the North American Post on March 13, 2021.