CALGARY — Growing up, filmmaker Guillaume Carlier would visit a cabin on Trout Lake in British Columbia with his family. On the way, they would visit a Japanese garden in New Denver, built in the early 90s.
Called Heiwa Teien Peace Garden, it surrounds the buildings of the Nikkei Internment Memorial Centre, the site of a former Japanese Canadian internment camp. The peace garden was designed by renowned gardener Roy Tomomichi Sumi. Sumi was interned at the New Denver internment camp during the Second World War. He went on to design and maintain beautiful Japanese gardens in Western Canada. Sumi returned to New Denver, at 86 years old for his final project, the Heiwa Teien Peace Garden.
Carlier was inspired and intrigued by the story of the peace garden and Sumi returning to a place of trauma to create something beautiful. Carlier set out to capture that story in the new documentary, Borrowed From Nature, now available for free on CBC Gem.
"I thought it was a beautiful gesture that he returned to the site of his internment and made something beautiful out of it," Carlier tells Nikkei Voice in an interview. "Especially in Canada's political landscapes today, that is a beautiful story worth telling, or worth celebrating."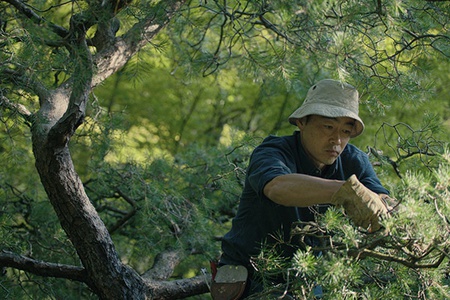 Originally planning on a 10 minute documentary about Sumi's life, when Carlier began researching the project and talking to gardeners who care for and maintain Japanese gardens in Canada, he realized the story could go much further.
"They were the ones to open my mind and broaden my horizons to say, it's not just about gardens, there are a lot of complicated stories… of what happened to the Japanese Canadian community along the coast," says Carlier.
The hour-long documentary, produced by Calgary-based Kino Sum Productions, examines the complex and sprawling history of Japanese Canadians in Western Canada through Sumi's life and three Japanese Canadian gardens.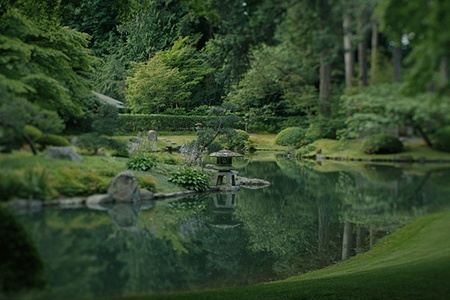 First is Nitobe Garden at the University of British Columbia in Vancouver, which would change Sumi's life. Created by Japanese designer Kannosuki Mori, he assigned Sumi to work on the garden. Sumi became the garden's first caretaker. Next, the documentary takes viewers to Nikka Yuko Japanese Garden in Lethbridge, established during the Canadian Centennial in 1967, which recognizes the contributions of Japanese Canadians in Lethbridge. Finally, the documentary visits Heiwa Teien Peace Garden, Sumi's final garden at the Nikkei Internment Memorial Centre.
Carlier interviewed members of the Japanese Canadian community, historians, Sumi's family, and past and current caretakers of the gardens for the documentary. He worked closely with the Nikkei National Museum in Burnaby and Research Archivist Linda Kawamoto Reid to make sure the history was told authentically and accurately. Stories of the past are brought to life with archival material from the museum and through the voices of those directly connected to the gardens.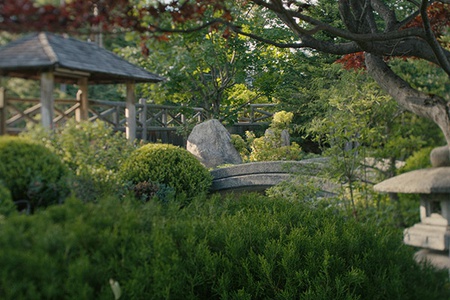 "One thing about talking about internment, especially with people who experienced it firsthand, is that different people have different experiences, it's not one voice," says Carlier.
The documentary is a celebration of the Japanese Canadian communities in Lethbridge and Vancouver and digs into the history of adversity and racism the community endured and overcame to create beautiful spaces, like Sumi's work in the Heiwa Teien Peace Garden. Many of Sumi's gardens have been torn down or renovated over time, and only a few remain. Borrowed From Nature asks what we can learn from these gardens and the stories behind them.
"I would say that ultimately looking at Roy Sumi's gesture, and the amount of work that he put into that final garden, is a testament to really to what it means to be multicultural in Canada and owning history. Owning history with the pain and the beauty," says Carlier.
* * * * *
To watch Borrowed From Nature for free on CBC Gem, visit www.gem.cbc.ca.
*This article was originally publshed on the Nikkei Voice on January 12, 2021.