Hello Discover Nikkei network! I am beyond thrilled this month to bring this pair of poets to the Nikkei Uncovered poetry column. LA-born and raised, veteran Sansei poet and our inaugural feature for the column back in 2016, Amy Uyematsu returns to us with a beautiful piece about Tanko Bushi (that had me yearning ever more for Obon this summer). And first time with this column, we have National spoken world champ and hip hop artist, G Yamazawa out of Durham, North Carolina with one of my favorite pieces that I hope you all will have the pleasure of someday experiencing through his live performance. Both of these folks are personal inspirations to me and countless many....enjoy!
* * * * *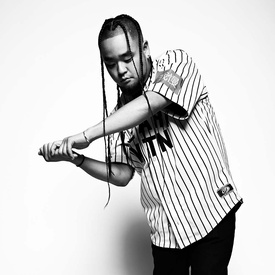 G YAMAZAWA is a National Poetry Slam Champion and recording artist born and raised in Durham, NC. His debut album "Shouts to Durham" independently reached #34 on iTunes Top 100 Rap Albums, and his single "North Cack" peaked at #3 on Spotify's Viral 50 Chart powered by Billboard.
The Bridge
My father is a quiet man, appreciates the silence.
When I offer English to him, he returns
the foreign favor.
For him, speaking Japanese is a walk in the park;
English is climbing a barbed wire fence.
His accent is bumpy, a conversation
between airplane tires and concrete
that welcomed his arrival to America.
His pronunciation has trouble landing.
His tongue knows turbulence.
My father is a chef, adds syllables
to sentences like seasoning,
If I ever complain about hunger
he'll tell me:
go getu a cheese-u bah-gah furomu macudonaldo
My father's accent can be an asshole.
His accent ain't smooth, like my birth certificate.
His accent is the rough edges around
my family's tombstone.
His accent is the crease that creates
the wings of a paper crane.
His accent is the hole in a Japanese
internment camp fence,
an escape route to his culture.
English cracked as the glass frame
that held my grandparents' photo.
My father's accent is thick, words stick
together like vinegar rice on his wrinkled hands.
Spent more time cooking for people
than working on his speech, standard English
wasn't going to feed his children.
The recipe is his way of talking to Americans;
it's how people understand what his heart
is trying to say.
An accent is the mark of an immigrant,
the ruler with mile long increments
measuring distance away from home.
Maybe Asians are known to be good at math
'cause that's the only homework our parents
could help us with
or maybe I'm just being defensive, afraid
my rusty Japanese makes me a broken chain link
that can't hold my lineage together,
afraid of passing down
my failing tongue to my children and their
grandpa's accent will end up sounding
more foreigner than family.
I am selfish, writing poems
and poems
and poems
and poems
about Japan
when my name is the only word I can write
in Japanese.
*This poem is copyrighted by G YAMAZAWA (2016)
* * * * *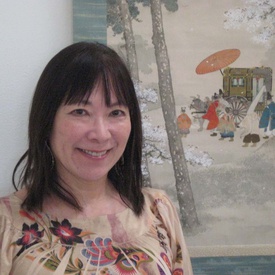 Amy Uyematsu is a Sansei poet from Pasadena/Sierra Madre. She has five published poetry collections, the most recent being Basic Vocabulary. Amy co-edited the widely used UCLA anthology, Roots: An Asian American Reader. Recent essays appear in Flashpoints for Asian American Studies and Mountain Movers: Student Activism and the Emergence of Asian American Studies. Amy taught public high school math for 32 years. Currently, she leads a writing workshop at the Far East Lounge in Little Tokyo.
Tanko Bushi, L.A. Version 59
You are a fool if you watch this dance,
You are a fool if you watch this dance,
Such being the case, it is a loss not to dance.

— "Awa O-dori" Obon dance lyrics, Tokushima Prefecture
i
So I finally do it, after four decades
of wanting to dance the summer obon –
a Buddhist festival honoring the dead –
no more looking on from outside the circle,
too self-conscious to simply join in
and fumble my way through the steps –
no more the cultural voyeur
thinking I'm too old, too assimilated,
too torn from my Japaneses roots
to follow an ancestral tradition
that even my issei grandparents
gave up by turning Christian.
And I admit I'm a coward, relieved
that my spouse and 82-year-old nisei mother
will go with me to obon dance practice,
twice a week, at the local Venice temple.
Any illusions that we can dance
(at least to swing, funk and salsa rhythms)
show just how foolish we are.
Each dance is a puzzle of arms and legs -
movements hinting at hammering stone,
combing hair, tying up bundles of rice.
Some moves only done on one side, others
switching front to back with no warning.
The tanko bushi is the easiest, though
that's not why it's my favorite.
It's done to a coal miner's folk tune
with a haunting melody.
"I wonder if smoke stings the moon,"
the woman's high-pitched voice
sings in Japanese words I translate later.
"I prefer to sleep in the barracks
where the moon shines in,"
as we dig our shovels into the ground
then step back and raise hand
to brow, wiping off the sweat.
ii
So the big night is here, after four decades
of foolish yearning, I dance inside the circle.
Wearing my new happi coat,
I'm in a circular sea of blue and white
summer yukata, tank tops and jeans,
matching logo jackets for different
temples, little girls' pink and red
kimonos, wooden clogs, zoris,
baseball caps and tennis shoes -
as hundreds of us as move in three
concentric rings, an enormous
taiko drum at our center.
And the view inside is more
than I can imagine. I'm surrounded
by dancers I don't even know
but normal boundaries disappear.
This is all that matters,
even the stepsand missteps get
lost in somethingbigger. I can't stop
smiling and want the drum beat
to last forever.I look at those who watch
from the sidewalk, close enough
to touch, all of us
such lucky, lucky fools.
*This poem is copyrighted by Amy Uyematsu (2008)