In a time of ever changing and heightened needs for social distancing, self isolation and attention to the greatest ways we can care for oneself and each other, I'm grateful to still be able to share two short poems from artists Courtney Ozaki and Margaret Ozaki Graves, both of whom are based in Denver. Their pieces speak to the solace we can find in moments of quiet, solitude, and reflection—and that the resilience before us or inside of us is ever present if we're paying attention. 
—traci kato-kiriyama
* * * * *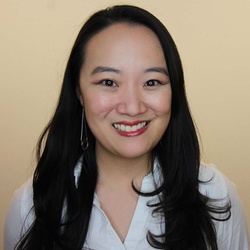 Courtney Ozaki is a creative producer based in Denver, Colorado. She is the founder of the Japanese Arts Network (JA-NE), a national network that provides access to resources and develops programs and platforms that support and strengthen visibility for JaJA (Japanese and Japanese-American) Artists in America. A professional taiko musician with over 25 years of experience, she has performed across the globe in the United Arab Emirates at the Dubai Global Village, as well as in other major cities across the United States including the National Taiko Conference Taiko Jam. After receiving her MFA in Performing Arts Management from Brooklyn College, Courtney worked as a project manager and dance producer for Joyce Theater Productions with whom she developed and toured new works with international choreographers, designers, and dancers. Courtney is passionate about the melding of ideas and the integration and interdependence of arts sectors. She is motivated by the impetus that an inclusive arts culture leads to a more productive and empathetic society.
Komorebi
A glint of light catches her eye;
Sitting beneath the tall oak tree,
atop roots that were laid by her grandfather.
Warm rays cover her face as they break
Through the tree's emerald green leaves,
A blanket of warmth from the sun.
Natsukashi - she recalls her grandmother's love.
Weathering harsh winters and dust laden winds, this towering friend has stories to tell; Resilience deep within its rings.
Seeds of hope were planted in the earth;
Life thriving in a barren landscape.
* This poem is copyrighted by Courtney Ozaki (2020)
* * * * *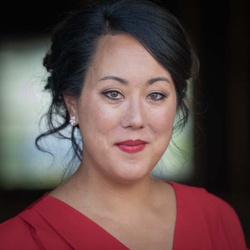 Margaret Ozaki Graves is a cultural consultant, arts administrator, teaching artist and professional performer based in Denver, Colorado. She's published on topics relating to Japanese culture, diction and music in JARCC, Nikkei Today and the NATS Journal of Singing and has taught on topics of Japanese culture, language/diction and diversity/casting across the country. She holds a doctorate in Vocal Performance Studies and Opera with a cognate in Japanese Aesthetics and Music from Cincinnati College-Conservatory of Music.
To Be Lonely and Alone (1997-2020)
It is everything and nothing
Through a winter of endless grey skies.
A forest of naked branches
Creates a place of my own.
A carpet of plastic-dry leaves
Collects at my feet.
The sound of a frozen and far-off waterfall
Cleanses my spirit.
It leaves me bare.
And New.
And delight fully empty....
* This poem is copyrighted by Margaret Ozaki Graves (2020)