Kin Takahashi, a Japanese student at Maryville College in Eastern Tennessee at the turn of the 20th century, attracted nationwide attention for his achievements on campus. In the succeeding century, he stood as a legendary figure at his alma mater. As is often the case with legends, separating fact from fiction can be a difficult business.
Kin Takahashi was born in Yamaguchi, Japan, around the time of the Meiji Restoration, and grew up in the town of Hiramochi. Just when he was born is a matter of dispute. He was somewhere in his late teens when he migrated to the United States.
According to one account, his father received a visitor who had travelled in America and was full of glowing accounts of the country, and his father sent him to America to learn English and acquire an education, with the goal of returning to Japan afterward to take up a commercial career.
Another account claimed that he had already thought by then of going abroad to acquire education to work as a missionary in Japan.
By his own account, Takahashi arrived in San Francisco in March 1886. Takahashi spent two years in school—one source says in San Francisco, another claims Hopkins Academy in Oakland, another claims Massachusetts. During this time, Takahashi converted to Christianity. He later stated that upon learning of his conversion, his parents, who were Shintoist and Buddhist, cut off all financial support.
It may be that he had a less dramatic conversion experience. In early 1888 Takahashi wrote a letter to the Los Angeles Times as treasurer of the Japanese Young Men's Christian Association, to inform them that the JYMCA had started missionary efforts among Japanese in the city and was holding Bible classes. In May 1888 he presented an address in English, "Japanese Young Men in the United States," at a program held under the auspices of the JYMCA at Grace M.E. Church. His leadership activity and English fluency suggest that he might have been older and present in the country for a longer period by then.
In 1888 Takahashi came to Maryville College. Maryville was renowned for its low tuition fees and its commitment to assisting students in getting an education. Maryville also had a reputation for interracialism—two Black students would graduate the same year as Takahashi. (Maryville was forced to segregate under Tennessee law in 1901, then ultimately reopened to black students in the wake of the Supreme Court's 1954 Brown v Board of Education decision).
Just how Takahashi came to enroll at Maryville is uncertain. One source says that Sen Katayama (a ministerial student and future founder of the Japanese Communist Party), who had been his classmate at Hopkins and then had enrolled at Maryville, persuaded him to come. Another source says that a "philanthropic lady" on the West Coast sponsored him for a year at Maryville.
Whatever the case is, Takahashi spent seven years at Maryville as an undergraduate, which suggests that he needed college prep or training in English—one source claims that he could barely speak English upon his arrival. Throughout this time, he was forced to scramble to support himself. He worked as a cook, waited tables, and did sweeping.
He also organized a self-help program to raise funds for himself and other needy students, involving the creation of gardens on an unused plot of land on campus for raising food. His efforts led to the creation of a permanent work-study program at Maryville.
In the summers he held outside jobs—in 1893 he worked as a waiter at the Montvale Springs resort. Most notably, he gave lectures in the region. In May 1893, he gave a lecture at the Maryville Baptist Church on "The Importance of Japan as a Missionary Field." The following year, he travelled to Chattanooga to give a pair of lectures on Japan. In October 1894, he lectured in Knoxville on "The Responsibility of Young People Toward Missions."
In addition to his studies, Takahashi became a familiar figure for his on-campus activities. He was known for his participation in YMCA and missionary activities and for his literary bent. As early as 1892 he presented an oration before the Athenian Literary Society, and in 1894-1895, he was elected president of the society. That same year, he cowrote a "College notes" news section for the Maryville Times newspaper. In 1896, he was selected as editor of "College Days," a magazine for students.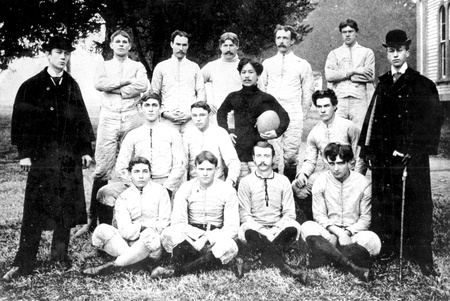 Amazingly, Takahashi also inaugurated the sport of football at Maryville, taking the position of quarterback and team captain. Although only 5-foot-2 and 123-pounds, Takahashi distinguished himself by his speed (for which he was dubbed "Kentucky Hossie", a corruption of his name) and his knack for developing plays and formations, then teaching them to his teammates by using diagrams with corn kernels representing the players at different positions. After losing in the first two attempts against a team from the University of Tennessee, Takahashi and his troops tied two games and won six against the Volunteers. In December 1894 Maryville swept the Knoxville YMCA team 22-0. Takahashi has been credited by later observers with helping bring the sport of football to the American South—where it remains immensely popular to this day.
It was also Kin Takahashi who championed the building of a YMCA and gymnasium building at Maryville—thereby combining his interests in athletics, education, and religion. In March 1894, he chaired a mass meeting of faculty and students to consider and devise plans and methods of raising money for the twin buildings. Little progress was made during the first year.
In May 1895, after graduating with a bachelor's degree, he called a mass meeting of students to encourage them to take the lead in building the proposed building. During the summer of 1895, using wood donated by local farmers to heat the kilns, students working under Takahashi's direction formed and fired more than 200,000 rough bricks and 100,000 pressed bricks for the building.
Soon after, in order to raise money for further materials, Takahashi undertook a four-month tour of Northern states to canvass potential donors for financial support. For example, on March 15, 1896 he spoke at the Jersey City YMCA. In November, just before he left, he led a delegation of some 150 students to Atlanta to visit the newly-opened Atlanta Exposition (soon to become notable as the site of Booker T. Washington's renowned "Atlanta Compromise" speech). He meanwhile spoke in nearby Knoxville on "The China-Japanese War and its Effects Upon Christianity."
In the end, Kin Takahashi raised $7,500 or $8,000 (sources differ) of the approximately $12,000 needed for the project. In mid-1896, he laid the cornerstone of the new building, dubbed Bartlett Hall. It was only the third such Association building built in the Southern states and the first one on any campus.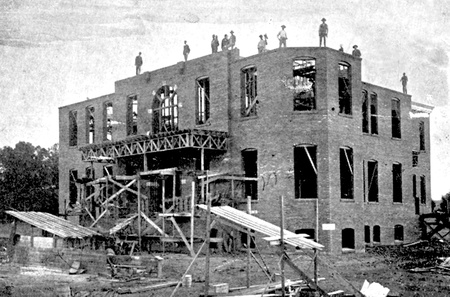 By fall 1897, Takahashi decided to return to Japan. He stated that he wished to take up missionary work in Japan. In addition, his health was beginning to fail. A special farewell service was held for him at Maryville College, in which both students and professors participated. President Boardman made a speech and then, on behalf of both students and faculty, he presented Takahashi with a gold watch as a tribute. At the end of September 1897, on his last Sunday in Tennessee, Takahashi lectured in Knoxville on "Why Christ and Not Buddha." He made his way north to Pennsylvania and lectured in Pottsville, Pennsylvania in November 1897 and in Reading in December.
In January 1898, Takahashi arrived in Japan. Following an extended stay at his family home, he was engaged as a Christian social worker and General secretary of the Tokyo YMCA. After suffering through a lingering illness, he retired to Hirao, a village of some seven thousand people, where the work was initially less strenuous. However, he undertook to found a school for local youth, and in the process overexerted himself. He died in Hirao on May 7, 1902.
Although Takahashi spent only a dozen years in the USA and died young, his deeds assured him a posthumous renown. In 1917, he was commemorated with a chapter in Joseph W. Cochran's book Heroes of the Campus. It was at Maryville itself that he became a legendary figure for his role in bringing football to campus and championing the building of Bartlett Hall.
In 1997, Maryville alumni created Kin Takahashi Week, an annual celebration of volunteerism and determination. Around 50 alumni, parents of students, and friends of the college stayed in student dormitories and ate in the school cafeteria so they could participate in a variety of projects in the buildings and on the grounds of the Maryville College campus.
In 1998, the national alumni board of the Maryville College Alumni Association named a new young alumni award in his memory. Officially called the "Kin Takahashi Award for Young Alumni of Maryville College," it is awarded to "any alumnus/alumna who has, within 15 year of his/her graduation of Maryville College, lived a life characteristic of College legend Kin Takahashi, who, in his 36 years of living, worked tirelessly for the betterment of his alma mater, his church and his society." Thanks to the Class of 2000, a room in the renovated Bartlett Hall was named the Kin Takahashi Room in his honor.