Kaichi Tabata's family in Japan
After the induction medal issue was settled, I received mail on November 27, 2019 from Keiichi Tabata in Japan.
Dear Mr. Shima,

Let me introduce myself. I am Keiichi Tabata, grandson of Kaichi Tabata who is the first baseball player of Vancouver Asahi.

….My grandfather Kaichi Tabata was born in Suzuka City, Mie, Japan in 1895, married with Nobu and had seven children (4 boys and 3 girls). My late father Terukazu Tabata, the first son, was born in Vancouver in 1926 and stayed there four years until Kaichi and his family went back to Japan once. Hence, the family returned to Canada again before WWII, leaving three children in Japan.

Under such circumstances, during and after the end of WWII, the family remained separated between Canada and Japan. Out of the total 7 children, three children, namely my father, aunt and uncle remained in Japan. My uncle Yasuyuki Tabata, who was my father's young brother and second son of Kaichi, is surviving in Suzuka City with very good health.

I was born in Suzuka City too and am living in Tokyo now. I could meet with Kaichi who was back to Japan temporally for the first time in 1966 (21 years after the end of WWII) accompanied by several relatives including my aunt Aiko Tabata Ido and my uncle Haruaki Tabata. I have met neither my uncle Peter Takashi nor my aunt Keiko Alice.

After my retirement from the job, I started looking for my relatives in Canada and by coincidence, last week, I was fortunate to contact Shari Tabata (one of the daughters of Takashi Peter) on her Facebook and then started our email communication.

I disclosed my family information to a friend of mine privately, who kindly helped to find and shared the above articles with me. I was aware that my grandfather played baseball but I never thought that he was in the Vancouver Asahi team. I was so surprised!

This is the reason why I am contacting with you by this mail. I am not sure what I can do for you, but please let me know anything if I can help you further.

Sincerely,

Keiichi Tabata
I shared with Keiichi all the information that I had about Kaichi and and also copies of the mails I received from Matthew. Then I received the below email on December 4, 2019:
...Please allow me to relay a copy of your mail to my uncle Yasuyuki Tabata, the only surviving son of Kaichi Tabata. His three children, who remained in Japan, apparently could not meet with other Tabata family members except for their two brothers in Canada. I regret very much that they passed away without reconnected again.

Unfortunately, I have never met Keiko Alice, third daughter of Kaichi. I came to know that her former surname was Kariatsumari, only a while ago when I had checked internet to find the obituary of my uncle Peter Takashi.

A few weeks ago, I luckily got connected with my cousin Shari Tabata via Facebook. I hope that my contact with Shari will lead me to further reconnection with other relatives whom I had not recognized and no opportunity to meet.

Well, I remember that I was able to meet with my grandfather Kaichi on my wedding in Japan. He was speaking in English and Japanese, the two languages mixed up. I now think that I should have known more of the historical environment of his life, sufferings if any and joy of living in Canada.

Please kindly let me know Matthew's email address so that I can get into contact with him. Shari apparently has no close contact with Kariatsumari. When time comes, I would like to visit them in Canada.

Now, I wish to respectfully express my deepest thanks to you and all concerned for all the efforts that were made to network the Asahi families in Japan and Canada, despite of the 100 years' lapse of time since the formation of the Asahi team. Please consider to let me join in this network if agreed...
Yobun relayed Keiichi's above message to Matthew, who responded as follows:
December 18, 2019
Hi Yobun and Keiichi Tabata,

Thank you for the wonderful and surprising news! I just connected with Mr. Keiichi Tabata via a separate email. I can't believe the connection! Looking forward to meeting you someday soon Keiichi.

Matthew Kariatsumari
On January 12, 2020, Satoshi Matsumiya and I met Keiichi Tabata for the first time at a restaurant in Tokyo for their celebrations.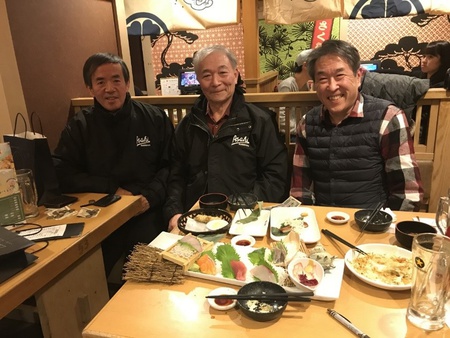 Here are Keiich Tabata's words of thanks in his mail, which was shared the next day.
Dear Mr. Shima and Mr. Matsumiya,

I appreciated very much that I could meet with you over dinner last night. It was my great pleasure to listen to your talk on basis of the informative and precious materials which I would like to share with my uncle and relatives in Suzuka City.

I would like to go to Canada in next spring, visit my grandparents' grave and to meet with my unknown relatives. Also, if possible, I would like to visit Vancouver, the home city of the Vancouver Asahi team.

Sincerely yours,

Keiichi Tabata
It was a wonderful and successful recognition of Kaichi Tabata's families who are surviving both in Canada and Japan, to be united soon.