David Toguri
I was born in Chicago in 1947 at Cuneo Hospital. Dr. Junji Hasegawa delivered me. His brother, Susumu Hasegawa, was our dentist.
My family lived above 1012 North Clark Street which was my family's grocery store, Diamond Trading Co. Later, Diamond Trading moved to 1108 North Clark near Sun Grocery, which was owned by John Yahiro.
At four or five years old I would wander up and down Clark Street by myself. I had boundaries. I couldn't go as far as Division Street. I knew Division was as far as I could go.
I would go into Sun Grocery and get "free" ice cream. I went to the freezer and helped myself to the ice cream, then someone would take me back to Diamond Trading. I don't know if they ever got paid!
My brothers, William and Byron Toguri, Dennis Watanabe, Mo Watanabe, Bob Terada, and Kevin Kaneko played basketball and baseball in back of Hiroshi Kaneko's building. When Junior Morita came in to play basketball, I remember that he looked like a guy to be respected. He was older and even then he carried himself like a movie star.
When I was six or seven years old, I was sitting on top of the trunk of Marvin Sato's "souped up" car, and he took off so fast I slid off and probably scratched the car.
I went to the original Ogden Grammar School on Chestnut and State with Charlotte Kaneshiro Nakawatase, Donnie Yoshida, Wayne Fujita, Lau Wing, Leung Wing, and Angela Konishi. We all went to Waller High School.
Newberry Theater cost 25 cents. My bike got stuck in the track of the trolley cars and I had to have someone help me get it out before the trolley came by.
We left the area in 1969.
* * * * *
The Kaneko Family: Donna Tamaki, Cheryl Ikemiya, & Kevin Kaneko
Our family was originally from Oregon but moved to Chicago after leaving the internment camps at Tule Lake (CA) and Minidoka (ID). When our paternal grandfather, Yagoro Kaneko, found out that many former internees were having problems finding housing in Chicago because of discrimination, he decided to lease a residence hotel on the Near North Side of Chicago, managed by our parents Hiroshi and Dorothy Kaneko, and provide them with a place where they could stay temporarily. The building was called La Salle Mansion and Annex (1039 North LaSalle, corner of Maple) and is still standing today as a condominium. The neighborhood has become gentrified but was a bit seedy in those days, and a few women of ill-repute seemed to have come along with the building! Across the street was the Chicago Resettlers Committee (today the Japanese American Service Committee) where newcomers to the city could get help finding work and permanent housing.
The buildings were dirty and bedbug-ridden, and our mother talked about how hard she had to work cleaning the place at the beginning. She was not a big woman but was occasionally even expected to shovel coal into the furnace. There was a dark, underground passage that led to the annex on Maple Street, where the apartments were larger and where the Moritas, our relatives on the maternal side of the family, lived. The Kanekos, the paternal side of the family, lived in the unit on LaSalle.
In the fifties, our family relinquished the building on LaSalle Street and bought a smaller, six-flat building nearby at 1020 North Clark Sreet. Our Morita relatives moved there, too, and lived across the hall from us. We kids went freely back and forth, so we had the run of the whole second floor. There were a lot of Japanese-owned businesses on Clark Street, on a three-block stretch, from Oak to Division. This was the center of the postwar Japanese "business" community. Our uncle, Roy Kaneko, ran Excel Food Mart just south of Division on Clark. He carried regular groceries but also sold Japanese vegetables that our Kaneko grandfather trucked into Chicago every weekend from his farm in Argos, Indiana (near Plymouth). Our grandfather even pickled daikon and made takuan which he stored in his barn. The store also carried sashimi and we got to eat the bits that didn't sell, including toro, which was considered "scraps" in those days.
Other Japanese-owned stores in the neighborhood that we remember are the Toguri's grocery store and mercantile shop, Sun Grocery, Frank's Jewelry (where Cherie and Donna had their first part-time jobs as high schoolers), the Mark Twain beauty salon and the Matsuya Restaurant. Dr. Susumu Hasegawa, the dentist, had his office just north of Division, and Dr. Ben Chikaraishi was our optometrist. We sometimes ordered take-out from Ding Hoe Chop Suey or the Rib House (real "spare" ribs) and after piano recitals were always treated to sundaes or banana splits at the Ting-a-Ling ice cream parlor. The Windsor Theater was north of Division, and Grandfather Mototsugu Morita would sometimes take us there to see double features (he liked westerns).
Our elementary school, William B. Ogden, was a short walk away on Dearborn and Walton, just past the Newberry Library. The face of the neighborhood changed dramatically as you walked east, away from Clark. Just a few blocks away was the Gold Coast and from the school playground we could see the restaurants and nightclubs on Rush Street. The school population was economically very diverse but racially fairly homogeneous, except for a small number of Japanese American and probably Puerto Rican students. The Ogden School PTA was populated with many of the JA mothers, who took on major roles in its activities. One memorable activity was PTA mother Alice Beppu (wife of Tadao Beppu, who later became the Speaker of the State of Hawaii's House of Representatives) teaching the JA girls the hula, Lovely Hula Hands. It was a show stopper at the school talent shows.
Donna vaguely remembers bon dances being held in the neighborhood in the summer and sumo matches in our backyard at 1020 North Clark Street. Our father, Hiroshi Kaneko, paved the backyard with cement so it was our playground and a place for the children who lived in our building and neighborhood to hang out. In the summer we could catch fireflies there. And in the winter our Dad flooded part of it for ice skating, another wonderful perk. During our Christmas school vacations, we kids were recruited to help make mochi to sell at Uncle Roy's grocery store for New Year's. Our father bought a commercial, motor-operated mochi pounding machine, and our garage was converted into a mochi-making workshop. Our job was to set upright the mochi balls that our father cut and put them on trays when they had cooled. We learned how to fill them with anko and sometimes sneaked bites. We'll never forget the taste of the warm, freshly-made, sticky dough.
On Saturday mornings we marched off to Japanese lessons at the apartment of a woman who may have been a Kibei (Nisei educated in Japan). She must have had the patience of Job because we didn't do our homework and didn't have our hearts in the lessons. But we did learn the hiragana alphabet. We were impressed by how many pairs of shoes she had (maybe 20?), which were displayed on a shoe rack near the door.
Being on the Near North Side meant we were a short subway, bus, or streetcar (Green Hornet) ride to downtown Chicago, Oak Street Beach, or Lincoln Park. Although the neighborhood had its unsavory elements, it was also a community where everyone knew and looked out after each other. And just a short walk or train ride away were the best facilities the city had to offer. When the Carl Sandburg Village urban renewal project was completed in the 1960s, most of the buildings in our neighborhood were torn down, and the Japanese Americans, as well as our Puerto Rican neighbors, had to relocate, yet again, further north.
Growing up in this tight-knit, friendly and supportive community was important for the Sansei generation, who were relatively untouched by the discrimination and unlawful treatment experienced by our grandparents, parents, aunts, and uncles. We only later learned about their World War II experience of internment camps and the struggles they went through to rebuild their livelihoods and establish a strong community in post-war Chicago. For their strength and faith we will be always grateful.
* * * * *
Ernest I. Yahiro
In May, 1945, John Yahiro called the family in Heart Mountain, Wyoming, to come to the Sun Grocery store. We lived in the rear of the store. Mom and Dad lived on the first floor while the five boys lived on a built-up "mezzanine" floor.
The oldest two boys were never home at the same time, so four beds were adequate. Ken and Art were in colleges or the U.S. Armed Forces at varying times. George was at University of Illinois at Navy Pier, Howard was at Wright Jr. College, and little Ernie was only in high school.
Upstairs from the grocery store lived the Uchida family (one daughter and three sons). The youngest son, Tad, and his brother, Yuk, along with Hidaka (Sun Cleaners on Division Street), Shiraishi, Art Okamura (Elm Street), and others, formed a small-sized (under 120 lbs.) football team.
The Chicago Resettlers Committee was instrumental in aiding us and other Japanese American families in the Clark/Division area. Brother Theophane of the Maryknoll School was in this group. In fact, he was instrumental in getting me from Wells High and another student from DuSable High to meet and present an award to Frank Sinatra on stage at the Chicago Theater.
Dad was a pre-war graduate of the University of Southern California and was busy in paralegal practice while in Los Angeles. I asked him why he didn't restart in Illinois. He claimed our camp experience, et cetera, and that the new Illinois laws would be too much . . . so he settled in the grocery business.
An interesting episode occurred one night when I was returning "home" (the grocery store). It was about midnight as I was unlocking the front gate, when a police officer thought I was breaking into the store. I told him that I lived in back of the store with the rest of the family. It was about I week later, the Chicago Health Department Inspector said this was illegal.
So Dad took it upon himself to move the family to 2737 North Hampden Court (near the Lakeview JA enclave). It was at this address that George (#3 son) attended the University of Illinois School of Pharmacy and Ernest (#5 son) attended the University of Illinois Medical School.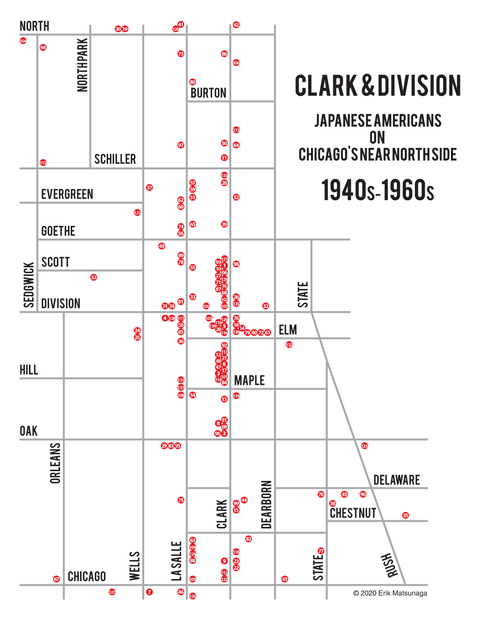 AUTHOR'S NOTE: Because this was a neighborhood of great transition (there was no Nikkei presence prior to 1942) not ALL of the listed businesses are Japanese or Japanese American owned or operated, but are still notable pieces of the Near North Side Nikkei community's history, such as the famous Ting-a-Ling, a Caucasian-owned candy shop and Nisei hang-out; Fred Klaner Funeral Home, which serviced the early resettlers; The Hawaiian Club, a Korean American-owned pool hall and purported gambling den; and any number of Chop Suey houses.


1250 N. Clark


York Super Food Market (Tom Hayashi, Tom Fukuda)
- Moved to 3240 N. Clark
Kato Apartments (Kiyo Kato)
Taniguchi Hotel (Thomas M. Taniguchi)
Chicago Nichiren Buddhist Church (Rev. Yohaku Arakawa)
- Moved to 1620 N. LaSalle

1012 N. Clark


Diamond Trading Company (Jun Toguri)
- Moved to 913 W. Belmont

1120 N. Clark


Sun Grocery (John M. Yahiro)
Tsukahara Rooming House (Fusakichi Tsukahara)

149 W. Division


Asato Soybean Shop (Tokujin Asato)

1154 N. Clark


Ding Hoe Chop Suey (Philip & John Moy, Ming Moy)

1126 N. Clark


Aloha Inn (J.I. Suzuki)
Liberty Inn (Kusuhei Yamamoto)
J. Toguri Mercantile Interior Decorative Goods (Jun Toguri)

749 N. Wells


Ken Restaurant (Ken Nagano)
Round Plate Restaurant (Mary Shigetomi)

1016 N. Clark


Gila River Restaurant (Kusuhei Yamamoto)
Hinode Chop Suey

816 N. Clark


Ave & Gahan Restaurant (Y. Maruyama)

1248 N. Clark


Sanitary Restaurant (E. Kakita)
New Service Grill (Noboru Taniguchi)
Hinode Shokudo
Tokyo Sukiyaki
Futaba Shokudo

1416 N. Clark


Hoe Lee Yun Restaurant (K.K. Wong, Frank Dor, Asako Takano)
Ten Kin Chop Suey (Giichiro Tanaka)
Sugano Apartments (Leo Sugano)
Kitaoka Apartments

1132 N. Clark


Ten Gen Restaurant (M. Kimura)
Denya Restaurant
Kin Mon Low Restaurant (S. Yokota)

1030 N. Clark

1151 N. Clark


Tenkatsu Restaurant (T. Miyaki)
- Moved to 3365 N. Clark
Ginza Restaurant
Kanaya Apartments
Kitagawa Apartments (Koichi Kitagawa)

851 N. Clark>


Clark Restaurant (Hiroshi Nukuto, Jisei Fukuda, Chester Joichi)

1222 N. Clark


Wah Mai Lo Restaurant (Foon Der)

1122 N. Clark


Surugaya Café (Yuzo Sakurada)
Matsuya Restaurant (Takara Inouye)
- Moved to 3469 N. Clark

1153 N. Clark


Excel Food Mart (Roy Kaneko)

218 W. North


Rainbow Food Market (Tom Fukuda, George Takaki)

1358 N. Clark


Ichifuku Restaurant
Johnny's 3-Decker Sandwich Shop (John Ishida)
- Moved to 3152 N. Broadway
Hawaiian Club Recreation Center, 2nd Floor (John Lee)
Asia Post Recreation Center, 2nd Floor

1130 N. Clark


Rainbow Inn (Kay Yoshikawa)

813 N. Clark


Washington Food Mart (Joe S. Wakamatsu)

815 N. Clark


Golden Star Restaurant (L. Leong)
Chi-Lark Apartment & Hotel (Tahei Matsunaga, Matsuji Matsushita)

1152 N. Wells


Division-Wells Cafeteria (Tokujin Asato)

1150 N. Wells


Division-Wells Food Mart (Tokujin Asato)

1219 N. Clark


Asato Tofu Mfg. Co. (Tokujin Asato)
Windsor Hotel (Shikuma Mori, Shotaro Yamamoto)

1244 N. Clark


New Delaware Gardens Restaurant (Kay Nozawa)
North Clark Laundromat (Hirabayashi, Terusaki)

1152 N. Clark


Miyako Restaurant
- Moved to 3242 N. Clark

161 W. Oak


Kimura Delicatessen (James Kimura)

228 W. North

156 W. Division


Tokyo Restaurant (Noboru Okayama)
Wakayama Kenjinkai

42 W. Division


Ting-A-Ling Candy Shop (John & Angelina Zaffer)

1219 N. LaSalle


Midwest Buddhist Church, 1st Location (Rev. Gyodo Kono)
- Moved to 1441 N. Cleveland (Olivet Institute)

152 W. Division


Midwest Buddhist Church Office

126 E. Chestnut


Japanese Church of Christ of Chicago, 1st Location (Rev. Kohei Takeda, Rev. Sumio Koga, Rev. Yoshimatsu Oyama)
- Moved to 1136 N. LaSalle

1136 N. LaSalle


Japanese Church of Christ of Chicago, 2nd Location
- Moved from 126 E. Chestnut
- Moved to 1343 N. Wells
Subway Billiards (Joe Zipp)

1343 N. Wells


Japanese Church of Christ of Chicago, 3rd Location
- Moved from 1136 N. LaSalle

879 N. State


Chicago Zen Buddhist Church, 1st Location (Rev. Soyu Matsuoka)

1316 N. Clark


Chicago Zen Buddhist Church, 3rd Location

62 W. Elm


Chicago Zen Buddhist Church, 4th Location
Richmond Apartments (James K. Hamano)
Kawada Radio Service (Koo Kawada)

1620 N. LaSalle


Chicago Nichiren Buddhist Church (2nd Location)

1635 N. Clark


The Japanese Christian Church (Rev. Sadaichi Kuzuhara, Rev. Akira Kuroda, Rev. H.Y. Hashimoto)

30 W. Chicago


Japanese Congregational Church (Rev. Kiyoshi Ishikawa)
Lawson YMCA Judo (Hank Okamura)

73 W. Delaware


Imamura Apartment (Thomas Imamura)
Shingon Buddhist Church

11 E. Delaware


Nozawa Apartment (Kay Nozawa)

746 N. LaSalle


Home-Like Boarding House & Hotel (T.H. Tanabe, Sakaye Takahashi)

1124 N. Clark


Hanaki Apts. & Rooms (Eizo Hanaki)
Yamanashi Kenjinkai
J. Toguri Mercantile Co. Retail Dept. (Jun Toguri)

1128 N. Clark


Harada Apartments (Kameichi Harada)
Kashu Mainichi, Los Angeles Japanese News Chicago Office
Japanese American Business Association of Chicago
Marusho Shoyu
J. Toguri Mercantile Co. Wholesale & Book Dept.

159 W. Goethe


Goethe Apt. Hotel (Mikitaro Sato)

1428 N. Clark


Ito's Apartments (Fred Ito)
Shibata Apartment (Harold S. Shibata)

1337 N. LaSalle


Kayahara Apartments
Fred Hikida Apartments

1341 N. Clark


Kawazoe Rooming House (Yae Kawazoe)

229 W. Scott

1039 N. LaSalle


LaSalle Mansion & Annex (Yagoro & Hiroshi Kaneko, Tanaka, Tom & Mitsuji Oishi)
Mutual Business Agency (Thomas S. Tomihiro)

1231 N. LaSalle

Kochiyama Apartments (Frank Kochiyama)
Motomura Apartment (Fujiyuki Motomura)

1300 N. LaSalle


Masunaka Apartments (Hikobei Nakata)
Takahashi Apartment (Yuichi Takahashi)
Century Metal Craft Corporation (Koichi Masunaka)

1349 N. LaSalle


Morishita Rooming House (Ryokichi & Mary Morishita)

1152 N. LaSalle


Nukuto Apartment (Hiroshi Nukuto)

1345 N. LaSalle


Omori Apartment (Kimiye Omori)

1330 N. LaSalle


Sam's Boarding House (Sam Hikawa)

56 W. Elm


Richmond Apartments (Tom Okuhara)

1332 N. LaSalle


Satow Apartments
Iwasaki Apartment (Frank Iwasaki)

837 N. LaSalle


Sugano Apartments (George & Tom T. Sugano)
Empire Art Products (A.R. Katsuno)
Tomio Sugano Travel
Chicago English & Japanese Language School - Oriental Photo Studio (Bill T. Yamamoto)
- Became LaSalle Photo Service
- National Chick Sexing Association (Ken Yoshihara, George Sugano)
Fusataro Nakaya, M.D.

1421 N. Clark


Takeuchi Apartment (L. Takeuchi)
Sakamoto Apartments

1333 N. LaSalle


Tsukuno Apartment
Fujimoto Apartments

1246 N. Clark


Virginia Apartments (Tahei Matsunaga) - Electric Sales & Service (Teruo Joe Nihei)

342 W. Chicago


Willimac Hotel (Kawamura)

1216 N. Clark

1016 N. Clark


Gila River Rooming House (Yamamoto)

870 N. State

1238 N. Clark


Pullman Apartment (Tom Okuhara, Sam Koizumi)
Okuhara Hotel & Apts. (Tadaichi Okuhara)
Veterans Cab (Don Noro)
Nisei Tavern (Hiroto "Kaunch" Hirabayashi, Kazuo "Zoke" Hirabayashi)
- Became Nisei Lounge
- Moved to 3439 N. Sheffield

58 W. Elm


Hinsdale Apartment (Kentaro Tanabe)
Mutual Business Agency, 3rd Location (Thomas Tomihiro)

1540 N. LaSalle

1302 N. LaSalle


Sakuma Apartments (Yunosuke Sakuma)

866 N. LaSalle


Yamada Hotel (Richard Yamada)

1157 N. Clark


Empire Apt. Hotel (Iseichi Hayashikawa)

7 W. Pearson


Candee Apartments (Yoshito Sera)

1240 N. LaSalle


Shizume Apartments (Henry Shizume)
Sugano Apartments (Leo Sugano)

64 W. Elm


Tsuchiya Apartments (Andrew K. Tsuchiya)
Tanabe Apartment (Kentaro Tanabe)
Mutual Business Agency, 2nd Location (Thomas Tomihiro)

1531 N. LaSalle

Harry Hikida Apartments
Oda Apartment (Frank T. Oda)

1206 N. LaSalle


Kato Apartment (Kiyo Kato)

63 W. Chestnut


Egawa Apartment (Sakauchi Egawa)
International Sewing Machine Repair (H. Nitta)

159 W. Oak


Egawa Apartment (Sakauchi Egawa)

1108 N. Clark


Crystal Hotel (Ishi Suzuki, Shigeichi Yamate)
Diamond Trading Co. (Toguri Grocery), 2nd Location (Jun Toguri)
- Moved to 913 W. Belmont

1150 N. LaSalle


LaSalle Studio Apts. & Hotel (Tom Toru Sato)

1540 N. Clark


Deguchi Apartment (Takeo Deguchi)

1220 N. Clark

821 N. LaSalle


Sugano Apartments (George Sugano)
National Chick Sexing Association
- Moved from 837 N. LaSalle

1244 N. LaSalle


Koizumi Apartments (Sam Koizumi)
Seiichi Koizumi Carpentry

55 E. Delaware


Hirabayashi Apartment (Motoyoshi Hirabayashi)

1020 N. Clark


Kaneko Apartment (Hiroshi Kaneko)
Anchor Club Tavern (James Ishibashi)

1138 N. Clark


Konishi Apartment (George Konishi)

1252 N. Clark


Takahashi Apartment (Taisuke Takahashi)
Takahashi & Co. Clothing

1547 N. Sedgwick


Yagi Apartment (Genji Yagi)

157 W. Oak


Katsuda Apartment (George Katsuda)

104 W. Oak


Nishimura Apartment (Tadao Nishimura)
Japanese American Employment Agency (George T. Nishimura)
- Moved from 1148 N. Clark

1426 N. LaSalle


Tanabe Apartment (Yoshio Tanabe)

1253 N. Clark


Fred Klaner Funeral Home (Serving the Japanese American community)

857 N. Clark


Nisei Cleaners (Ken Kunimatsu)

114 W. Division


Division Cleaners (Torao Hidaka)

1118 N. Clark


Nisei Barber Shop (Masu & Eitaro Sakurada, Taigo Miyahara)
Sakurada Carpentry
Miyamoto Jewelry
Eagle Barber Shop (George Inouye, F. Matsumoto)

1210 N. Clark


The Powder Box Beauty Salon (Tsuyako Suzuki, Virginia Hara)
Junji Hasegawa, M.D.
Susumu Hasegawa, M.D.

111 W. Division


Mark Twain Beauty Box (Kazu Kuwahara)

417 W. North


Harry T. Kajita Watchmaker & Jeweler

133 W. Chicago


Ogata Photography Studio (James Ogata)
- Moved to 1533 N. Clark

1533 N. Clark


Ogata Photography Studio (James Ogata)
- Moved from 133 W. Chicago
- Became Triangle Camera
- Moved to 3445 N. Clark

1200 N. Clark


The Speed-O-Sex Chick Sexing Institute (Jiro Yamaguchi)
Oda Tailors (Munesue Oda)
Harry Sabusawa Real Estate & Insurance
Chicago Japanese American Civic Association Credit Union
- Moved to 1011 W. Belmont
Japanese American Citizens League
- Moved to 21 W. Elm
Thomas H. Hiura, D.D.S.
Ben T. Chikaraishi, O.D.
- Moved to 1011 W. Belmont
Hiura & Hiura, O.D.

1034 N. LaSalle


LaSalle Photo Studio (Bill T. Yamamoto)
Chicago Japanese American Civic Association Credit Union
- Moved from 837 N. LaSalle
Chicago Japanese American Civic Association Credit Union
- Formerly Oriental Photo Studio
Chicago Japanese American Civic Association Credit Union
- Moved to 1700 W. Diversey

835 N. LaSalle


Avon Cosmetics (Mrs. Yo Fujita)

1162 N. Clark


Frank's Watch Repair (Frank Noda)
- Moved to 1168 N. LaSalle
Sugano Travel Service
- Moved from 825 N. LaSalle
Japanese American Association of Chicago

1168 N. LaSalle


Frank's Watch Repair (Frank Noda)
- Moved from 1162 N. Clark
- Moved to 3174 N. Broadway

810 N. Clark


Ken Yoshihara Insurance
Yoshihara Bookkeeping (Teruo Yoshihara)
Yamada Insurance (Richard Yamada)
Richard Hikawa, Attorney-At-Law
Cosmopolitan Travel Service (Richard Yamada)
Chicago Japanese American Hotel & Apartment Association
Nisei Veterans Club

1449 N. Clark


California Daily News (Shigenaga Kawada, Rep.)

1116 N. Clark


Yamasaki Apartment (Tokusaburo Yamasaki)
Rafu Shimpo, Los Angeles Japanese Daily News (Koichi Masunaka, Rep.)

1401 N. Sedgwick


Sun Cleaners (Torao Hidaka)

1148 N. Clark


Japanese American Employment Agency (George T. Nishimura)
- Moved to 104 W. Oak
Hiroshima Kenjinkai

1134 N. Clark


Li'l Tokyo Barber Shop (Tom Koyanagi)

821 N. Clark


Sugano Bros. & Co. Bookkeeping

1035 N. Clark


T.R. Cleaners (Anthony T. Muranaka)
Jan's Cleaners (Seiichi Kayahara)

140 W. North


Tom's Standard Service (Tom Fukuda)
- Moved to 2936 N. Halsted

1258 N. Clark


Mid-City Cleaners (Hisatsune Nakaya)

800 N. Clark


United Asia Trading (Hori Bros.)
Arrow Pest Control (James Hamano)
James Ogisaka, Attorney-At-Law
Joe Y. Shibata, Attorney-At-Law

1310 N. Wells


Chicago Shimpo Japanese American News (Ryoichi Fujii)
- Moved from 1325 E. 47th Street
- Moved to 3744 N. Clark

825 N. LaSalle


Sugano Travel Service (Leo Sugano)
- Moved to 1162 N. LaSalle

33 E. Oak

1164 N. Clark


Nichibei Mainichi, Los Angeles Japanese News
Nisei Optical Center
Minoru Amimoto, O.D.

227 W. Chicago


S.O.S. Electronics (John Uehara)

147 W. Division


Electric Shoe Repair (Masakiyo Arakawa)

1240 N. Clark


North Clark Laundromat (Hirabayashi, Terusaki)

734 N. LaSalle


Chicago Resettler's Committee (Corky Kawasaki, Masaji Morita)
- Moved to 1110 N. LaSalle

1110 N. LaSalle


Chicago Resettler's Committee
- Moved from 734 N. LaSalle
- Became Japanese American Service Committee
- Moved to 3257 N. Sheffield
Nisei Veterans of WWII (Mas Imon, Mike Hagiwara, Haruo Fujimoto, Shiro Kashino)
Japanese American Council
Hawaiian Club
Cosmo Club (War Brides)
CYO Nisei Center
Chicago Nisei Sports Association (Bill Adachi)
Midwest Golf Association (George Hiura)
Bridge Club & Goh Tournaments
Girls Club Council (Sorelles, Mam'selles, Debonnaires, Estelles, Jolenes, Chatelaines, Cidy's, Yukiyes, Velvettes, Silhouettes, Maya'Devi, Serenes, Philos, Ting-A-Lings)

21 W. Elm


Japanese American Citizens League
- Moved from 1200 N. Clark
- Moved to 5415 N. Clark

1364 N. Clark


Chicago Mutual Aid Association
- Moved from 716 N. Clark

1158 N. Clark


Playtime Tavern (Harry Nakamura)

1213 N. Clark


Gold Coast Nisei Bowlers League

1149 N. Clark


Sea Isle Hawaiian Nitery ("Pappy Lee")

1050 N. LaSalle


Sato Apartments (Mary Sato)