"Nothing could be more systematic than the determination with which the mob picked out Japanese and Chinese windows and spared those right adjoining if they were those of whites. On Columbia Avenue, for example, all the Chinese windows were broken and those of two white real estate brokers were left whole."

— The Vancouver Daily World newspaper reporting about the Powell Street Riot in 1907
Prior to making my first visit to the Powell Street Festival in August, I noticed several events in the program published in Geppo that piqued my interest, among them being the 360 Riot Walk that advertised itself as follows:
"The Anti-Asian Riots were one of the most significant events in the history of Vancouver. 360 Riot Walk is an audio-visual experience that traces the history and route of the mob that attacked both the Chinese Canadian and Japanese Canadian communities following the demonstration and parade organized by the Asiatic Exclusion League in Vancouver. Immerse yourself in the social and political environment of the time when many communities were targeted through legislated as well as physical acts of exclusion and violence."
Intrigued, I joined the tour along with a half dozen others, led by Professor Henry Tsang of Emily Carr University. Each of us was given an iPad and pair of headphones then headed out to east end Vancouver to trace the route that the race rioters followed in their famous 1907 rampage.
When the first Europeans arrived in British Columbia, the first nations Musqueam, Squamish, and Tsleil Waututh people were already living there. Along with their finders keepers sense of entitlement, they brought other scourges like small pox which wiped out all but 15 of the Tsleil Waututh people by 1862.
In Vancouver's first election in 1886, the white manager of the Hastings Sawmill brought 60 Chinese, Japanese, and Indigeneous to polling stations to vote for him. When word got out, a riot broke out as Asians weren't allowed to vote. Then, two months later when the "Great Vancouver Fire" broke out, burning down most wooden structures in the city, the Knights of Labour organized a boycott of businesses that served the Chinese residents. In addition, the city passed racist bylaws restricting anyone who was Chinese from rebuilding. On February 24th, 1887, after a meeting at City Hall, 300 angry white men attacked an encampment of Chinese labourers at Coal Harbour who had been hired to clear the land by a white-owned company in the West End of Vancouver.
The year 1907 was not a good one for Asians, in particular. That year, the prime minister of Canada was Sir Wilfred Laurier (1841–1919), the premier of BC was Sir Richard McBride (1870–1917) and Vancouver mayor, Alexander Bethune (1852–1947), who asked the federal government for permission for use of the Kitsilano Indian Reserve, still unceded, today Kitsilano is one of the city's most exclusive neighbourhoods and area where Japanese Canadians had settled before World War Two. Prior to McBride, mayor Frederick Buscombe (1862–1938), in his second term, asked the federal government to suspend "East Indian" immigration when, concurrently, racist attacks on Asian workers were on the rise. The city of Vancouver was booming, experiencing a population explosion from 21,000 in 1901 to 70,000 in 1907. Also in that same year, the Grand Trunk and Pacific Railway lobbied the federal government to import 10,000 Japanese workers to build a line in northern BC (a job that Japanese Canadians would be assigned to do as forced labour during the internment years). More than 8000 Japanese immigrants arrived in Vancouver in the first 10 months of 1907. In July, 1100 Japanese men arrived on the S.S. Kumeric. They were contracted to work for the Canadian Pacific Railway. Racial tensions were running high.
In Washington State, there was an infamous race riot, on September 5 where 500 Punjabi sawmill workers in Bellingham, were attacked by white labourers and marched out of that town. They headed to Canada where they were allowed to enter because they were British subjects. They arrived here just in time to witness the Anti-Asiatic Riot that began on September 7, raging on for two days.
Back in 1907, there was still a thriving Japantown community that was another casualty of racism during World War Two. Vancouver's other non-white population consisted of Chinese (mostly Cantonese), African Americans, First Nations people, and Punjabi immigrants, all looking for a better life, substantially for the same reasons why they come to Canada today.
* * * * *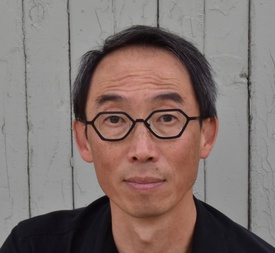 Born in Hong Kong, Henry Tsang, 55, is an associate professor at Emily Carr University of Art and Design in Vancouver, BC. He received his MFA from the University of California, Irvine. He is a visual and media artist whose work has been exhibited internationally. His artworks incorporate digital media, video, photography, language, and sculptural elements that follow the relationship between the public, community, and identity through global flows of people, culture, and capital.
First of all, can you tell me a bit about what yourself? Are you a Vancouverite? Where did you go to school? What were your own connections with the Japanese Canadian (JC)/Asian community as a kid? Growing up? Later?
I was born in Hong Kong; my family immigrated to Vancouver when I was three. Yes, I consider myself a Vancouverite. I went to school here, and did my MFA at the University of California, Irvine. Didn't have much of a connection with the JC community growing up beyond going to Fujiya with my mom and occasionally my grandma who had lived with her husband in Yokohama for years. They loved manju/mochi.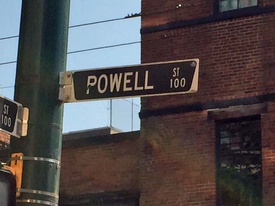 I've been going to the Powell Street Festival since the late 80s/early 90s, and have always felt welcomed and engaged there. I think it's because they've been inclusive of East Asian cultures, span the traditional to the contemporary, and is both grassroots and progressive, which is not often the case. Also, it's non-corporate, which is increasingly rare.
Can you please write a bit about your teaching career? How long have you taught at Emily Carr? What do you teach? What kind of art do you do?
My first class teaching at Emily Carr University of Art and Design was in 1992 when it was the Emily Carr College of Art and Design. It was a seminar on Race and Representation, which I taught many times. It could have also been called Racism 101; for some students, from whatever background, it was very challenging, with each going through whatever reflected or confronted their own experience: surprise, denial, guilt, anger, acceptance, affirmation. Eventually I got to teach studio courses as well. I became full-time regular faculty in 2005, and have taught across all levels from first year foundation to graduate studies in mostly studio art and media and occasionally seminar topics-based courses, often with public art themes.
My research and artistic projects incorporate digital media, video, photography, food, language, sculptural, interactive and performative elements, and social practice that follow the relationship between the public, community, and identity through global flows of people, culture, and capital. Much of my work has centred on questions of community and identity: who and where we are, what our relationship is this place and each other.
Can you tell me where you first heard about this 360 technology? Who invented it and where was it developed? Has it been used elsewhere?
I can't remember when I first heard about 360 video; it's been around awhile, and I've been curious about it but hadn't come up with an idea to employ it until 360 Riot Walk, which is my first foray into this way of making work. It's quite a different approach than making a traditional video or film as the entire concept of montage or editing visuals needs to be completely reconsidered, and the emphasis on sound is paramount.
I don't have a particular medium or technology that I always go to: rather, I try to find a form that can create an experience appropriate for the topic or theme of the project I'm working on. Of course, this in turn influences what and how it can be explored, as well as limits it.
If you want to find out more about 360 video technology, there are lots of resources and examples online.
Who came up with the idea of applying it to the 1907 Riot? Why that event?
360 Riot Walk developed out of a previous public artwork that I presented the prior summer in Vancouver, "RIOT FOOD HERE." This took the form of food offerings in four locations over four days at locations that track the route taken by the parade and demonstration organized by Vancouver's Asiatic Exclusion League from which a mob formed to attack Chinatown and Nihonmachi. The food, prepared by Chef Kris Barnholden, reflected five cuisines that people in the area would be eating at the time of the riot: European, Chinese, Japanese, Aboriginal, and Punjabi.
The project launched with a walking tour led by Michael Barnholden (the chef's father), author of Reading the Riot Act: A Brief History of Riots in Vancouver, and co-author of the 360 video script. I've known Michael since the early 90s, and have gone on his riot walks on various occasions. During the RIOT FOOD HERE walk, I thought, wouldn't it be great if this was available as a self-guided tour in a 360 video format with archival imagery embedded into the local landscape? And at that moment, I suddenly had a reason to dive into the world of 360 video.