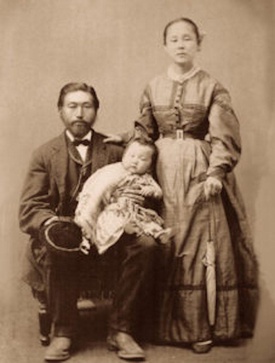 In the spring of 1869, a group of Aizu warriors migrated to California after their defeat during the Boshin Civil War. They founded the Wakamatsu Tea and Silk Colony during the California Gold Rush. One of the men who accompanied these settlers, Matsugoro Ohto, is my Nikkei Hero. While in America, he studied winemaking and helped to increase the popularity of wine in Japan after his return. Matsugoro was my great-great-grandmother's father. In other words, he was my great-great-great-grandfather. I am his 6th generation descendant. Ever since I was a child learning English, I had wanted to travel abroad, to see the unknown world and interact with all kinds of people. To make my dream come true, I studied abroad in England when I was in high school. However, I never thought that 150 years earlier, my ancestor had done the same thing. He left Japan and crossed the ocean just as I did. I felt as though this was some kind of fated connection.
I learned about Matsugoro and wanted to find out more about him six years ago. It all began with a few words from my grandmother, "Saku's (my great-great-grandmother) father went to America during the start of the Meiji Era and she was born there." At the time, I was in middle school and became really interested in learning about what kind of person the father of my great-great-grandmother was. After all, He had crossed the ocean during the time when Japan had just opened its doors to the outside world. From that interest, I decided to explore my own roots for my research project during my third year in middle school. The topic of my research was my great-great-great-grandfather, Matsugoro Ohto.
However, with that said, I didn't really have anything to work off from. First, I started with searching the internet for "Matsugoro Ohto". As my research continued, I speculated that he was a member of the Wakamatsu colony who came over to America on the steamship, SS China, in 1869. From there, I reached out to the Japanese Consulate in San Francisco and was introduced to the American River Conservancy (ARC). The ARC is a group dedicated to preserving the site of the Wakamatsu colony. I asked the ARC about Matsugoro Ohto and received a response from people who were deeply involved in research about the Wakamatsu colony. They didn't have conclusive evidence that the Wakamatsu colonists returned to Japan and never thought that they would be contacted by a middle schooler who said that she was a descendant of a Wakamatsu colonist. At the time, I essentially knew nothing about Matsugoro, so I was also quite surprised to receive such an enthusiastic response from the ARC. During my exchanges with the ARC, I gradually came to understand these astounding historical events. The feeling of confirming the existence of Matsugoro from 150 years ago and that he was connected to me in the present was a feeling that I cannot forget even now.
From my research, I was able to confirm that Matsugoro Ohto was a Wakamatsu colonist who went to America in 1869 as a carpenter. The colony collapsed after two years due to poor economic outlook and unsuitable climate. I also found out that Matsugoro returned to Japan after the collapse of the colony. So then, I decided to research what Matsugoro did after he had returned to Japan. I learned that he observed the canned tomato processing at the Naito Shinjuku Experimental Station, which is present day Shinjuku Gyo-en National Garden. I decided to visit the "History of Shinjuku Gyo-en" exhibit at the Shinjuku Gyo-en in hope of finding some material for my research. Unfortunately, a lot of the documents were destroyed by air raids during World War II, so not much information remained. However, I was able to find Matsugoro's work records and three books relating to him. From these documents, it seemed that Matsugoro, who studied fruit growing and fermentation in America, observed the canned tomato processing in Tokyo. Afterwards, he worked as a head craftsman at a winery in Yamanashi. From this information, it became clear to me what kind of person Matsugoro was. In addition to being a colonist, he was also a craftsman. With this, my research project came to a close.
2019 was the 150th anniversary of the Wakamatsu colony. The ARC organized an anniversary event, the "Wakamatsu Fest 1507", in June. I was honored to receive an invitation and attended the event with my mother. Inspired by this invitation, I restarted my research on Matsugoro. Starting with my grandmother's generation, I went backwards until Matsugoro's generation and obtained four generations of my family registry to create a family tree. Among other things, I found his birthday, place of residence, a picture of his wife, and his daughter's name. Up to that point, I had simply treated this information as historical facts. However, with the real family registry in front of me, I could clearly feel the connection between Matsugoro and myself. The fact that I was one of his descendants sank into me.
At the end of last year, I was also contacted by a worker from the Yamanashi prefectural office who was conducting research into the Meiji period's winemaking process. This person had learned about me after watching a documentary about the Wakamatsu colony that aired in Japan two years ago. Thanks to the information that the worker provided about Matsugoro, I had far more material for my research than I had anticipated.
Five years after the collapse of the Wakamatsu colony, Matsugoro made a living at Kanaye Nagasawa's Fountain Grove Winery in Santa Rosa, California. According to the family registry, my great-great-grandmother, Saku Ohto, was born during that time. After returning to Japan and working at the Naito Shinjuku Experimental Station, Matsugoro was relocated to the Yamanashi prefectural office and worked there for 10 years. He introduced the winemaking knowledge that he had obtained in America to Japan and promptly taught people how to make the sweet amakuchi wine. This winemaking process was linked to wine such as Santory's Akadama Sweet Wine. From my research before the anniversary event, I was able to discover that he was one of the pioneers in Japanese winemaking.
In June, 2019, I was finally able to step on the same ground that Matsugoro stepped on 150 years ago. After 6 years, my dream from middle school of visiting the Wakamatsu colony was fulfilled as I walked in the footsteps of Matsugoro. This was an event that will stay with me for my entire life. I thought that preserving the site of the Wakamatsu Colony was an extremely precious thing. History only shone a light on the events that were deemed important by the powerful and influential, so the traces of small Japanese immigrants' communities like the Wakamatsu colony and the people who strived to make their living there were more often than not buried in the annals of history. However, despite that, there were people who paid attention and people who worked to preserve their legacy. It made me realize how important the existence of this form of preserving history is. It's not just the ARC, it's also the people who live in this area, the people who are attending "Wakamatsu Fest 150", and all of the people who have helped me research my roots. Throughout my research into Matsugoro Ohto, I had the support of many, many people who helped me to get to where I am today and I am grateful for them. I also want to give thanks to Matsugoro who guided me all the way here. Through my endeavor of researching about him with almost no leads, he taught me the importance of the spirit of curiosity and the will to persist in the face of adversity. I am proud to be a descendant of Matsugoro Ohto.
* * * * *
Our Editorial Committee selected this article as one of her favorite Nikkei Heroes: Trailblazers, Role Models, and Inspirations stories. Here is the comment.
Comment by Masako Miki
Ms. Naori Shiraishi's essay follows her ancestor Matsugoro Ohto, who moved to California as one of the founders of Wakamatsu Tea and Silk Colony exactly 150 years ago. This essay shows her research process about her ancestor. It was truly enjoyable experience to read this since both Mr. Ohto's life and her research process were exciting. I felt so sorry that the story came to an end, reading it in one sitting.
When we research something, we sometimes experience one finding brings another connection. Through learning new things, we encounter wonderful moments to see how our past connect to what we are now. We also meet people who are willing to help us to research. We sometimes feel isolated in this vast society, history, or among people... yet, researches can tell us we are not disconnected from others. We are here because of other people existed before us, because of the history. Ms. Shiraishi essay represents the epitome of Discover Nikkei. History can live again when someone like her tells it.