This month we are treated to two highly-lauded, accomplished writers and community heroes – Naomi Hirahara and Stan Yogi. Their pieces step out of each writer's usual practice and into the poetry featured here (and we will surely feature more of their poetry in the future!). When I read through each of the poems we feature for this October issue of Nikkei Uncovered, I swear I can hear whispers of ghosts...a swirl of voices yearning to break free and be present in the place of visibility and homage. If nothing else, the writer is witness – and the poetry here bears witness to the spirits knocking on our consciousness to be heard. Enjoy!
—traci kato-kiriyama
* * * * *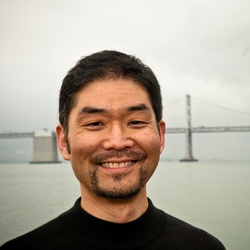 Stan Yogi is co-author of the award-winning books Fred Korematsu Speaks Up (with Laura Atkins), and Wherever There's a Fight: How Runaway Slaves, Suffragists, Immigrants Strikers and Poets Shaped Civil Liberties in California (with Elaine Elinson). He is the co-editor of two books, Highway 99: A Literary Journey Through California's Great Central Valley and Asian American Literature: An Annotated Bibliography. His essays have appeared in the San Francisco Chronicle, Los Angeles Daily Journal, and academic journals and anthologies.


Antique Store Photographs
Forlornly they wait
as I finger each one,
gazing at faces smiling
from Bryce Canyon
vacations and pink cone-
hatted birthday girls holding
cakes landscaped with ski slopes,
other people's memories,
crumbs licked from the lips of history.
too precious to purchase,
too irrelevant to keep.
Could I liberate my own hostaged
histories to these bins?
The photo of my mother costumed
in Indian dress and my pirate father
threatening her pigtails with his
foil-covered sword.
These protean visions that taunt
me with their happiness sliding
into the sadness of each
story's end.
Could I release the picture of my
two-year-old self sitting on my
father's lap, a baseball cap shadowing
his eyes, his smile corralled by
the ghost of a beard?
Perhaps my dead long for this freedom,
their vagabond spirits yearning to unyoke
themselves from my need for meaning,
my desire for algebraic answers.
Perhaps they are telling me that I
must let them go, like the love song
that glides into static as I drive over
the mountain into the foggy valley
* This poem was originally published in "Quercus Review," Number 2, 2002.
* * * * *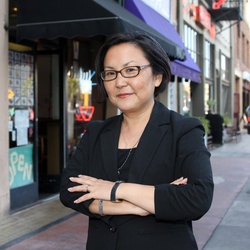 Naomi Hirahara is the author of the Edgar Award-winning Mas Arai mystery series, which features a Kibei Nisei gardener and atomic-bomb survivor who solves crimes, Officer Ellie Rush series, and now the new Leilani Santiago mysteries. A former editor of The Rafu Shimpo, she has written a number of nonfiction books on the Japanese American experience and several 12-part serials for Discover Nikkei.


The Spirits of the Streets
The fox stands alert
The lightning wand goes
gasa-gasa
zigzag zip
The tori gates stand tall
Two of them on Jackson Street
But disappear as
Buses come to take away worshippers
The one-eyed preacher
Leaving behind slavery
Descends on 312 Azusa Street
His lips move in ways
Never before experienced
Fruits of languages
That only Jesus understands
Fingerprints of the Jewish Buddhist priest
On the trunks and crates
Of photographs and things left behind
Stuffed in Nishi temple
He is the only one now to spread Dharma
The caretaker of property and memories
The ground shakes
The ground shakes
The ground shakes
The tori gates are destroyed
The Azusa shack is torn down
The priest is dead
But the fox still roams the streets
The Spirit still speaks
Love still persists
No matter what
* This poem is copyrighted by Naomi Hirahara (2019). It was written and recorded for Cog•nate Collective's artist residency project, Future Echoes, for Little Tokyo Service Center's +LAB Artist Residency Program.