In my family, we never told stories about the past. No one talked about what it was like to come to the United States from Japan, about the years before and during World War II, or how it felt to be locked up in an incarceration camp behind barbed wire even though you had done nothing wrong. Of course I never learned about the camps in school. I was so unaware of my own family's experiences that when I was taking a speech class in college and decided to do a speech on the incarceration I dutifully read books on the subject, but it never occurred to me to talk to my own family members who had actually lived in camp and experienced such wartime hardship.
It wasn't until I was in my fifties that I started to ask the questions. I had begun to collect old family photographs to make a hardbound book and I realized that it wasn't enough to make a photo book. I had to get the stories. You would think that as a professional storyteller this would be my first idea. I always urge my adult storytelling students to collect family stories. But our own family silence weighed heavily. Now I knew time was running out. My grandparents and father had passed away and the only living camp survivor was my 91-year old aunt, my father's older sister, Mary Nakagawa. So I interviewed her and learned for the first time about our Shimojima family history. Luckily for me, she showed no reluctance talking about what must have been painful memories and she helped me to understand what my grandparents went through as they lost the life they had been building for thirty-five years.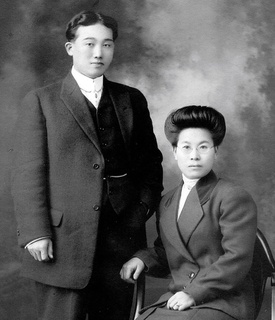 She told me about my grandfather, Seitaro Shimojima, who left the family silkworm farm in Nagano-ken in 1906 to settle in Portland, Oregon. My grandmother, Shikiye Ito, was a picture bride who arrived in 1913. Seitaro worked as a cook at the Portland Commercial Club, owned a restaurant, and finally had a successful grocery store. They had four children and my father George was the oldest son. But Pearl Harbor changed everything. Like other Portland Japanese Americans they were put into the assembly center at the Pacific International Livestock Exposition Pavilion, to live in horse stalls. My father was single and living and working in Hawaii, so it was the rest of the family who were eventually taken to Tule Lake in California.
My aunt described the barracks, the shower and latrine buildings, the pot-bellied stove, and how they put up wires and cloth to make separate areas in their one room. She talked about eating in the dining hall and how families often didn't eat together because the kids were running off with their friends. She talked about the constant dust storms bringing in dust through the cracks in the walls, the dust they could never get rid of no matter how hard they tried.
I also got lucky. I discovered that my cousin in Colorado had inherited our grandmother's photographs and personal papers, none of which I even knew existed. She sent me a big box and I opened it to discover treasures. I had never seen pictures of my grandparents as young people and my grandfather looked so young and handsome I started to understand how my grandmother could give up everything to marry a man she had never met.
The family history project has now grown into three photo books with photographs going back to Japan showing my great-grandparents. The second book includes excerpts of my aunt's interview with photos of her early life in Portland. The third book has documents like my grandparents' passports and marriage license, ship manifests, census lists, WRA records, and the government's apology letter. The most moving is a notice that my cousin found in a man's wallet years after my grandfather died. In it he declares that he was not an agent for Japan and that he is and will be loyal to the United States. It was notarized and signed on January 9, 1942, one month before the signing of Executive Order 9066.
With so many photographs after 1970, too many for a photo book, I made a DVD with slide shows for each generation. I gave the first photo book to my family members at our annual Christmas gathering and played the DVD for them. One of the most rewarding moments of my life was seeing them laughing and smiling at the pictures, as the years passed before our eyes.
I really thought that was the end of it, but in 2007 I was invited to perform at the JustStories Storytelling Festival, a festival devoted to themes of social justice, immigration, and combating racism. I wondered if I could create a story based on my family's journey to and in the United States. It was a daunting thought. My repertoire consisted mostly of folk tales. No personal stories. No family stories. But with encouragement and help from my storytelling friends, I plunged in.
Since my aunt's memories after sixty years were spotty, I began reading books to learn more about the historical context and the details of camp life. The more research I did, the more I realized how devastating this time was for our community. I put together a story with photographs showing my family's early years and photographs of the camps from the National Archives. I've been telling this story for the past eleven years at senior communities, colleges, schools, libraries, book clubs, and such venues as the Smithsonian American Art Museum, the International Storytelling Center, the National Storytelling Festival, the Illinois Holocaust Museum Docent Study Group, and Day of Remembrance programs. Everywhere I go audiences are welcoming and respectful. I tell them all, "If you remember one thing today, remember this: It is not right to imprison someone who looks like the enemy."
In 2014 I had the good fortune to join the JACL Chicago Chapter Kansha program, which took ten Japanese American young people to Los Angeles, the Japanese American National Museum, and Manzanar. Although I had read many, many books, nothing could compare with the experience of actually standing on the land, being in the barracks in those small rooms, seeing the guard tower, and feeling the dust blow. How many tears were shed there? How many times were the words "Shikata ga nai" (It cannot be helped) spoken? How do people come back from such a devastating and cruel experience?
The Kansha trip was a reaffirmation of the belief that the stories must be told. We must never forget our history. We must never forget where we came from.
The Shimojima family history project has become one of the most meaningful efforts of my life and sharing this story with those who know little about this time in history one of my greatest inspirations. Stories like this are more important now than ever before.
How do people come back from such a devastating and cruel experience? With determination and perseverance and incredible strength. I am grateful to be part of such a community and I am grateful to have the opportunity to share this story with others.