The kind of dedication, determination and commitment that propelled Lenn Sakata into the Big Leagues as a baseball player and then later to become the winningest manager in the history of Minor League baseball in California, was honored on June 19 by Sakata's induction in the California (Cal) League Hall of Fame.
"The bottom line was seeing some of the kids I coached improve to reach the highest levels of the game," Sakata said. "That's been a joy for me."
Sakata has seen professional baseball evolve into a much different game from what it was when he started back in the 1970's, especially regarding player salaries. Nevertheless, he said the old values still apply, giving your best as a player for your teammates, playing to win, to achieve excellence rather than merely for money or personal glory.
"If you're a Minor League manager you want to produce winning players for the Big Leagues and each player has to sacrifice for the good of the team, instead of a player thinking only of himself," Sakata said.
The Cal League Hall of Fame ceremony was held at a luncheon during a break in a two-day All-Star Game on June 18 and 19 at the stadium of the Minor League Lancaster JetHawks, called The Hanger, located at 45116 Valley Central Way in Lancaster.
Sakata's records as a Cal League manager are testimony to his greatness, most wins during his tenure as manager (757), most years managed in the league (11), most Cal League championships (3), most playoff appearances (8) and most playoff games won (33).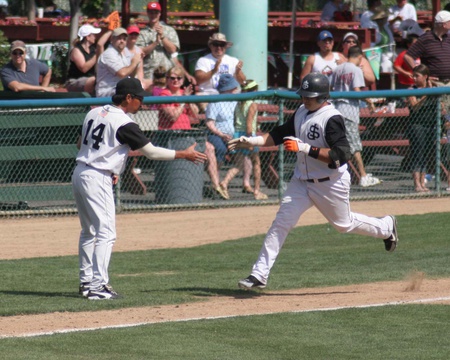 During his playing days Sakata broke into the Big Leagues with the Milwaukee Brewers in 1977 and was a member of the Baltimore Orioles 1983 World Series championship team. He has already been selected as one of the 50 greatest sports figures in Hawaiian history by CNN Sports Illustrated and was elected to the Hawaii Sports Hall of Fame.
Asked what advice he gives to young people who want to play baseball and play it well, Sakata said perseverance.
"To be good you have to love the game," he said. "You should want to be the best."
His love for the game of baseball started early as a boy growing up in Honolulu.
"One of my major influences was my uncle Jack Ladra who played baseball in Japan for the Toei Flyers in Tokyo," Sakata said. "In the off-season he would have baseball equipment around his place and I was five years old. I was mesmerized by the catcher's gear."
Sakata played ball in Hawaii coming up the way many boys do first in Youth League, Pony League, Babe Ruth League, American Legion, and then high school baseball. As a teenager he was good enough to compete with adults, some of them ex-professional players in a Hawaiian Men's League
He said his father Melvin Haruki Sakata wanted him to play shortstop because he considered it the most athletic of the nine positions.
"The players who couldn't catch balls very well would be put in places like right field," Sakata recalled. "In that case they try to keep you as far away from the ball as possible."
He went on to play for a junior college, Treasure Valley Community College in Oregon, selected by a coach who had seen him play in an American Legion regional tournament.
"I played second base because the team already had a shortstop," Sakata said. "It was the best thing to happen because second base was a good fit for me."
Sakata played one season in Oregon but then his coach departed to take another job in Scottsdale, Arizona. Gonzaga University at Spokane in Washington State recruited him to play ball.
"My plan at that time was not Big League baseball because there were so few players from Hawaii," Sakata said. "It did not seem a career option. I was taking business classes. My goal was to become a high school coach."
Sakata played two years at second base for Gonzaga, but was offered $5,000 as a fifth-round pick to join the San Diego Padres.
"I turned it down it was an insult," he said. Here I was an All-American player (the best rated college players). They were trying to get me for cheap. I was going to turn down a scholarship for $5,000?"
In 1975 Sakata was drafted in the first round by the Milwaukee Brewers and sent to their Minor League affiliate team in Thetford Mines, Quebec, Canada, a remote mining area once noted for its asbestos deposits. Playing second base Sakata hit for a .304 average in 1977 and was called up to the majors that year, becoming one of only two Japanese Americans to make the Big Leagues (the other, Ryan Kurosaki, pitched for the St. Louis Cardinals in 1976).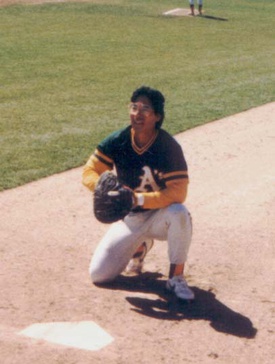 Sakata played 11 years in the Majors for four teams, the Brewers and Orioles, Oakland Athletics and New York Yankees. He played as a second baseman, shortstop, left field and as a utility player (plays where needed).
He said one of the highlights of his career was a bizarre game against the Toronto Blue Jays in 1983 in which Sakata was called on to fill in as catcher, a position he had not played in years. Three Blue Jay runners who had reached first base took big leads off of first, overconfident thinking they could easily steal second with Sakata in the unfamiliar position as catcher.
All three were picked off by Orioles pitcher Tippy Martinez.
In the bottom of the 10th inning Sakata hit a three-run home run to win the game 7-4, the start of an eight-game winning streak for the Orioles that would propel them into first place and a World Series win to cap the 1983 season.
After his playing career ended in 1987 Sakata, who had a career batting average of .230, managed Cal League farm teams including the San Jose Giants (San Francisco Giants farm club), Modesto A's (Oakland A's farm club), the Modesto Nuts (Colorado Rockies farm club) and the Bakersfield Blaze (San Francisco Giants farm club).
He managed over a period of three decades in the 1980's, 90's, and 2000's. Perhaps no other player experienced so much the big changes that have happened to the game of baseball in that time.
"Managing that long is not easy to do," Sakata said. "Today it's not the same game. There are 30 (Big League) teams and the game is not as rough physically. With the higher salaries being paid, players don't want to risk getting hurt."
In 1977 the minimum salary was $20,000 and today it's $560,000.
"In the old days it was more in favor of the team owners and not the players," Sakata said.
He said he has no regrets about missing the big money.
"I wanted to see how good I was compared to the players who had come before me," Sakata said. "That was what was important. I got my chance and I feel very fortunate and grateful."
Former Hall of Fame members of the Cal League include such stars as Don Drysdale of the Los Angeles Dodgers and Reggie Jackson of the Oakland A's. Coach inductees include Tony La Russa (St. Louis Cardinals). Doug Harvey a National League umpire for 30 years has also been honored.
Asked who his best players were to manage and coach Sakata said Russ Wilson was one. Wilson played Minor League ball but quit to pursue a career in football where he became a quarterback for the Seattle Seahawks.
"At Ashville (North Carolina) I was a batting coach for the Colorado Rockies farm team (Asheville Tourists) and Wilson was on the team," Sakata recalled. "He sticks out because he was so motivated and dedicated. He worked hard and listened to his coaching."
Sakata also coached Pablo Sandoval in the minors who went on to become a third baseman for the San Francisco Giants, and Tim Lincecum who pitched for the San Francisco Giants winning the Cy Young Award twice.
Sakata, who is married with two grown children a son Ryan and a daughter Erin, credited his wife Shane with supporting him in his career.
"She allowed me to pursue my career and put up with the travel, my being gone for long periods of time," Sakata said. "The hardest was when I was coaching at Ashville (North Carolina) because I was so far away from Hawaii.
Her support allowed me to have my dream come true," he added.
Today retired living in Hawaii, Sakata said he occasionally attends a baseball game, for example a youth game if the child of a friend is playing.
He said he will always be thankful for being part of the game.
"I put my heart and soul into baseball," Sakata said. "When it comes to a career, I couldn't have asked for anything more."
* This article was originally published on the Nikkei West on July 26, 2018.