Tears moisten my eyes as I watch and listen to the 24/7 news coverage of the Zero Tolerance enforcement of President Trump's immigration policy. Frequently referred to as "compassionless," Trump's policy, ill-designed to deter asylum seeking immigrants from Central America, 'punishes' them by separating them from their children! The realization that some of these children might not ever see their parents again is emotionally draining and galling! Even if they are eventually reunited, the immediate negative emotional impact will handicap their confidence and self-esteem for the rest of their lives.
Welcome to America, a country of immigrants! And, before immigration, home of Native Americans!
These current events trigger faint recollection of past events and feelings from my own childhood.
During the 1941-1945 WWII years, our family's four siblings weren't ripped away from our parents but, like what the USA is doing to immigrant families escaping from their dangerous crime infested Central American countries, such as Honduras, El Salvador and Guatemala, we like many families were put into similarly bad separation situations not of our own choosing.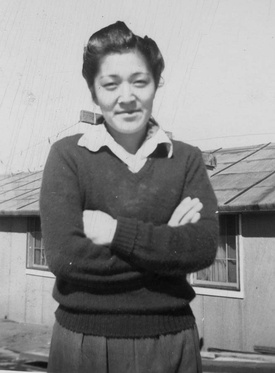 My mother contracted Tuberculosis shortly after giving birth to our brother Victor on May 27, 1944 in Denver, CO, where we lived for less than a year. She had to be placed in a TB Sanitorium in Boulder, CO and separated from us, her four children and husband, who continued to work for the British Political Warfare Mission along with the US Office of War Information doing secret radio propaganda broadcasting to Japan.
We four siblings: Stanley 5, me 4, Sandra 2, and newborn Victor had to be returned to Amache, the Granada War Relocation Camp, where the rest of our extended Ono and Okamura families were still imprisoned. 246 miles, a 5-hour drive away from our mother.
We four were spread-out to the care of our maternal and paternal grandparents and one auntie in three different concentration camp barracks without our parents for over half-a-year.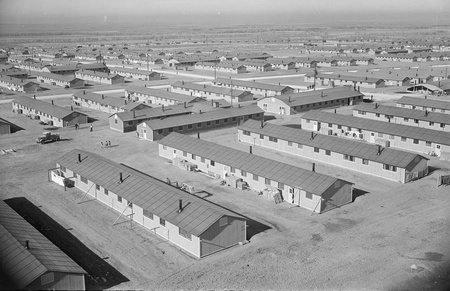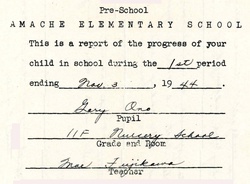 This was about the time I recall jumping into a ditch to escape a dog. My Amache Nursery school teacher, Mae Fujikawa wrote on my report card Emotional Control section:
"Gary fears dogs and gets upset easily."
I hate to admit it but I was a bit of a "cry-baby" at 4-5-years old. Was I suffering from separation anxiety?

I wrote a two-part essay in 2012, "Doggone It," about my camp dog incident and the fact that many people had to be separated from their pets because of the US Government forced the evacuation of America's 110,000 West Coast Japanese from their homes and businesses and their imprisonment in ten concentration camps for the duration of WWII, because we looked like the enemy. There were many examples of separation anxiety among pet owners.
I noticed that there are many photographs of us siblings in camp and imagine many were shared with our mother who was alone in the Boulder, Colorado TB sanitorium for over six-months. Did my siblings and I know that we were separated from our mother?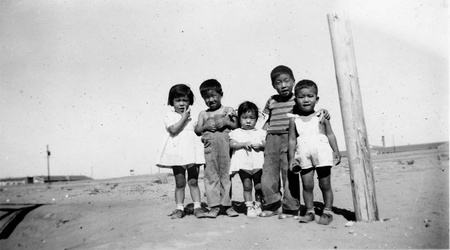 My sister, Sandi who was born Aug 5, 1942 in the Merced Assembly Center, which preceded moving to Amache, September 1942, a month later, doesn't remember directly 'missing' Mom in 1944 when she was 2 years old. Today, I can only imagine the extra stresses my mother bore, giving birth in a crude assembly camp and moving to a "more permanent' camp shortly after? In 1943 she lost her close older brother Hiroshi 27, in an Amache construction accident. For the longest time into the 1980s, when talk about reparation began, she didn't want to talk about the war years. Can you blame her?
I talked with Stanley, who is a year older than I, but having talked with him before, he admitted that he didn't think much about our camp years or missing our mother. I told him about this other report card entry and told him by this account, he must have! That, "he cried for his mother's presence and caused both of us to cry!" He accepted this, but still says he doesn't remember it strongly. I too don't remember specifically being without our mother, but I think we were acting-out our "separation anxieties."

I suspect that Victor, who was an infant then, can today joke about not having been breast fed contributing to his excuse for "the way he is!", probably has some latent feelings that would be good to air by a professional. He said, he knows he is especially fond of our Baachan Kotora Ono and recalls her eyes tearing often and needed to dab her eyes frequently. That I remember also, but I recall it long after we were released from camp.
I hope our government under our often referred to as a "narcissistic" President Trump will be able to return all the separated and scattered immigrant children back to their suffering parents, and to stop the separation anxieties they must be experiencing. I fear that many will fall through the cracks of a criminally incompetent and compassionless administration. I don't claim that we Ono siblings suffered as greatly as these immigrant children of current events, or the ill-treatment of Native Americans and African Slaves, but I think the parallels are there.