"Some people think my work looks like it's speaking something like a megaphone," says Shinpei Takeda. "And some people think it is trying to catch something, like a fishnet. Completely different. But I like that it can be both."
For Takeda, bridging disparate perspectives is nothing new. A visual artist and filmmaker who works across a wide range of media—such as film, photography, sound, performance, paint, fiber, calligraphy—he appreciates variety.
But Takeda also brings a distinctive view of the breadth of the world's different cultures. Born in Japan and living and working in Mexico and Germany, Takeda is emblematic of an increasingly globalized society. He is one of the contemporary artists featured in the Japanese American National Museum exhibition, Transpacific Borderlands: The Art of Japanese Diaspora in Lima, Los Angeles, Mexico City, and São Paulo. The show is part of part of Pacific Standard Time: LA/LA, an initiative of the Getty involving 70 cultural institutions across Southern California.
Transpacific Borderlands examines the experiences of artists of Japanese ancestry born, raised, or living in either Latin America or predominantly Latin American neighborhoods of Southern California. It seeks the elusive threads that are intertwined between the Japanese, Latin American, and Southern Californian communities. Perhaps fittingly, one of Takeda's artworks, a visually striking piece that literally uses thread in combination with other materials, adorns the entrance to the exhibition.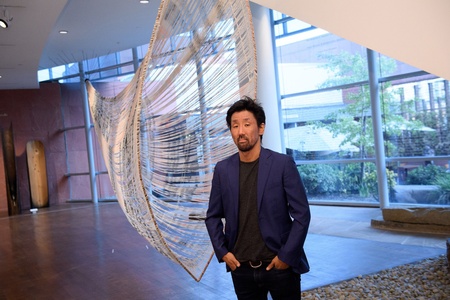 "It's called Politics of Displacement: (Beta Decay 8)," Takeda explains. "It is from a series of thread sculptures I have been doing since 2013 called the Beta Decay series. I started doing this project when I had my residency at Taller 8, [a nonprofit organization] in Teotitlan del Valle, in the state of Oaxaca where the entire town is mostly weavers."
"I was struck by the beauty of their underlining thread, which they use as a base to weave on," says Takeda. "So I saw them like a canvas, but a pre-woven, ancient primitive form of canvas. I also saw each thread lines as timelines, or each people's lives. So I started painting on them and writing on them. This particular piece has a writing that at the core are the results of my research of interviewing so many survivors of [World War II-era Japanese] atomic bomb survivors in North and South America."
Takeda is thoughtful about his international role and the opportunity that cross-cultural projects like Transpacific Borderlands presents. "I was excited to learn that they were willing to go far and beyond for this exhibition, since being based in Tijuana I felt that my role was to bridge the border between the North and South Americas."
In his diverse travels, he's observed that the different cultures can "carry totally different outlooks on reality—particularly on political reality" as well as on their views of people of Japanese descent. "I think it is very difficult to generalize, which is why the curators of the exhibit were careful to limit the geographical regions to particular cities like Mexico City, São Paulo, Lima," he says. "Because even within Mexico, Tijuana is completely different from Mexico City, and how Japanese are perceived there are also different."
Takeda prefers comparing the cultural context of cities rather than of entire nations. "My movie from 2008, The Closest Mexico to Japan, talks about Kingo Nonaka, the first photographer of Tijuana in 1920s who was a Nikkei, and about the thriving Japanese community before the war in Tijuana," Takeda says. "Where I am sometimes based in, Düsseldorf, Germany, has been home to big Japanese community since 1960s. When I grew up here in the 1990s, at the peak of the Japanese bubble, Japanese had the entire street full of Japanese shops. Now that has changed. In the U.S., I assume Nikkei are perceived differently in San Francisco or in Los Angeles. The interesting aspect of Japanese immigration is its connection to local, 'micro-context.'"
He notes that immigration inevitably leads to complex, mixed feelings about identity that inspire his art. "Contradiction is always there in my work—the tension between wanting to belong and not wanting to belong. My work has always something to do with tensions between these opposing forces arising from intersections of history and present."
In exploring the past and present, Takeda ultimately realizes that art affects the future. He sees that international, cross-cultural art projects can transcend geographic and cultural boundaries in ways that other types of work cannot. "I am starting to include my proposals of what I want this world to be."


* * * * *
On Sunday, February 25, 2018, Shinpei Takeda will be at the Japanese American National Museum for a conversation on social representation and cultural context across borders with curator Clement Hanami. The talk will be moderated by Selene Preciado, an independent curator and Program Assistant at the Getty Foundation, and will include time for audience Q&A. See janm.org for details.