Quando eu tinha meus oito anos, frequentei por algum tempo a escola de língua japonesa e a única lembrança que tenho dela é o Gakugei-kai, quando os alunos apresentavam números musicais e peças de teatro para uma pequena plateia de pais e professores. Sempre cabia à menina mais graciosa da turma o cobiçado papel de princesa da história e quem tinha talento musical cantava as tradicionais cantigas infantis.
Eu nunca fui escolhida para ser a princesa nem tinha jeito para cantar, mas havia uma cantiga que gostava muito – "Mikan no hana saku oka" – e eu comecei a ensaiá-la em casa para, quem sabe, apresentar no dia do Gakugei-kai. Mas isso ficou apenas no desejo, pois não tive coragem para pedir para a professora me incluir no elenco.
Já no ginásio, nas manhãs de domingo ia com as colegas para o Nodojiman, concurso de cantores amadores que era realizado antes de cada sessão de cinema japonês no Cine Nippon. Numa dessas vezes, uma colega subiu ao palco e cantou "Itsuki no komoriuta" que aprendera de sua avó. Fiquei bastante animada e comecei a ensaiar umas músicas de Missora Hibari, mas dessa vez também faltou coragem para subir ao palco e soltar a voz.
Convicta de que eu não tinha mesmo jeito para a música japonesa, passei a ouvir diariamente o rádio e fiquei por dentro dos grandes sucessos da época. Paul Anka, Neil Sedaka, Pat Boone, Doris Day e mais tarde a turma da Jovem Guarda, cada qual com seu estilo, serviram para embalar meus doces sonhos de adolescente.
Foi em 1963, quando eu estava no 1º ano Científico (Ensino Médio) que algo inédito aconteceu: pela primeira vez um cantor japonês, Sakamoto Kyu, estourou nos EUA e com a música "Ue o muite arukoo" (que os americanos batizaram de "Sukiyaki" por ser mais fácil de memorizar).
Essa música fez sucesso no Brasil também a até recebeu uma versão em português, mas havia uma colega na classe que queria cantá-la em japonês e logo veio me pedir a letra. Fiquei muito contente porque, dentre as muitas colegas nikkeis (naquele tempo, a proporção de alunos nikkeis era significante), ela deve ter me achado "a mais japonesa". No fundo senti orgulho de minhas raízes, de ser nikkei.
Depois veio o tempo da Bossa Nova, da Tropicália, e a música japonesa ficou restrita às canções que Kayama Yuzo cantava nos filmes da série "Wakadaisho".
O tempo foi passando e chegou a época da TV a cabo, quando me tornei assídua espectadora da emissora NHK do Japão. Então fiquei conhecendo um pouco da música que os japoneses apreciam, do Enka ao J-Pop. Foi a partir daí que defini meu gosto musical que se concentra em intérpretes tão diversos como The Gospellers, Sada Masashi, Hitoto Yo e Tokunaga Hideaki. Em especial, gosto das letras que eles cantam.
Em julho de 2001 eu me aposentei e em outubro do mesmo ano fui convidada para produzir e apresentar programas sobre a cultura e a música japonesa numa emissora de Marília, interior de São Paulo. Mudei-me para lá e passei seis anos apresentando o "OHAYO Bom Dia", programa que levava informação, cultura, dicas de culinária e músicas japonesas de diferentes estilos como cantigas infantis, música popular, os clássicos do cancioneiro e música gospel.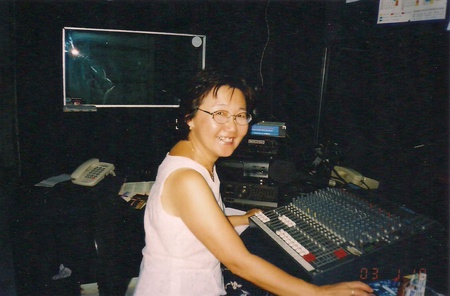 O público ouvinte era variado e muito fiel. Donas de casas, crianças, estudantes que iam para a escola no período da tarde, estudantes que ouviam durante o intervalo no colégio, comerciantes, balconistas, feirantes, costureiras, motoristas de táxi, aposentados. Muita gente não era nikkei nem entendia japonês, mas gostava das músicas. E a preferência geral eram as canções "Kimi to itsumademo" na voz de Kayama Yuzo e "Ue o muite arukoo" com Sakamoto Kyu que, aliás, era a música de abertura do programa. Eu a tinha escolhido justamente por ter sido a canção que fez aflorar o meu lado nikkei enquanto estudante.
A música gospel produzida no Japão é de alta qualidade e quem a ouve não esquece mais. Ouvintes ligavam para pedir bis e diziam: "Eu não entendo nada, mas sinto muita unção por isso quero ouvir mais uma vez".
O programa chegou ao fim em novembro de 2007, porque no ano seguinte fui ao Japão para ficar quatro anos.
Mas a passagem pela rádio foi um tempo precioso para resgatar muita coisa boa. Graças a essa atividade, comecei a me lembrar de episódios que estavam adormecidos na memória e que remetem à época em que meus pais eram vivos. E ainda hoje, relembrar me aperta o coração de saudades e sentimento de gratidão.
Até então eu achava que a música japonesa não havia influenciado a nossa família. Quando ainda não tínhamos TV, depois do jantar, ouvíamos rádio e lembro vagamente que era um programa de música popular japonesa. Quer dizer, enquanto a minha mãe lavava louça, eu fazia lição de casa e meu pai lia jornal, as vozes de Mihashi Michiya, Shimakura Chiyoko e Tsuruta Koji ecoavam pela sala. Eram sons tão familiares como o toc toc da faca cortando legumes e o ruído da máquina Singer costurando meus vestidos de menina.
Meu pai trabalhava no outro lado da cidade, mas de vez em quando descia na Liberdade, entrava na única loja que vendia discos do Japão e chegava em casa anunciando: "Este é um cantor novo, mas dizem que é muito bom".
Minha mãe contava que o pai dela, o meu avô, apesar de ser calado e sisudo, um dia resolveu comprar um chikuonki para ouvir Shoji Taro e outros. E esse gramofone ( lembram do cachorro com a orelha na corneta?) comprado com o suor do rosto acabou virando a atração maior dos domingos, quando todos se esqueciam da labuta diária na roça e ficavam se deleitando com as melodias da terra que haviam deixado para trás.
Outra coisa incrível foi quando minha mãe contou que o hobby de meu pai quando jovem era tocar gaita! E, ao escrever isto agora, penso ter ouvido um dia o meu pai tocando Moshi moshi kameyo... Ou será que estou fantasiando?
Em 2005 fiz uma viagem ao Japão e um dos objetivos foi assistir ao show de 10º Aniversário do The Gospellers no Nippon Budokan em Tokyo, que foi uma apresentação inesquecível.
Mesmo gostando da música popular japonesa, eu nunca tinha ido a um karaokê no Brasil, mas, ao retornar ao Japão em 2009 fui levada pelas amigas a um Karaoke Box pela primeira vez.
Foi muito divertido e interessante! Na hora de escolher a música era a maior dificuldade, pois não conhecia nem uma das que estavam na relação! Foi uma surpresa, pois eu me julgava uma expert em kayokyoku1! Minhas amigas queriam ajudar: "Conhece esta aqui..." e cantarolavam e às vezes eu reconhecia a melodia apenas.
Por fim, escolhi "Tokyo Kiddo", um dos primeiros sucessos de Missora Hibari ainda garota, cantei e a turma ficou admirada! Como você conhece esta música?!? Nem eu lembrava mais!
Assim é a minha relação com a música japonesa: muito antiga, de quando eu estava na barriga de minha mãe e ouvia Nen-nen-kororiyo okororiyo2... Houve, sim, um tempo em que ficamos distanciadas, mas a relação continua e fica cada vez mais estreita à medida que os anos passam.
Hoje em dia parece que está fora de moda ouvir CD, mas eu tenho os meus preferidos e quando bate a saudade do Japão eu ouço e fico sonhando...
Notas
1 Música popular japonesa
2 Canção de ninar que data da Era Edo (1603-1868)