This month, we take a somewhat different turn, in presenting some prose from longtime community organizer and LA-native, Kathy Nishimoto Masaoka, and a piece meant for the spoken word stage from Hawai'i-born/Torrance-raised educator, Kurt Yokoyama-Ikeda. They both sent in pieces about their mothers and I found a yearning, discovery, and ode to their affection, however uniquely expressed over time. The pieces left me hoping they will continue to write and explore even more even about their mothers and how we find and express affection…enjoy.
—traci kato-kiriyama
* * * * *
Kathy Nishimoto Masaoka was born and raised in multicultural Boyle Heights. The Vietnam War and Asian American Studies at UC Berkeley became important influences on her values and direction as she came of age during the late '60s. Since 1971, she has worked on youth, workers, housing in Little Tokyo, and redress issues. Currently Co-chair of the Nikkei for Civil Rights & Redress (NCRR), she works with the Education Committee, Nikkei Progressives, and Vigilant Love Coalition to build solidarity and support for Muslims and others impacted by discrimination.


My Mother Part One
I made a great find today
An album with my mother's wedding cards and photos,
Special cards from my mother to my father
During their first year of marriage
My mother would often tell us that she almost called off the wedding
Causing us to feel bad for our father
But these cards with words of affection tell another story
It was not one-sided after all.
She met my father in Chicago during the war
He was stationed at Fort Snelling at the MIS headquarters
She was working for the Kanne family in Glencoe, Illinois
Where she took care of their 10 year old boy, Steven.
He never forgot her laughter and the happiness
She brought into the home. He even put an ad in the Rafu
Looking for Chizu Kadota and found her in the '70s.
I met Steve recently and he confirmed my findings.
He remembers when my mother first met my father
And how happy she was getting ready to see him.
He knew she would soon be leaving his family.
* This poem is copyrighted by Kathy Nishimoto Masaoka (2015)
* * * * *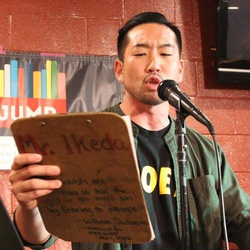 Kurt Yokoyama-Ikeda is an educator by profession, poet by passion. Hawaii-born, Torrance raised, this Shin-Nikkei serves the Greater LA community as a Civic Engagement Field Specialist for OCA-Asian Pacific American Advocates. As a former high school teacher, Kurt preaches social justice to LA youth and puts it into practice as Board Secretary of the Japanese American Citizens League—Pacific Southwest District. His poetry is rooted in the incarceration story of his grandfather, informed by the Asian-American experience, and inspired by his work with high schoolers.


An Ode to Asian Mom Hugs
So this poem is an ode to the Asians Moms who started off porcelain dolls And became tigresses.
For my mom, bamboo ceilings were just borders to be flown over.
And you know what else flies over her head though?
Hugging.
It's important to a momma's boy for his mom to know how to hug him.
I love my mom! I'm an Asian-American momma's boy.
I'm totally family orientaled and I'll literally bow in front of your tiger-mom.
Nobody dared to date me until Ali Wong
Reminded ya'll that I smell like… responsibility.
Asian men are sexy!
No body-hair from the neck down.
And but.
Nobody taught me how to… hug a lady
because my family never hugged me.
Publicly. Or Privately. And if they did, they probably did it incorrectly.
Somewhere in between back-slaps and the TSA.
My family was not down with PDA.
Public displays of affection was always MIA in my family.
And no, it doesn't bother me.
Once you do the math,
It's not so bad
That my mom never really… hugged me.
Or told me she was proud… without an A+ to prove it.
In her house, love was earned.
No abrazos con brazos in this Asian-American Telenovela, no.
No words like "I Love you" is part of her script.
My mother's love is cryptic.
We don't hug facing forward.
My mother only shows me her back.
So I slowly massage her muscles to show that I love her, back.
It's the closest thing we have to a hug.
She doesn't reply back with a "I love you".
Because those are just words – In a borrowed tongue – and it doesn't taste right.
My mom's love language is F-U as in Food in You.
"Did you eat yet?"
"Eat more you're too skinny"
"Eat less you're getting fat"
"You should move home and live with me…"
"Cause getting skinny again as a matter of fact."
And so for all of that…
I got you a gift mommy, to show you that "I love you"
"Why you waste money on me, I gave you money to buy food."
You see an Asian mom's love requires translations.
Her love is as complicated as the "kanji" characters she tried to teach me when I was younger.
Character and courtesy was the umbrella I was raised under.
And Asians mom don't shower you with compliments;
But she will rain down on my incompetence.
Because a mother loves her son enough to help him become better,
Than his father.
Let's get one thing straight in this equation.
My mother doesn't equal a tiger-mom.
She is a single-mama tiger, minus the teeth though.
Having her was greater than or equal to having no dad.
But Less than or equal to a whole family.
So her hugs never equaled the circumference of my whole body.
But she
Was greater than or equal to the mother that I needed.
So She
taught me to express myself.
And I
put my whole heart into a poem about Asian Mom hugs.
…Or at least less than or equal to what an Asian Mom might call a hug—
One armed hugs.
And maybe my mom hugs me with one arm
Because her right arm is a bridge back to Japan
Her right hand is the motherland
The food, the culture, the language, the history, and her maiden-name that I claim as my own.
Maybe my mom hugs with one arm
Because in American society, capitalism
Means that she has to hold her family
and her dreams, In separate hands.
No wonder it's so hard for children of separated moms and dads.
There's just not enough hands;
When your family is split;
When your parents are split between
Work and Marriage, Dreams and Kids.
I wish that maybe one day, my mom will hug me with two arms.
And it will feel like three people.
My mother, my father and me.
This ode is an infinity scarf.
That hugs around decades of Asian immigrant families,
Trying to make our hands meet around the backside of our histories.
This ode is imported.
My mama's love was made in Japan. So, you know it doesn't break.
Her heart is a Honda Civic, that powers my dreams, grows old and never dies.
This is an ode for the immigrant.
An immigrant whose learning to hug her one and only son.
with two arms around his sides.
* This poem is copyrighted by Kurt Yokoyama-Ikeda (2017)