In celebration of the 50th Anniversary of Rosemary's Baby, Devil in the Details interviewed actor and performer Ernest Harada, who appears as a Satanic Japanese photographer in the climactic final scene of the 1968 film directed by Roman Polanski. The novel was published in 1967 and the film was released the following year, making 2017 and 2018 the Golden Jubilees of one of the horror genre's most influential works.
Born October 20, 1944, in Honolulu, Hawaii, Ernest Harada graduated from Mid-Pacific Institute in 1962 and studied political science at Syracuse University. He received a degree in acting in 1965 from the London Academy of Music and Dramatic Art (LAMDA)—the oldest drama school in the UK. Harada is now happily retired in Honolulu. He performs occasional concerts, most recently in Germany, New York, and Hawaii.
We reached out to Harada to ask him about his career and professional experience. As one of the last surviving cast members of Rosemary's Baby, Harada had some interesting insights into life as an Asian American artist in Hollywood and on Broadway, what it was like to work with Roman Polanski, and what exactly was in that black bassinet.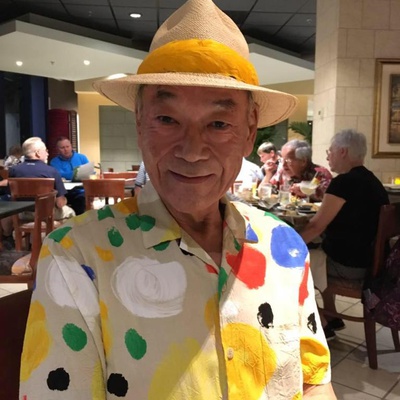 SG: So you are from Hawaii originally?
EH: I was born and raised here. I left when I graduated high school. I went to Syracuse University to study political science—I was going to become an international lawyer and basically represent the up-and-coming Japanese economy. My father had been visiting Japan since the early fifties and he realized what a business behemoth Japan was becoming, and that they would need, once they got big enough, representation in America, and that was going to be me. Syracuse had an excellent school, the Maxwell School of Citizenship and Public Affairs, which basically dealt with international law.
But I got involved in theatrics while I was there, and a director of the Royal Shakespeare Company happened to see me performing in Romeo and Juliet. He pulled me aside and said that I should be studying in London, and suggested three schools. Up to that point I had no idea I wanted to be an actor. He sent me the addresses of the schools, and of course I auditioned for them. When I was accepted at all three—the Royal Academy of Dramatic Art, the London Academyof Music and Dramatic Art, and the Royal Central School of Speech and Drama—I decided that yes, this is really what I wanted. So I moved to London and studied at the London Academy for three years.
SG: What was your family's reaction? How did your father and the rest of your family react to you going off into the arts when you had been focusing on international law?
EH: Well, my father always thought I'd outgrow it. He never thought acting was a viable occupation. Even when I was supporting myself and making money, it just was not a legitimate profession to him. But they learned to live with it.
SG: You were born in 1944, a year before the end of World War II. I am curious what it was like for you growing up in Hawaii as an American citizen but also a person of Japanese heritage, particularly after the bombing of Pearl Harbor?
EH: In Hawaii we were actually spared the kind of discrimination that they faced on the mainland. They thought about incarcerating the Japanese population here, but wiser heads prevailed. They realized that you cannot incarcerate one-third of the population—which was the Japanese population at that time—and have a viable economy. The entire economy would've collapsed. So they just jailed or relocated the ringleaders, meaning anyone who was educated—people in newspapers, community leaders, religious leaders, doctors, anyone they thought could possibly be dangerous.
And in fact, absolutely none of them were. There was absolutely no case of espionage by anyone. And we knew that as Japanese here. I mean we were American Japanese, especially the Nisei. There were some Issei that had feelings for Japan—like my grandfather, being a first-generation immigrant, always felt very strongly Japanese. But anyone born in Hawaii was immediately loyal—more to Hawaii, I think, than to America.
Hawaii is a very unique microcosm;I really think it's going to be the model for the world. We get together and live together with various races and cultures and religions. There was no majority then, and there still isn't a majority today. We are a community of minorities and we make it work.
SG: That's marvelous. And especially in American culture, it's very unique.
EH: Take Barack Obama for example, a man of mixed heritage. They asked him, "Why do you bring your family here for Christmas every year?" And his answer was: "I want my daughters to grow up knowing who they are and where they came from." Which means he identifies as being from Hawaii as much as he identifies as being black. I mean this is the culture that nurtured him.
Many Japanese who grew up on the mainland say that there's such a difference between them and the Japanese from Hawaii. I say, well, we were not imprisoned, and we are not intimidated. We have a spontaneity; we are a more fulfilled personality. We never were beaten down as so many of the Japanese Americans on the West Coast were. A lot of them were afraid even to admit they were Japanese.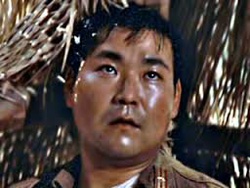 SG: Yeah, you're right. There is so much fear and paranoia of foreigners these days.
EH: Yes, and I visit Japan a lot. I've been there eight or maybe 10 times. My father had a company there and we would go and visit. In fact, we were just there maybe a couple of years ago; I took my whole family down. We came from Yamaguchi prefecture, so we went to visit the valley from whence we came, where my grandfather emigrated from. My grandmother came from Hofu and my maternal grandparents came pretty much from the Iwakumi area; so we visited all of that. My brother and sister had never seen it before. And it was lovely, it was a lovely trip. I love Japan.
My sister's partner, after visiting Japan, thinks it is absolutely the most sophisticated culture on Earth. They have thought of everything down to the nth degree, and I feel she's absolutely right. And I'm glad she appreciated that about the Japanese sensibility. Everything is thought of to the minutest detail, which can sometimes be to their detriment; I think it curtails their spontaneity. But as a culture it has created a marvel, something I'm very proud of. I'm very proud of my Japanese heritage.
SG: Going back to your professional career, you mentioned how you had gotten interested in acting while you were in school, and you were encouraged. I was wondering, from your perspective as someone of Japanese heritage—and of Asian heritage in general—who has been working in the entertainment industry all these years, do you have anything you'd like to share about that?
EH: Well, by the time I got to Hollywood, here I was totally capable of doing Shakespeare and classical theater, and knowing how to wear costumes from the 17th century on, and basically being slammed into a work environment where I'm playing waiters and gangsters and other roles that were totally unchallenging. A handful of us started an organization called the Brotherhood of Artists to advocate for Asian-Pacific American actors; later it became the Association of Asian-Pacific American Artists. I was one of its founders and its president, oh for too many years (laughs). Our primary purpose, our sole purpose, was to advocate for better roles for the Asian artists.
I was also one of the founding members of East West Players, a professional theatre company which is still going in Los Angeles. We needed someplace where we could act and stretch our muscles and become better performers. At a certain point I dropped out, I could no longer perform with them, I was just too busy. But it doesn't matter—it was successful and thriving and we created something that was wonderful.
SG: I had asked you before if Rosemary's Baby was your first film, but you mentioned you were in Valley of the Dolls the year before.
EH: I was. I think my role was to open a door; I don't even know if I had any lines. What had happened was I had gotten to Hollywood and I was en route to New York to become a starving artist. But I had a friend who was involved in Columbia's new talent program, Studio Players, and he got me involved so I immediately got an agent. One of the very first people she set me up to meet was Joe Scully, a casting director at 20th Century Fox who was working on a film called Valley of the Dolls. At that point they were screen testing and he liked me and I liked him and he said "You're going to need your Screen Actors Guild card." So he got them to basically admit me on screen tests. I had like a week of screen testing with Patty Duke and Barbara Parkins and Sharon Tate and when the film came around he put me in it!
Getting cast in Rosemary's Baby was also a stroke of luck. I was with the Bessie Loo Agency; my agent was Bessie's daughter Angela Loo, who began her career at the same time as I did. One day she called and said, "Oh, you have a job on Rosemary's Baby." The book was a bestseller so I immediately rushed out and read the book twice. Then I called her back and said, "Are you sure you have the right movie?" And she said, "Yes, I have the contract right here in front of me!" I said, "Well, what part do I have?" She said, "I don't know. I went in to meet Roman Polanski and I tripped and fell. I dropped my stack of papers, and your picture wound up lying on top at his feet, and he said, 'Him. I want him.'" She told him that I was her most expensive actor, although at that time, I was also her only actor (laughs). She was a brand new agent and we both got our first jobs together with Roman Polanski.
SG: How lucky!
EH: And I walked on set and still didn't know what the hell I was supposed to do!
SG: The scene you were in was filmed in California, I believe.
EH: Yes, it was filmed on the Paramount lot.
SG: Do you recall around how long it took to film that scene?
EH: I think the original contract was for a week, but we went to 10 days. Since I had worked on Valley of the Dolls, I knew what dolly shots were, and close-ups, and how they set up different kinds of shots, and so I could tell that Roman's methods were unique. He would have the camera on somebody's shoulder walking through these elaborate sets all in one take! And even during the scene itself when Rosemary finally comes in, rather than using a tripod or a dolly, he had the cameraman literally over her shoulder, filming reactions on people. That's how he could get an unbroken feeling from the audience's viewpoint, and from Rosemary's viewpoint. It was, as I discovered later, a trend-setting technique.
SG: Yes, it's really a unique perspective. Everything in the film is from Rosemary's point of view or the camera is always on her face or what she's doing. There's just something so enchanting or enthralling about that film with the camera work and the point-of-view.
EH: Exactly. And only someone who really understands how to put a film together appreciates the camerawork that went into it, and that'swhat took up so much time. But in the film it was seamless, it was flawless. I think that was his secret to making it as horrific as it turned out to be: there's an absolute smoothness about the whole thing and a reality—a different reality.
*This story was originally published on the horror genre blog, Devil In The Details on April 21, 2017. It has been edited and reprinted here with permission.