"Through the power of art, we can connect, share, make sense of our community - and find joy. The art gallery is an essential component providing space for the artistic action."

— Canadian artist Michiko Nakamura
Until March 30th, the Toronto Japanese Canadian Cultural Centre is featuring the art of some of its 'founding' artists, including: Banri Nakamura, Michiko Nakamura, Aiko Suzuki, Ken Fukushima, Walter Sunahara and Yoshiko Sunahara.
When architectural plans for the new building at 6 Garamond Court were being finalized in the mid-1990s, a small group of artists approached the Japanese Canadian Cultural Centre Board of Directors to present and press the idea of including an art gallery.
This Founders exhibition features the work of visual artists who were in the original group or were close associates in the gallery's formative years.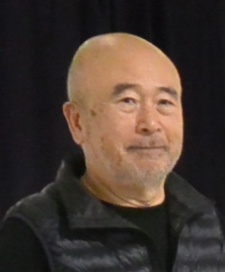 This interview focuses on Ijusha artists, Banri and Michiko Nakamura. Both studied at Musashino Art University in Tokyo where they received degrees in Product Design. Before immigrating to Canada in 1972, they worked as designers in Tokyo. They worked and raised their family in Toronto.
In 2003 they acquired a wooded property in rural Port Hope, Ontario, and over the following decade, designed and built a house that reflects their creative philosophy, skill, and sensitivity to the area's undulating landscape.

Michiko Nakamura was born in Nagoya. In Canada, she studied ceramics in Japan and Ontario College of Art and Design. She says that her relationship with clay began in childhood near Seto, a city famous for beautiful pottery. During four decades of artistic practice her work has shifted from functional to purely sculptural works that are meditations on the natural effects of gravity and the absorption and evaporation of water on clay.
Banri Nakamura has dedicated more than 40 years to the fields of industrial design, product design and interior design. Those experiences are reflected in this exhibition which features his wood pieces. His interest in wood crafts led him not only to designing furniture but also creating the pieces by hand. He is inspired by the Windsor chair and the Shaker chair, which are global influences in chair design.


Can we begin by starting with the reasons that brought you to Canada in the first place? Were there specific reasons?
Michiko: The reasons are not so simple. Some of them are; I wanted to live my life as a pioneer and raise my family in a new country, which was a different culture from Japan. I wanted to make a break from certain aspects of strong Japanese traditional values and pressures to conform. Banri and I wanted a fresh start. At the time, Canada in the 1970's embraced multiculturalism and accepted new immigrants more easily and was welcoming compared to other countries. However, up until the late 1960's Canada's immigration was too restrictive to Asian immigrants, so there were very few post-war immigrants from Japan. So there was a gap of at least 30 years since the last group of Japanese immigrants came to Canada. As part of the first wave of post-war immigrants we are known as shin-ijusha or new immigrants, different from the ijusha who arrived at the turn of the century, but faced similar issues in a new country and culture.
Banri: As a design professional, I wanted to test my ability in an unfamiliar culture in another part of the world, ideally in the west.
In my experience, the Japanese social structure is not fair or equal to everyone, particularly to those who are different from the norm. Due to the war, I lost my father, grandfather, uncle, and aunt and was raised by my mother and grandmother – despite the circumstances, this set me and my family apart. I wanted to raise a family in a country where there was more freedom, valued equality, and had a less competitive social structure.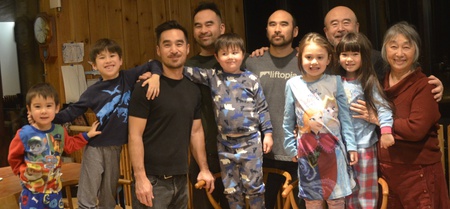 What was the reaction of your families to this decision?
Banri: My mother said to me that where ever you go and whatever you do, do your best.
Michiko: It is important to find a community where you can feel connected and share. With each new interaction, it opens up new learning opportunities and perspectives that you would not expect. You might find a new horizon that will enable you to develop new inspiration in your art.
It's also crucial to be mindful of the future generations and to consider what sort of community they will inherit from you. However small or loud your creative actions are, they will only strengthen and contribute towards building a more balanced and sustainable community.
Did you choose Toronto for any specific reasons? Any particular reasons for moving to Port Hope, ON?
Banri: In the seventies, the countries who are accepting immigrants relatively easily were Brazil, USA and Canada. Australia was not accepting immigrants yet at the time.
My father, who was a United Church minister sent to the front lines for spiritual guidance, was killed by a US submarine's torpedo in the South Asian seas. I still felt animosity towards the US so going there was out of the question. My preference was an English-speaking city, and Toronto is located close to major North American cities like New York and relatively close to Europe.
Michiko and I had lived in Toronto since 1972 and we felt city life was getting too artificial, busy and noisy. We felt an urge to get out from Toronto and live a quieter lifestyle, closer to the natural environment for our retired life.
We wanted to live in a dream house that was designed with our aesthetic values and sensibility in mind and built it ourselves on a suitably located piece of land.
Port Hope is within a 1.2 hour drive from Toronto, which is a distance that is close enough to get to easily.
Michiko: Also, when we lived in Tokyo, we became good friends with a Canadian architecture student from Toronto and he told us, "Toronto is a good city to raise a family". It encouraged us to make the decision.
The reason for us to move to Port Hope was after living in two cultures for over four decades, we wanted to find a place where we belonged and felt like home to us. So we found a piece of land in rural Port Hope that spoke to us and built our dream home there. Reflecting our values and sensibilities, we designed and hand built our home where we now live.
What were those early days in 1970s Toronto like for you? What kind of work were you doing?
Banri: After graduating from design school, I had been working for six years in Tokyo in the design division at Mitsukoshi Department Store. Toronto's working environment was relatively similar to Tokyo but 10 times slower pace. I had a hard time adjusting because of my poor grasp of the English language and found it challenging to fit into Canadian ways with my Japanese mentality. I also had little or no personal networks. This need to meet like-minded people led to the creation of an artists' group made up of new Japanese immigrants like myself, and we organized an exhibition at newly opened Toronto resource library.
Prior to start my own practice (1980) I worked in the architectural division (interior architectural design) at Holiday Inn, Cooper Canada (industrial design, product development), Webb Zerafa Menkes Housden Architect, Griffin Products (industrial design, product development), Creelman Industrial Design Office, etc,
Most of the work I was involved in related to industrial design, product development, as well as in the field of interior architectural design.
Besides working in these design fields, I won several design competitions and awards such as Ontario EEDE Awards, Design Canada Awards as a team member, Virtue Design competition, Asahikawa International Furniture Design Competition in Japan and others.
Also I taught over 15 years at my alma mater Musasino Art University in Tokyo as special overseas instructor and Ontario College of Art and Design in Toronto.
Michiko: One of the things I did was teaching Japanese cooking, but I was also very busy raising three sons who were born in 1971, 74, and 77. In the seventies, Japanese culture was little known in Toronto.
As shin-ijusha, we were struggling to adjust to life in a new country, resources and networking opportunities were scarce. There was no internet! Together with a group of like-minded shin-ijusha, we worked together to build one of the first Japanese language heritage schools for our children. The school worked as a support and network system for parents as well.
In our early days, for many of the shin-ijusha like myself, there were cultural and linguistic barriers that made it harder to connect with the established Japanese Canadians, so we were not familiar with the Nikkei community.
When did you connect with the Toronto JCCC? The other artists there? Can you describe your relationship with some of the others who are part of this show?
Michiko: I was part of a group of shin-ijusha women who founded "the Association for Japanese Culture" in the mid-1980's. The purpose was and is to introduce Japanese language, art, and culture to groups of school students at the JCCC. The project still continues regularly today. It connected me with the Toronto JCCC and introduced me to the broader Nikkei Canadian community. However, I had no chance to meet any Nikkei artist.
In the 90s, Banri and I began to get involved with the Toronto NAJC, and joined their Nikkei artist group. This is where my friendship with Walter Sunahara, Aiko Suzuki, and Bryce Kanbara began and deepened while planning and participating in the "Ai Symposium". That was the first Nikkei artist event which included ijusha.
Banri: I was involved in NAJC at the time when I first met the other artists, and the catalyst was the "AI symposium" which was the starting point that connected me with other Nikkei artists. Aiko Suzuki was making a Japanese Canadian Directory of artists. I helped her to collect the information on new immigrant or shin ijusha artists.
Any memories of your relationship with the artists who have passed on that you can share?
Michiko: Though not a specific memory of any one person, through our relationship with the members organizing several symposia and events together, I recognized that art is a universal subject to connect people. It is a vehicle which allows us to comprehend each other regardless of different identity, culture, history, and language.
What is the importance of there being a community of Nikkei artists? How has it evolved over the years?
Banri: Artists always have their own languages based on his or her identity. It is important to express in your own language to evolve idea with your sensibility. I have to believe your own identity and sensibility to trust your idea to grow.
It was good chance to lose your own identity or sense to believe in because of the big environmental cultural change that you are experiencing.
Michiko: I had participated in the "Five Generations" exhibition, which reflected the history of Japanese immigration to Canada and showcased five different generations of Japanese Canadians. With the support of The Nikkei Voice which was a bilingual community newspaper, I was being included to represent the shin-ijusha generation. It was initially exhibited at the ROM and is now part of the Nikkei Heritage Museum at JCCC.
During the development of the project, there was a mutual feeling of distance between the shin-ijusha new immigrant community and the Nikkei Japanese Canadian community. Most shin-ijusha at the time did not show much interest in or were actively engaged in being part of Japanese Canadian projects or exhibits like this. However, I felt that it was important to include the experience of shin-ijusha as part of the timeline of Japanese Canadian immigration history.
If I did not have the interactive relationship with the Nikkei artists I met through the Ai Symposium, I might not have understand the importance of building and understanding Nikkei history with all Japanese Canadians.
Together, as part of this group of artist, we started to talk about what we can do for the community. This idea evolved into a shared vision to build an art gallery.
How has being ijusha affected your relationship with other Nikkei artists who don't have such a close relationship with Japan?
Michiko: Initially, as ijusha, it seemed like we separated from other Japanese Canadian artists. Different experiences of Japan, different exposure to the arts and training to have different identity. But as we befriended more Nikkei artists, the issues of difference no longer separated us but brought us together and complimented each other. In our case, it helped to understand the value of building a gallery in the community.
What is the importance of there being an art gallery at the JCCC? How much of a hub for the art community is it?
Banri: I felt that the JCCC did not have a sense of appreciation for the fine arts. Nor was there a place to experience or be exposed to the contemporary art scene. As a cultural centre, the JCCC must have at least the fundamental facilities for the Nikkei artists.
Michiko: Japanese Canadians are composed of individuals who have diverse relationships with Japan because of their multi-generational history of over 150 years. JCCC needs to have a wide mandate with magnetic powers to bond and keep members feel a sense of belonging and be included in a network. Art has that magnetic power. Through the power of art, we can connect, share, make sense of our community - and find joy. The art gallery is an essential component providing space for the artistic action.
Can you both describe a couple of your pieces in the show in some detail?
Banri: 1. Movable Multi-Drawer.
This is a different version of the original one which was designed to be twice as high. The taller one won silver prize at the Asahikawa International Furniture Design Competition in Japan. At the time I was interested in the imperial dimensions which is similar to Japanese traditional dimensions which both relate to the human body. Also this piece reflects my long-time interest with movable furniture that can create different meanings of spaces.
Banri: Multi-Legs Side Table.
This small side table has the different view of table legs, which gives you the interesting image of furniture to be more like objects.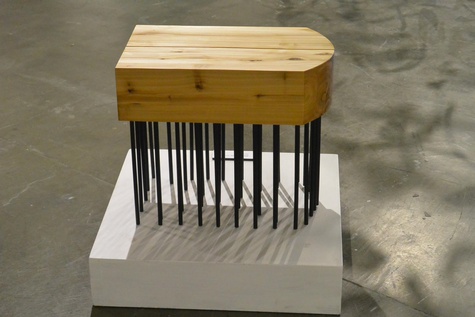 Michiko: The relationship with gravity that effects on clay is an important element of my creation. Clay has dense, solid, and heavy image in general. I like to give it a new character of airy, light and flowing movement that balancing with gravity to free from a foundation.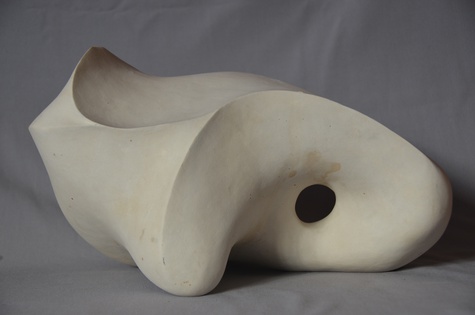 My 'installational' piece "Soar" is composed of four separate units, which are suspended from a ceiling structure. The piece occupies a 3' x 3' space, with a total height of 9 feet. It consists of hundreds of porcelain abstract sculptures, all unique forms, which are arranged so that they counterbalanced each other by gravity. It is a dynamic piece that moves with the slightest movement of air.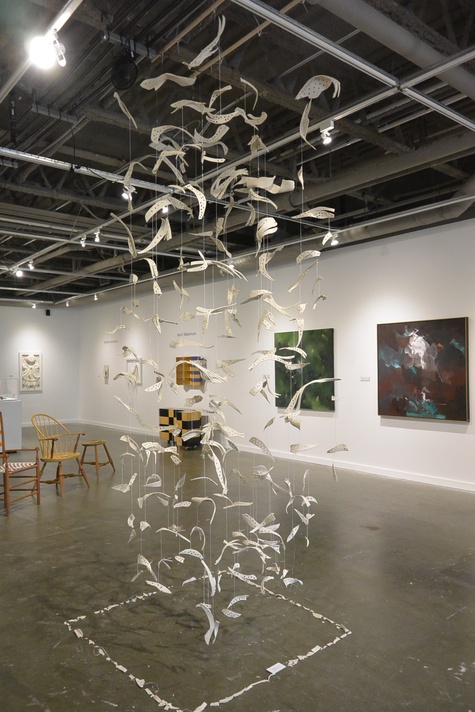 Is there such a thing as "Canadian Nikkei" art? If so, what might some of those elements/characteristics be?
Banri: I don't believe things exist like "Canadian Nikkei art". Art always belongs to individual expression, not as a particular group's name.
Finally, do you both have a message for younger artists about the importance of having a community to support one another?
Michiko: It is important to find a community where you can feel connected and share. With each new interaction, it opens up new learning opportunities and perspectives that you would not expect. You might find a new horizon that will enable you to develop new inspiration in your art.
It's also crucial to be mindful of the future generations and to consider what sort of community they will inherit from you. However small or loud your creative actions are, they will only strengthen and contribute towards building a more balanced and sustainable community.