The following speech was given by Saburo Shinobu on April 2, 1931, the night after passage of the bill on franchise for Japanese WW1 vets. The speech was presented at the Japanese Hall, 475 Alexander Street, Vancouver. It was translated from Japanese into English by Kazuko and Eiji Yatabe, and provided to the Japanese Canadian Citizens' Association's History Committee in 1959 by Sada Shinobu.
* * * * *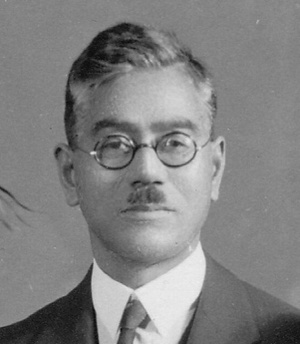 Consul Edo, Mr. Chairman, Ladies and Gentlemen:
Knowing how busy you all are, I very much appreciate your attending this meeting to-night.
For many years I have been advisor to the Japanese Branch of the Canadian Legion, acting in the capacity of discussion counselor to this group of veterans of whom roughly 50 had been killed in action, and to whose memory I would like to pay tribute.
In 1920 I was general secretary of the Japanese Association, and at the same time I was working for the veterans. In 1921 a campaign to obtain the provincial franchise was started, but it was not successful because of political opposition. In January 1925, I was made the advisor to the newly-formed branch of the Canadian Legion, and up to this day I have continued to do my utmost in this capacity. I was determined that until the members of the Japanese Branch of the Canadian Legion had acquired the same rights as the other Canadian citizens, I could not resign my post. Throughout this period, I experienced many difficulties, but doing this grand work, I made many contacts among the Canadians and awaited the right opportunity.
On the matter of the franchise, since I believed that the entire membership of the Provincial Canadian Legion were behind us, I felt that the bill would be passed very easily, but when the actual time came, many problems arose and everything did not turn out as anticipated. As we visited members of the Legislative Assembly individually and spoke to them about the franchise for the Japanese war veterans, we discovered that even those whom we expected to agree immediately with us were reluctant to give a definite "yes" or "no". 26 of them promised to vote in favour, but 4 of them gave emphatic "noes". Of the remaining, 11 were evasive, and 7 or 8 were undecided. Our hope was that half of the M.L.A.'s who would not commit themselves would stand by us. I am not at liberty to disclose why they would not commit themselves at this time. However, when the time came, I was sure that they would be for us. It was often difficult to contact these men at the right time. Sometimes it would be 2:00 or 3:00 in the morning before we could catch these M.L.A.'s, but we felt that if we missed this opportunity, it would be gone forever, and we determined that this time we must do our utmost.
At the last Provincial Legislature, we heard that the bill for the revision of franchise was going to be brought up, but we were not certain, and neither were the M.L.A.'s. About four or five days before the session, we heard that because of the Doukhobor question, the matter of the franchise revision would be brought up, and our own problem would be brought up then.
Two days ago, the matter of the franchise revision was announced as being on the agenda. Up to this moment the Conservative Opposition Leader and the Liberal Party organizer were both veterans, and it was easy for us to contact them. Day before yesterday, after 11:00 pm, the question of revision of franchise for Japanese returned soldiers was passed over to a committee meeting. At this committee meeting, Col. Nelson Spencer and Captain MacIntosh asserted that since the Japanese veterans had rendered meritorious services for Canada, the franchise should be granted in recognition of it, but the Member from Alberni, Mr. Hanna, opposed this strenuously. The many M.L.A.'s in favour of the franchise revision thumped their desks and voiced their approvals loudly, while those in opposition spoke, I thought, in small voices.
The reason given by the opposition was thus: The Japanese had a lower standard of living, and thus it was undesirable for Japanese children to mix with other children. Although they recognized the fact that the Japanese veterans had rendered great service to Canada, they were not willing to grant them the franchise.
There was an unexpected turn in our favour, when the former Attorney-General, Mr. Manson, who had been first against us was won over to our side by our campaigning, and through the efforts of Mr. Pattullo. We were very lucky.
The present Attorney-General, Mr. Pooley, claimed that since in B.C. Orientals were not eligible for franchise, therefore, our veterans should not be eligible for franchise. The fact that they had rendered valuable services during the War was appreciated, but should not make any difference. He then asked for this motion to be adopted.
The method of voting was first by a show of hands, but when a count was taken, there was one hand missing among those in favour. The vote stood at 17 against 18 opposed. Mr. Manson had not raised his hand. The vote was then taken standing, and this time Mr. Manson stood up and the count stood at 18-18. At this moment, Chairman Hayward cast the deciding ballot in favour of the opposition, and we therefore lost by one vote.
We spent a sorrowful night, and even our Canadian friends who had been campaigning with us cried. My Canadian co-campaigner turned sadly to me and said, "Mr. Shinobu, we feel badly. Possibly our campaigning wasn't as thorough as it might have been."
Trying to make him feel better, I answered, "We all did our best, and if it didn't come through, it was through no lack of effort on our part." However, the strenuous campaigning was too much for my friend, who began to feel violently ill. He asked me to call a doctor. This was at 2:00 a.m. It was like a nightmare.
However, we had not the slightest intention of slackening our efforts, and then and there we discussed further means of continuing the fight.
Twigg and Macintosh who were in favour of granting the franchise to the Japanese war veterans began on the morning of the 31st to make personal calls to the individual Members. We had a stroke of luck. There was a Member from Anyox by the name of Kergin who seemed to oppose Twigg at any opportunity he could get. Any motion brought up by Twigg was always sure to be opposed by Kergin and Manson. However, Kergin had a change of heart and stood for the Japanese, going to the trouble of starting a campaign program for them among the Liberals. Even at the assembly hall, he was busy campaigning, and we could see it clearly from the spectators' gallery.
The count was 18 for, 18 against, and of the 11 cabinet ministers other than the Minister of Public Works, Mr. Bruhn, they all were opposed. Following the campaigning of Twigg, MacIntosh and Kergin, Attorney-General Pooley and Minister Without Portfolio Maitland began an anti-vote campaign. Their campaigning was vigorous.
After Nelson Spencer, MacIntosh, Uphill and Twigg gave very earnest speeches, the opposing side without arguing, insisted upon a vote. It was evident that they believed that even though they were losing in argument, they could win if it were put to a vote.
Altogether there were 38, but out of that group, M.L.A. Shelly for some reason was absent and was not in time for the vote. I could not bear to watch, and bowed my head, covering my face with both hands.
"Mr. Shinobu, you've won!" the man next to me cried. I raised my head. There was no mistake, by 19 to 18 we had won!
Jubilantly I returned to the hotel to tell Mr. Mitsui the good news. Mr. Mitsui immediately telephoned Mr. Watanabe whom we heard jumping up and down with joy. In the background we could hear his young son shouting, "Hurray!"
Last night after the Bill passed second reading, people came happily from everywhere to shake our hands. We were informed that although it had yet to go through the third reading, it would be passed, for unless there was some special problem connected with it, the third reading was but a formality.
Sure enough, later that night the franchise revision bill, that is to say, Bill 76, safely passed the third reading.
* * * * *
Thanks to Masayuki Watanabe for providing a translation of the Tairiku Nippo newspaper that confirms that Saburo Shinobu gave a speech at the opening of the Japanese Canadian War Memorial on April 9, 1920, and to Professor Jeannette Leduc for making this translation possible. The help of Linda Reid of the Nikkei National Museum and Cultural Centre in providing background information on Saburo Shinobu is very much appreciated, as is the invitation to give the 2015 Remembrance Day talk. Thanks also to Melinda Halfhide of Library and Archives Canada for finding the online link to the Vimy Pilgrimage Diary of Saburo Shinobu.
*This article was originally published in Nikkei Images, Fall 2016, Vol. 21, No. 3.