This month, we feature a visual artist based in New York, Mari Nakano, and a poet based in Los Angeles, Kenji Liu. Their writings speak to language—on words nudging a new mother to invention and genderless wordplay. There is a personal stretching and exploratory vibrancy with each of their works. Enjoy!
—traci kato-kiriyama
* * * * *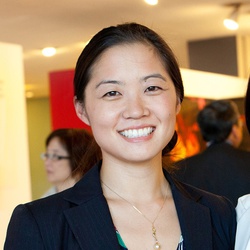 Mari Nakano is a Japanese American designer and writer, obsessive organizer, and creative problem-solver. She currently resides in New York, but has a hands-down deep pride for her home state, California. Right now, she is working on two projects—a cookbook dedicated to her late father and her will. She is the Interaction & Design Lead for UNICEF Innovation, looking at how new technologies might support the world's most vulnerable children.


Kazunoko
Written on New Year's Eve, December 31, 2012
Peeling the membrane off the kazunoko.
Thousands of eggs to be soaked in ginger and shoyu.
I pull the sinewy casing off and rinse off the saltiness.
I am learning to surrender my body to someone else,
constantly conscious that it's trying to communicate,
telling me in the most primal ways what it doesn't want from me and how it needs me.
Mothers and wives have begun sending me their cautionary tales.
Sometimes I want to act stronger than that.
But this is not a time to challenge someone I don't know yet.
If he is mine, I say he must be strong, but
if he is mine, my first duty is to bring him here.
* This poem is copyrighted by Mari Nakano (2012)


Flash Flood Warning
The rain falls,
zaa zaaaaa
The smell of cooking rice,
I hear the hard pattering from the window,
the thunder,
as the baby circles the living room
leaving a trail of messes behind her.
Toys, diaper wipes, a lint roller, a torn magazine.
Storm.
* This poem is copyrighted by Mari Nakano (2014).
* * * * *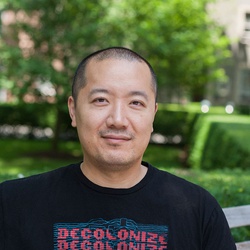 Kenji C. Liu (劉謙司) is author of Map of an Onion, national winner of the 2015 Hillary Gravendyk Poetry Prize. His poetry is in American Poetry Review, Action Yes!, Split This Rock's poem of the week series, several anthologies, and two chapbooks, You Left Without Your Shoes (Finishing Line Press, 2009) and Craters: A Field Guide(Goodmorning Menagerie, 2017).


Artist Statement
Frankenstein + Poem = Frankenpo
An invented method through which one or more carefully chosen text bodies are collected, disaggregated, randomized, merged, rearranged, erased, sewn back together, and reanimated with a high voltage jolt.


Drowsiness through my kiss
a frankenpo1
Ill-will crashes
you midnight long.
A nearby night voice
hews your skull with giggles.
Purple-tipped
roads escape
the ceramic mountainside,
a lone caw answers
the smoke blue blush.
Dream easy.
A country is
a love husk deception
in a demon bottle,
a baggy masculinity,
a mad gizzard
black and blue from gender.
In the tall morning,
again
it comes fondling
your wild inside canvas,
up the forest lunges,
moans a shaking beard,
spits a sitting body
spreading his trousers.
You bull moon.
You skull prince rolling
for miles,
you high-heeled express in a
pure-hearted gender jacket.
In satin boy kneecaps
and a skinny pink
unicorn suit
you return, to dusty body you,
your back barbed
with a dark-suited anatomy.
You powder king all the pieces,
unlace the prettiest voice-over
lipstick could ever kill.
You have lion ears tonight,
knowing the balcony crumbles behind
you,
you swiftly human flag,
you see forever
that serpent you annoyed,
but this morning body you enter
is a long red sparkle.
And the moon still protrudes above,
a purring one-eyed wonder. See,
clumsy love still runs
something.


Note 1: Combining an online article on genderless danshi, the Theravadan Buddhist Metta (loving-kindness) Sutta, and the screenplay of the animated film, The Last Unicorn (1982).
*This poem is copyrighted by Kenji Liu (2017)

Native Language
out there is gone to, pon!
riding a cup, goes up the river,
jiiiito looking, very dreamer boy is.
うん, fragments remembering does,
when speaking, inward bones lean do.
cho-important is, these mono.
why these mono recall happen doesn't?
sounds away slide, nyoro nyoro-like:
matta miru, miso shiru.
gutto! thinking does but itai itai comes
so sometimes forgetting better is, うん or
boat in, roretsu roretsu roretsu,
stream ni yukuri down float,
waku waku waku ureshii ni
life wa dream desu, ne. うん.
From Map of an Onion (Inlandia Institute, 2016),
national winner of the 2015 Hillary Gravendyk Prize
and copyrighted by Kenji Liu