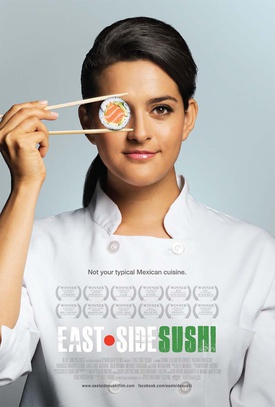 The independent film East Side Sushi debuted in 2014 on the film festival circuit, and depicts a young single mother on her journey to become a sushi chef. It has already garnered over 13 awards at various festivals, including a Jury Award at the 2014 Napa Valley Film Festival, and Audience Award at the 2015 CAAMFest. It has touched audiences around the country, and now it is coming to the Japanese American National Museum on Saturday, January 28 at 2 p.m. Discover Nikkei spoke with associate producer Vicki Wong in advance of the screening to learn about the storyline and how this film was made.

The Story
East Side Sushi tells the story of a young, single Latina mother working to support her family. And more than that, she is pursuing a passion to cook Japanese cuisine. From the opening scene, when the protagonist Juana wakes her daughter at 4 a.m. to accompany her to cut fruit in the outskirts of Oakland, it becomes clear that the story intertwines Mexican and Japanese cultures while featuring a lead character that is not often seen in film. Wong says that "we weren't specifically targeting any particular race. The main character happens to be Latina and happens to fall in love with sushi. She is an underdog, and her story is about determination."
And determined she is, as the protagonist Juana proves to be a well-developed and determined character. When she is forced to give up her fruit cart early on in the film, Juana ventures out to find new work, and becomes captivated by artfully arranged sushi in the window of a local sushi shop. She immediately gets herself hired as a kitchen assistant at the shop, and there discovers her own passion for sushi making. My own thrill in watching the film was observing that as her skill grows, she begins to demand recognition for her contributions to the restaurant. The audience joins Juana as she confronts many obstacles to realizing her full potential as a female, Latina sushi chef in an industry and culture that traditionally prizes male over female workers.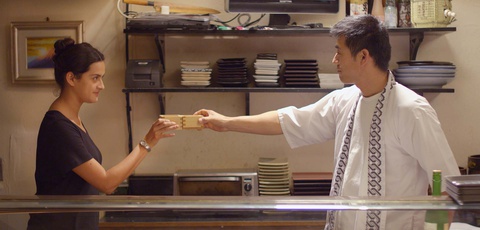 "This is a story that represents the American dream," Wong explained. "It's a very working-class story, and the characters are like people that everyone knows in their own lives. So I think maybe that's what resonates with audiences. Juana is feisty and tough and vulnerable, and her backstory is similar to real people, not some Hollywood construct."
This effort on behalf of the writer/director to develop Juana as a confident Latina woman in a male-dominated industry, which happens to be Japanese, was a deliberate move. And it has been leaving a lasting impression on audiences around the country for exactly this reason. "One unexpected surprise for me that became one of my favorite aspects of doing Q&As," Wong shared, "was that I've met so many people who came up after the film and have said that Juana's story is their story too. They work in restaurants, hotels, theaters, and are very working-class people like us."

Making the film
This level of impact was not created overnight, though, and neither was the film itself. The screenplay went through several years of revisions after the filmmaker, Anthony Lucero, was inspired by an actual worker he observed working in the back of a Bay-area restaurant. And that was not the end of it. When the screenplay was ready to go, other barriers began to appear. The biggest of these was the lack of a substantial budget. A low budget meant that a vast amount of crew time, location time, and props had to be donated to the project.
"If we'd had more money, that obviously would've allowed us the luxury of more resources," Wong said. "As it was, though, we had the generosity of a lot of talents and businesses who donated their time or resources because they believed in us or in the story. Restaurant owners and friends let us film at their locations for free, gave us good prices on sushi ingredients, friends and family were extras or helped out with production, loaned us props and wardrobe, much of our crew volunteered their time and talents, the director's family catered the film, and local restaurants donated meals for our crew, things like that…so it really was a joint effort and a labor of love from everyone."
Similar joint effort also contributed to another key aspect of the film—the sushi itself! Despite the budgetary challenges associated with not only filming but inventing original fusion rolls for Juana to create in the movie, the filmmakers did not shy away from numerous shots of beautiful, professionally-made rolls. Viewers are left in no doubt of Juana's skill as she experiments with cilantro, jalapeño, and maguro, among other things, to produce perfect fusion sushi.
These innovative sushi recipes were dreamed up and given freely to the filmmakers by San Francisco chef Tomoharu Nakamura. "While there were vague descriptions of the sushi creations in the script that Anthony had made up, [we] had no idea of how they would really taste," Wong told me. "He approached Tomoharu Nakamura, a former National Sushi Masters Champion, who agreed to help us…Tomo elaborated on the descriptions and really came up with some fantastic creations." Nakamura even agreed to appear in the film alongside several other established Bay Area sushi chefs. Like others who donated their time, props, cooking, and other efforts, these chefs contributed to the overall spirit of generosity that shines through in the film.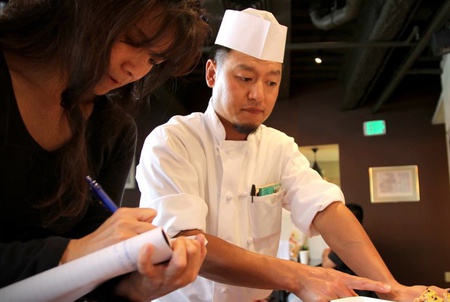 East Side Sushi is a movie that has sparked spontaneous cheers among viewers even as it encourages hope for more diversity and cultural fusion in film. Come out and join members of the cast and crew at JANM for a viewing and Q&A session on January 28 at 2 p.m., at the Japanese American National Museum. Free with museum admission.
For more information and to RSVP >>