Happy 2017, everyone! With quite the gripping year behind us, I find myself needing to look ahead from a grounded place and in order to do so, I look to all kinds of conversations and all forms of art. To fill up on inspiration, in the way we filled up on delicious food at my mother's home on New Years Day, is how I've chosen to begin this January. As we celebrated the beginning of Nikkei Uncovered with Nisei poet Hiroshi Kashiwagi and Sansei poet Amy Uyematsu as our inaugural poets to the column, I am happy to highlight a younger voice with a piece by Sean Miura, a Yonsei artist and community organizer based here in Los Angeles. We are also excited to have two pieces by Mari L'Esperance, who describes herself as a "Hafu poet living in the SF East Bay." Their pieces offer us ways to consider our roots, our grounding, our particular perspectives, our ways of growing, our starting place. Enjoy.
—traci kato-kiriyama
* * * * *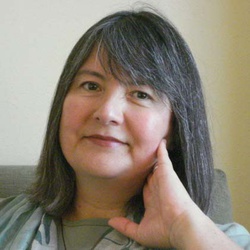 Mari L'Esperance was born in Kobe, Japan, to a Japanese mother and a European­ American father and raised in Southern California, Guam, and Japan. She is the author of The Darkened Temple (University of Nebraska Press, 2008) and the chapbook Begin Here (Sarasota Poetry Theatre Press, 2000). L'Esperance co­edited Coming Close: Forty Essays on Philip Levine (Prairie Lights Books, 2013) with Tomás Q. Morín. Her poems and prose have most recently been published at The Margins at the Asian American Writers' Workshop, Best American Poetry blog, MiPOesis, Kyoto Journal, and Mixed Roots Stories. A graduate of the Creative Writing Program at New York University and the recipient of awards from the New York Times, NYU, Djerassi Resident Artists Program, Hedgebrook, and Dorland Mountain Arts Colony, L'Esperance lives in the Bay Area.


ANJU, FROM THE FAR WORLD
after seven paintings by Fuyuko Matsui

Ringed tracery
on the lake's face
is what you saw,
but you were wrong
to assume. Forgive me,
but drowning's not
my thing. While
you knelt in the weeds,
weeping, I slipped
through the trees. Here
I recede to dun, beetles
and leaf mold
my familiars. Here
I take my leave, my Bereaved.
My Afflictions.
*
In blue-black woods,
it appeared to me, cold
and primordial.
Dear Other, Dear Shadow,
I'm done for—a tracery
in red on black.
*
All's not what it seems.
There's a story here:
ghost of my brother fled
in my stead, our
mother mere memory—
*
There's a story here:
tracery of hair snared
in the branches—black
branches lacing the air—
dank odor of lake water,
scrap of song wafting
across the sound
from Sado-ga-shima—
*
Deliver me, wind
in the pines—pitch
dark—shrieks
of night birds—
Deliver me, white
Narcissus spent to ash.
I'm undone.
I'll never come clean.
*Originally published at A Poetry Congeries with John Hoppenthaler
at Connotation Press: An Online Artifact in September 2013
and copyrighted by Mari L'Esperance.

OHIGAN (お彼岸)
Kobe – March 2014


Pale buds verge on breaking open
on the cherry trees lining the river as my heart—petal
by petal—unfolds to behold the hills of my earliest life.
I arrived in darkness, the sleeping streets muffled
by soft rain. All night I heard the dead
trawling the harbor where my mother and I set sail,
years ago, for that far shore—a woman and her infant
in a fever, the sea a restless bed beneath us, moon
slung low in a nimbus of ash: we made our crossing.
Now I have returned to walk in morning's magnolia light,
spring sun pouring over Rokko Mountain where hawks float
on updrafts and the clear river sings our losses. One
by one, we return to our first shore, carrying our stories with us.
Note: Ohigan literally translates as "the other shore." Most Buddhist temples throughout Japan hold ohigan ceremonies during spring and autumnal equinoxes to express gratitude for being awakened to wisdom and compassion.
*Originally published online at MiPOesias, edited by Emma Trelles,
in October 2014 and copyrighted by Mari L'Esperance.

* * * * *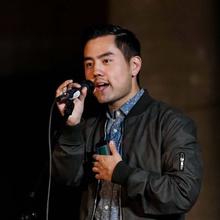 Sean Miura is a Los Angeles-based Yonsei writer and artist. He is the producer/curator of Little Tokyo's Tuesday Night Cafe, a free Asian American art series.
START
This is where we start
As we've always started before
This is where we affirm connection to a past, a present
This is where we commit to a future, a vision
This is where we take the sum of our parts and consider a whole
This is where we explore the twists and edges of barbed wire
Or not
Or Saturday school
Or not
Or sweet black beans on New Year's Day
Or foreign middle names
Or adopted first ones
Or time traveling diaries
Or summers grounded in Narita
Or the sound of our grandparents as they stand up
Or the smell of fishing trips
Or the feeling of solitude, betrayal
Or connection to all of the above
Or refusal to connect the dots
Or not
This is where we start
By disputing common threads
And questioning diasporic responsibility
This is where we start
By examining the borders of our eyebrows and considering the tint of our eyes
This is where we start
By naming the sad euphoria we feel during twilight
The twist of our gut when we hear certain chord progressions
The anger
Or joy
Or warmth
Or
What's the word
Setsunasa?
Or
What's the word
Natsukashisa?
This is where our dictionaries converge
Where the "or"s stake the ground
Where we generalize through specificity
This is the start
This is a start.
* This poem is copyrighted by Sean Miura (2017).