"What? I have to travel 400 km to work all summer? I will call family services!" No, no, that didn't come out of the mouth of a Nisei. They followed their parents' orders. The Child's Labour Code was not discussed back in those days. Parents just said, "Mo, ichi-nin mae dakara, ichigo chigiri ni iki nasai. 'Go Home' kuo tara hazukashii kara, issho-kenmei hataraki nasai!"—Now, that you are grown up, it's time to go to berry picking. It's embarrassing to get fired so work hard. That spelled the end of summer holidays for Nisei kids.
In the early '50s, many children from Vancouver went to work in the Fraser Valley to pick berries. My cousin, Yvonne Wakabayashi, recollects her memoirs of working at the Fukawa Farm with her cousins, Sanny Hirano, Yoko, Lurana, and Monica Tasaka.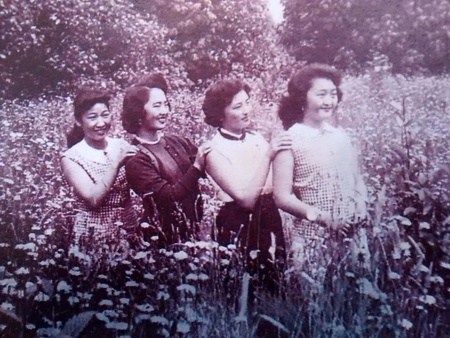 Working in the field all day, she sang songs like "Oh My Papa" at the top of her lungs. The other girls would join in, and she felt like the Von Trapp family on the Alps. Coming from a cramped quarter living behind her mom's dressmaking shop in Vancouver, she loved the wide open spaces of Mt. Lehman. The girls had to budget their food expenses, to do their own cooking and washing.
Mr. Fukawa tallied the wages after expenses and gave the girls bonus at the end of their seasonal work. The cousins took their hard-earned money and gave it to their parents. They had enough extra money to take in the P.N.E. (Pacific National Exhibition).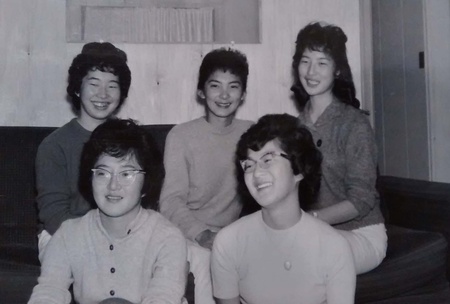 As for my sisters, they went to Cawston to pick fruits, Magna Bay to pick berries, and sometimes pick beans and tomatoes in Kamloops. Working at Magna Bay was much harder, especially when they were only around eleven years old. It was a 10-hour bus ride to Kamloops and then to Magna Bay. There was no shade and the climate there was desert-like. Some days, they had to work 14 hours a day during peak time. Some of the boys returned to Greenwood because they didn't agree with the working conditions. Luana thought that Mt. Lehman was much easier because of the milder climate.
Marion (Hamaguchi) McQueen travelled by bus to Magna Bay in 1952 and she worked at the Nabata farm. She thought it was an adventurous journey with a busload of kids from Greenwood. In the summer of 1953, after berry season, she went to Kamloops to work for Skelly's Cannery, picking beans and tomatoes. Marion then spent the summer of 1954 and 1955 working at Goose Bay Cannery. The pay was $1.25 per hour union wage.
There were many large families from Greenwood so it was a great place to recruit migrant workers. In 1959, the first group consisted of older sisters with younger brothers. They worked at the Ishikawa Farm. Rice and shoyu were provided and that kept the food cost down. The wage was 4½ cent a pound. Mr. Isamu Ishikawa drove the truck to Transport Café so that the girls could buy more canned soup and bread. The boys bought burgers and fries. It was a hang-out for the berry-pickers.
After six weeks of work, the final food budget came out to $8 per person! Of course, lunch was diluted canned soup over rice. The girls added a sprinkling of bologna to dinner. There was one farm where the girls hung old teabags on the clothesline to dry so that they could be used again the next day to squeeze out as much tea as possible.
The following year, only the boys went to Ishikawa Farm. That was a challenge when 14-year old boys had to cook, budget their expenses, and shop. Luckily, we had Tony Imai who drove us to Transport Café with his learner's license. He made can soup on rice meal and sandwiches for lunch and dinner. After work, we were able to enjoy soaking in the ofuro (bath), drive the tractor around the field, play the guitar, and listen to the top 40 songs. We even had time to visit the Midway girls at Okabe Farm.
When older kids turned 15 or 16, they were fortunate to get a job at the cannery. They went to Goose Bay, Klemtu, Great Northern Cannery, and even to Port Edward.
Yvonne worked at Great Northern Cannery in West Vancouver for the Millerd family. It was convenient for her since aunt and uncle Hirano lived nearby. Her brother, Jack, also worked here. At the cannery, she learned to skin and fillet fish which came in handy in later years. She even knew the whole processing system of canning salmon. They even made cat food with leftovers. At the end of the day, everyone smelled like fish.
As for Lurana, she and her friends went to Goose Bay in Rivers Inlet (Reba-sheen) to work in the cannery. Mr. G. Tanaka recruited workers from Greenwood by contacting Arizo Tasaka. The work was significantly an upgrade when Canada Fish Co. paid them well with overtime. The workers made big money, especially for young teens! For a special treat, Bing Crosby and Phil Harris would be up there fishing for king salmon. Bing even sang "High Society" to the workers.
The following year, my sister Lucy and other Greenwood girls went to Klemtu and earned $1,100 for the summer's work! Regular sawmill workers only made $300 a month. Some of the girls refused to eat canned salmon thereafter.
Other summer jobs that Yvonne dabbled in were peeling shrimps for Uncle Sakai at docks near Ballantyne Pier, secretary's helper, baby-sitting, and massaging aunty Rose's shoulders (katamomi).
After graduating from high school in 1963, I had a summer job working for the Canadian Pacific Railroad or to Canadians, CPR. Isn't it ironic? Many Asians worked to build the CPR across Canada in the 1800s.
This was the hardest, back-breaking job that I ever took on. I was waiting to be hired at Cooke Sawmill in Greenwood, but the call never came. My friend, Shuji, was already working full time for the Bridge and Building crew near New Denver. I hastily took the Greyhound Bus to New Denver. The B & B gang was stationed in Rosebery, a former internment camp.
The first day at work, they handed me a 40-lb. crowbar. I only weighed 125 lbs. We had to remove the spikes. Then, the 500-lb. rails had to be removed. Next, the co-worker gave me a 10-lb. sledgehammer. We pounded the spikes all afternoon. The songs that entered my mind were, "It's the sound of the men working on a chain…" A song made popular by Sam Cooke. Next, it was Tennessee Ernie Ford's song, "You old sixteen ton, what d'ya get, another day older and deeper in debt…"
The next morning, I was so exhausted from the first day at work and my back ached like crazy! I practically crawled to the dining hall for breakfast. My foreman, Buck Higashi, saw me and felt empathetic. He quietly called me over and told me he needed help. Little did I know how sympathetic he was towards me with my back condition. While other crew members had to do hard labour, I sat in the Speeder, a scooter of sort. Buck told me to remove all the "torpedoes" attached to the rail. This was a warning device for the workers when the train was approaching. It would make a loud bang from a distance when the train ran over it. "Wow!," I said to myself, "What a relief!" Easiest second day.
After work, we would go daily to the only General Store in town for root beer float. Why? The owners' pretty young daughter worked there! The only Nikkei living in Rosebery at that time was Mr. Amano, and he invited Shuji and I for dinner. It could have been okaisan with fresh trout from the lake and tsukemono.
Next stop was Silverton, only 4 km from New Denver. We were asked to replace the ramp where the barge docked on the shores of Slocan Lake. Again, the work was strenuous. Huge beams were laid on the base of the ramp where the steel rails could rest. The vertical structure was all heavy beams. I was scared of heights so Buck handed me a long brush and creosote. I splattered the carcinogenic black "paint" on the lower beams. Little did I know it was toxic and I worked shirtless.
One day, there were three teenaged girls peeking from the bushes. I could see them, but I had to focus on my work. Later, I told my boss that I needed to go to the toilet. He pointed to the bushes! No way did I want to go there since I saw girls in that vicinity. Nature called and I was praying those girls had left!
There was one thing that amazed me. These hardened Issei workers were used to hard labour. They were compact in build, yet I saw Mr. Suzuki lift a 200-lb. keg of spikes on his shoulder! That's when I had the utmost respect for the Issei.
At that time, I didn't know that New Denver and Rosebery were internment camps for the Japanese Canadians.
My brother, Stephen, preceded me working for CPR. It was around 1955 and he lied about his age to work there because the pay was much better than berry picking. It was around $1.26 an hour. In 1963, I was paid $1.62 an hour. Stephen was nearing 14 and he was physically matured to do that kind of heavy work. It was a back-breaking job. His work might have been more strenuous. Removing old railway ties and replacing with new ones, the reflection from the hot rails heated by the midday sun, and pounding spikes all day in the Kootenay summer heat developed muscles and the darkest tan for young teens, but it was the beginning of a bad back that was to come later in life. Working in the hot sun for couple of months work, Stephen probably had second thoughts lying about his age.
During our university days, most of the young Nikkei students worked at the local sawmill. It paid $1.85 an hour and graveyard shift paid a little more. Sam Cooke's song came to mind again, "…working on the chain." This time it was the Green Chain and Planer Chain. Lumber would come in droves on the wide conveyor chain belt. Green Chain was much tougher since the wood was green and rough. Planer Chain was easier, but the lumber came out much higher in volume. Working graveyard meant that in the summer in Greenwood, there would be frost on the ground around 3 a.m. in August!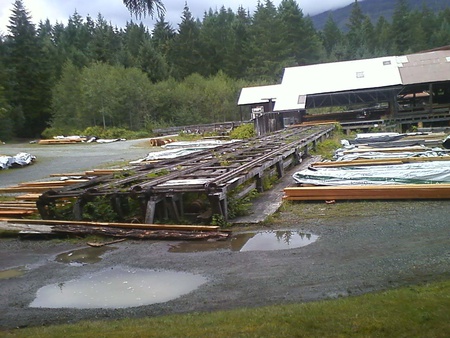 I was once asked to drive the truck to the scrap section. I told the foreman that I never drove in my life and that I don't even have a license. The foreman put the truck in first gear and ordered me to drive across this wooden bridge. Miraculously, I was able to steer the dump truck to the spot. I'm sure he told me where the brake was!
Three months of work enabled the university students to pay for tuition and books with bus tokens to spare. No wonder, I became a teacher!
As for Jack Tasaka, his working days were like tracing old Vancouver history! He delivered the News Herald in the Kitsilano area from Alma down to Kits Beach. Jack's favourite memory was to stop in at Austin's Donut Store on 4th and Alms. The free doughnut and the smell that permeated for blocks was what Jack remembered most.
He then worked at Chapman Bowling Alley on West Broadway on the weekends. It was a dangerous job when people rolled the ball so hard that the flying pins would give him bruises! In those days, a boy had to pick up the ball and set the pins manually. His high school job was getting up on the ladder and setting letters for the up-coming movie at Hollywood Theatre. Jack was paid a few dollars but he was given the privilege of watching the movie and eating stale, leftover popcorn.
Other summer jobs he held were Canadian Fish Company at the foot of Gore Street in Vancouver and Koby's Collision owned by Dave Kobayashi. Jack remembers siphoning a little bit of gas from rental cars that were being repaired to give to the driver of the carpool who took them to U.B.C.
Some of the Greenwood boys worked in the Okanagan picking fruits. It was over 100 degree F. in the afternoon. Therefore, the boys took time off from noon till 4 p.m. They resumed work from 5 p.m. to 9 p.m. They called the outhouse, the Leaning Tower of Pisa. The peach fuzz on the sweaty skin was terribly painful.
Was it financial necessity or did parents wanted to be "free of children" over the summer? No matter what the parents' intentions were, the children learned tremendous life skills to help them in their future employment. The children learned responsibility, frugality, perseverance, hard work, and endurance. Those qualities really helped out in their adult working lives.
*This article was originally published in the Geppo The Bulletin: a journal of Japanese Canadian community, history + culture, August 2016 issue. The author modifed content for Discover Nikkei.