Thirteen-year-old Tatsuo Asamen did not yet have a driver's license but he nonetheless drove an old farm truck each evening to the corner of a field located about two miles west of his home. Waiting for him amongst a clump of tall arrowweed brush was his father, Zentaro Asamen. The Westmorland farmer had set up a cot for himself there and the boy had his dinner.
Following the outbreak of war between the United States and Japan, the elder Asamen noticed that his cronies were beginning to disappear. They were being taken by agents of the Federal Bureau of Investigation (FBI), typically in the middle of the night, with no explanation given to their families. Fearing that he would suffer the same fate, Asamen no longer slept at home. In retrospect, any attempt to escape the FBI "round-up" was futile, but his actions exemplified the uncertainty and desperation of the time. Zentaro Asamen was picked up in a major FBI sweep of the county's northend on February 19, 1942.
Within 36 hours of the bombing of Pearl Harbor at least three ethnic Japanese in the Imperial Valley had been apprehended by the FBI. Two were from Brawley: Yoshisuke Hatanaka, president of the Japanese Association; and Hawaiian Nisei Harold Okano who operated a radio repair shop. The third was El Centro grocery store owner Masutaro Kamiya. Subsequently, the FBI picked up Yasaburo Kawakita, the owner of a grocery store in Calexico and produce company in El Centro, on February 10, 1942.
In his article "The Search for Spies: American Counterintelligence and the Japanese American Community 1931–1942" (1979), Bob Kumamoto contends that it was the "cooperative and clandestine surveillance of the entire Japanese community," which was initiated as early as 1932 by the Department of Justice and the intelligence branches of the army and navy, that made possible the immediate apprehension certain Nikkei as soon as news of Japan's attack emanated from Hawaii.
Takeo Momita, an Issei pharmacist in El Centro, corroborated Kumamoto's assertion. During an interview after the war, Momita divulged that an FBI agent named Sherman arrived in the Imperial Valley to begin surveillance of the activities of the Japanese American community two years prior to the Pearl Harbor attack. And Momita recalled that about a year and a half before the war broke out, a deputy sheriff intimated to him that the FBI office in San Diego was seeking information on the secretary–treasurer of the local kendo club. The Issei pharmacist assured the deputy that the kendo club officer was harmless and a "good man."
The result of the surveillance was the compilation by the Justice Department of a roster called the ABC list. The letters—A, B, and C—represented three groupings of occupations or community affiliations deemed "dangerous." Over 2,000 persons of Japanese ancestry living throughout the United States and Hawaii had been added to the ABC list by early 1941. In the Imperial Valley they included members of the Japanese Association, prominent farmers and businessmen, produce shippers, Buddhist priests and a Christian minister, Japanese language teachers, martial arts instructors, and officers of various Japanese clubs and organizations. What made an individual "dangerous," therefore, was his occupation or leadership role in the Nikkei community. Investigation into one's actual actions or conduct was a secondary concern. It was "guilt by association," as Tetsuden Kashima put it in his book Judgement Without Trial: Japanese American Imprisonment during World War II (2003). In outlining the arrest procedures, Kashima wrote, "the arrests were made first; legitimating warrants were executed later."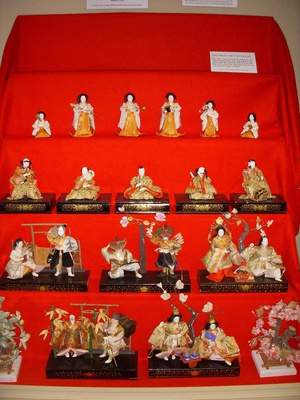 During the first four months of the war, the FBI made a series of raids throughout the Imperial Valley searching homes and arresting those Issei men whose names appeared on the ABC list. Holtville Nisei Akira Sanbonmatsu recalled, "When I got home to the farm after school one day, the FBI had been there and confiscated a camera, a radio with short wave capacity, a .22 rifle, a Boy Scout hunting knife, and several other items. All of our trunks, closets, and rooms had been searched by the FBI." Nikkei families destroyed any articles that bore a connection to Japan. Even cherished photographs and letters from family written in Japanese had to be disposed of for fear that such items would place them in jeopardy. Kiyo Koroda remembered how her parents gathered their family heirlooms and dumped them in the outhouse on their Calexico farm. In El Centro, Mary Hoshizaki unpacked her collection of hina dolls dressed in the robes and accoutrements of the ancient Heian Court. Her mother started the collection when Mary was a young girl and it was displayed each March for Hina Matsuri (Doll Festival). Afraid that the dolls representing the emperor and empress would be misconstrued as an expression of loyalty to Japan, Mary tossed the figures into a fire and sadly watched them burn.
Local newspapers such as the Brawley News and two El Centro dailies, the Imperial Valley Press and Morning Post, reported on the FBI raids. Each individual who was taken into custody was identified by name (although misspellings were commonplace). The articles also gave his age, place of residence, and occupation.
A large-scale FBI sweep of the southend of the county took place on February 14, 1942. 32 Issei men were picked up, but one of them was suffering from tuberculosis and immediately released. Items seized by the FBI during the sweep included cameras, radios, books, records, and "a quantity of papers." Apprehended in El Centro, Holtville, Calexico, Heber, Imperial, McCabe, Seeley, and Mt. Signal were: Miyazo Fujizawa, George Furukawa, Tarozo Inouye, Kuroji Ishimaru, Ryonosuke Kodama, Shiro Koike, Seijiro Koroda, Tokiji Kumagai, Setsuichi Masukane, Somatsu Minami, Otoshiro Miyata, Takutaro Nakahara, Yaichi Nakazono, Tamizo Nimura, Kikutaro Nishimoto, Kenroku Ohta, Naoye Okamura, Ryosaku Okita, I. Okutsu, Juro Omori, Frank K. Otsuka, Matasaku Sakurai, Kamekichi Sasaki, Fusataro Seko, Mosaku Shigematsu, Yasaburo Tanase, Yoshito Taniguchi, Kanjiro Tsuchiyama, Juichi Yamada, Chosaburo Yamashita, G. Yukawa. The Imperial Valley Press reported that the "prisoners were among Imperial Valley's earliest settlers."
When Holtville farmer Tamizo Nimura was arrested at his home, his eldest son, Takanori, demanded to know where he was being taken. An FBI agent placated the distraught young man by giving his word that he would be notified of his father's fate. The official did make good his promise; Takanori was informed that his father—presumably along with the other southern Imperial Valley Issei—was being held at the Tuna Canyon Detention Station in Tujunga, California. Takanori drove to Tujunga and was able to give his father a suitcase filled with clothing and other personal effects. That Takanori was indeed apprised of his father's whereabouts and had the opportunity to visit him at the Tuna Canyon Detention Station was likely the exception rather than the rule among the experiences of Imperial Valley Nikkei.
A mass raid of the valley's northend was launched on the morning of February 19, 1942. Interestingly, the FBI commandeered a produce shed in Brawley and made it the staging area. The following 48 Issei, "many of them prominent in business and farming circles in Imperial County," according to the Brawley News, were apprehended in Brawley, Westmorland, and Niland: Hiroshi Aisawa, Zentaro Asamen, Keijiro Fujita, Tamihei Hamashima, Rokuro Hanaoka, Gisho Higa, R. Hirayama, Yasuto Hiyama, Yuzo Honda, Toshizo Hosokawa, Chusuke Iha, Seisuke Ikemura, Ichigoro Imai, Ushinosuke Itomura, Magoji Izumi, Setsuzo Kaku, Sozaburo Kido, Tadaichi Kimura, Shincho Kinjo, Yoshimasa Kitamura, Toshiro Kobata, Benzaburo Kodama, Sadaichi Kubota, Henry Hidenaro Kubow, Rev. Susumu Kuwano, Rev. Ryuei Masuoka, Yuhachi Miyagi, Shinichi Miyamoto, Fuyutaro Nakamura, Kishiro Nakata, Umakichi Nakata, Fukuichi Nishimoto, Tomoji Okawa, Ichimaru Okazaki, Ichizo Sano, Sakuemon Sato, Norimichi Seki, Ribuko Shinzato, Iho Tamaki, Shintaro Tamaru, Mitsuro Tashiro, Seitoku Tokuchi, Sakusaburo Tokuda, Ryohei Tsujimura, Kwan Uchida, Yoshisuke Uyeno, Morisei Yamashiro, and Zensuke Uchimiya.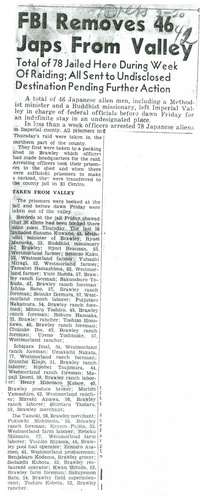 The men were assembled at the produce shed, and then transported to the county jail in El Centro where they were detained until transferred to an "undesignated place," as reported in the local press. It is now known from the recollections of Sakusaburo Tokuda that the undesignated place was the Immigration and Naturalization Service (INS) station in San Pedro. Tokuda, sixty-one at the time of his arrest, held a highly coveted position as a salaried field supervisor of the S.A. Gerrard Company, one of the largest grower-shippers in the country. His unpublished memoir, translated into English by his daughter-in-law, provides a rare firsthand account:
FBI came for me on February 19, 1942 around 10:00 a.m. I suppose that it was because I was an active member of the Japanese [Association]. One FBI agent stayed with me in their car and the other two went inside my house to search but they could not find anything. They have driven me to a [shed] and already there were Mr. Nakamura, Honda, Sano ahead of me. After we exchanged greetings, there were more Japanese persons brought to the [shed]. Altogether there were [forty-eight] of us. I guess the FBI must have been proud of their catch. After this, they have transferred us to El Centro and took picture of our face from three angles and also our fingerprints and we became war prisoners. Numbers were given to us and were thrown in jail. For the first time in my life, I had experienced life in jail and it made me shed tears. Around 3:00 p.m., beans and bread were served on a pie plate and I just could not face it but later I had thought better of it and ate my so-called dinner. Then around 8:00 p.m. they put all of us on old trucks and transferred us to Terminal Island in San Pedro. I believe we reached there around three o'clock in the morning. The minute we arrived there, we were questioned by the authority and they had twenty-eight pages of questions. After that, we were able to sleep, although I don't recall what time it might have been.
After three days in the INS detention station on Terminal Island, Tokuda and approximately one hundred other men were transported to the Justice Department internment camp at Fort Lincoln in Bismarck, North Dakota. It was an arduous five-day journey by train.
Meanwhile in the Imperial Valley it was reported in the Morning Post that the FBI was executing its "final cleanup of dangerous aliens before the Army issues orders for their evacuation from the coastal defense belt." Between March 13 and April 1, 1942, the following Issei were apprehended throughout the county: Seikichi Ase, Rev. Kakumin Fujinaga, Tsuneshichi Kakiuchi, S. Kawahara, Denjiro Kawanami, Kurata Kawanami, Rev. Jingoro Kokubun, C. Kosuga, Magozo Matsuki, Jitsusuke Morinaga, Kihachi Nakamoto, Tanesuke Nishikawa, Chiyota Obayashi, Juzo Oyenoki, Yohei Sakai, Tomoji Sonoda, Jitsuo Tajii, and Shinju Toyama.
All told, 101 ethnic Japanese men were named in local newspaper articles published between December 9, 1941, and April 2, 1942, for having been arrested by the FBI and removed from Imperial County. The majority of them were destined for enemy alien internment camps administered by the Justice Department in Bismarck, North Dakota; Missoula, Montana; Crystal City, Texas; Lordsburg, New Mexico; and Santa Fe, New Mexico.