This familiar phrase, "made in Japan" (Nihon-sei) reminds me of my mother, Yaeko. She was born in Gunma, Japan, on March 7, 1927. Her parents, Matsuji and Kichi Niikura, always had old fashioned Japanese values. Yaeko was their only daughter among their three sons, Hiroshi, Katsumi, and Kazuhiko. She loved sewing and designing. Her dream was to become a fashion designer, however her parents had other ideas in mind. They wanted their daughter to marry and to have a family of her own.
Everything changed when World War II broke out between Japan and U.S.A. on December 7, 1941. Yaeko voluntarily worked at the Red Cross and saw war firsthand, including bloody bodies of Japanese soldiers, starving children on the streets, and many burning buildings. She was always reminded of how loyal the people of Japan were to their Emperor, Hirohito.
With the bombing of Hiroshima and Nagasaki, the war ended with Japan surrendering on August 15, 1945. Following the occupation of Japan, U.S. Nisei Army soldiers of the MIS (Military Intelligence Service) were here to help transition Japanese soldiers back to civilian life. One of these soldiers was my father, Yoneto Nakata, who married my mom in 1947. My mom was considered a "war bride" by Americans.
My birth became the happiest event for my parents. I arrived on Oshogatsu (New Year's Day: a day for praying for good health and prosperity in the coming year) of 1948 in Asakusa, Japan. I was born under the Chinese animal zodiac sign of the nezumi (rat) which symbolized honesty, modesty, seriousness, and a strong sense of self-esteem.
My parents decided to find a better life, job, and home in California, U.S.A. while I stayed with my grandparents in Japan. Waiting eagerly for my parents to return, news arrived of my father's passing on May 28, 1948. He was only 29 years old. My mom was a widow at 21 years old and I was just six months old.
I stayed with my grandparents until I was two years old. They taught me my first Japanese words. I would say itadakimasu (Let's eat!) before a meal, gochisosama (thank you for the delicious meal) after a meal, and oyasuminasai (good night) before bedtime.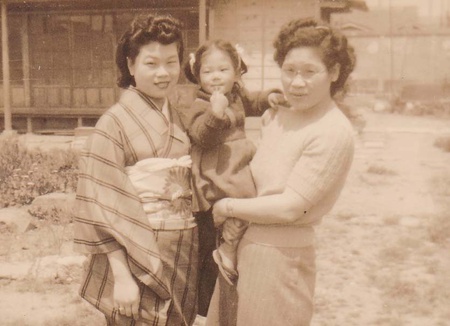 My mother, who remarried, returned to Japan for me. My sister, Marian, was born later in Los Angeles, California, and spoke only English. She had no problem at American school, while I had a difficult time at Marvin Avenue Elementary School because of my limited knowledge of English. My third grade teacher told my mom to speak only English to me. Later, the same teacher told my mother, not to speak "broken English."
My mother desperately wanted me to retain my Japanese heritage and decided that I should attend Venice Japanese Language School on Saturdays. My Nihongo gakko (Japanese School) day began at 9 a.m., lining up by classrooms, saying ohayo gozaimasu (good morning) to the principal, exercising, listening to school business, and returning to the classroom. My sensei teacher taught us how to read Japanese primary grade books and to write in hiragana, katakana, and kanji (all forms of Japanese writing). More importantly, she taught us how to write our names in kanji with correct hand strokes and good penmanship.
Lunch was one hour at 12 p.m. noon including play time. My mom always made a bento lunch for me. There happened to be no equipment on the playground, just lots and lots of gravel. We entertained ourselves with games called Jacks (a game using a small ball and ten jacks), Jan ken pon (rock, scissor, and paper hand game), Origami Fortune Teller (Japanese folding paper game), and Cat's Cradle (a string game).
After class, the students dusted the blackboard erasers, swept the floor, wiped down the desks, and threw out the trash. Japanese School ended at 3 p.m. I still had to wait for my teacher to drive me home. I would be home around 5 p.m. dinner time.
My mother taught me more about our Japanese culture. She bought English books on Japanese children folktales and records of Japanese children songs. My favorite story and songs were Momotaro (Peach Boy) and Haru ga Kita (Spring Has Come) played on our old turn-table record player. My mom and I made origami together. I love making tsuru (Japanese crane), sailboat, balloon, and water lily.
Mom celebrated my birthday, Oshogatsu with special food. She greeted us with shinnen akemashite omedeto-gozaimasu (Happy New Year!). Mom spring cleaned our whole house and displayed the okasane (two mochi topped with a small tangerine) in front of our butsudan (Buddhist altar). We ate satoimo (taro-like root), gobo (burdock root), renkon (lotus root), futomaki and inari sushi, teriyaki chicken, baked tai fish (sea bream), kuromame (black bean), kamaboko (fishcake), and ozoni (soup with rice cake). Our Oshogatsu lasted for days.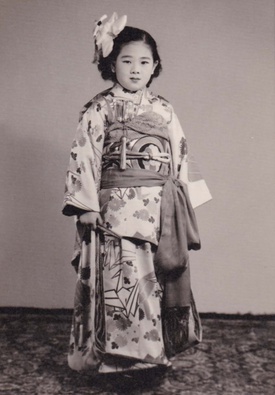 On March 3, Hinamatsuri (Japanese Girl's Day), Mom always dressed me up in a colorful kimono with kanzashi (Japanese hair ornament) and geta (wooden clogs). We also ate sakura-mochi (manju that is wrapped in a cherry blossom leaf) from Mikawaya (Japanese confectionery store).
The summer holiday was the Nisei Week Japanese Festival with parades of Japanese dancers, marching bands, floats, and debut of the Nisei Week Queen and her court in Los Angeles's Little Tokyo. There were many demonstrations of kendo, judo, aikido, and karate (all forms of martial arts), and exhibits of ikebana (flower arrangement), bonsai (miniature trees), doll-making, and shodo (calligraphy).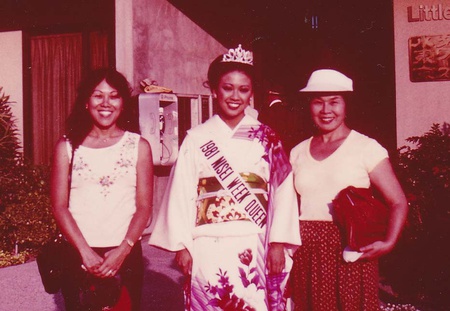 We observed Obon (Buddhist observance to honor the memory of the deceased), listened to the sounds of the taiko (Japanese wooden drum), and danced to the traditional Japanese folk song of Tanko Bushi (Coal-miner's song). We ended the day playing the carnival games at different temples.
When I became an elementary school teacher for LAUSD (Los Angeles Unified School District), I wanted to share my Japanese language and culture with my students as my mother taught me. The students learned to count in Japanese from 1 to 10 repeating the words ichi, ni, san, shi, go, roku, shichi, hachi, ku, and ju; to play Head and Shoulder game using Japanese words atama (head), kata (shoulder), hiza (knee), and ashi no yubi (toes); and to sing my favorite Japanese song, Haru ga Kita.
For Hinamatsuri, I displayed my Japanese Doll case containing the Emperor, Empress, and their attendees and my Japanese kimono. The students made kimono doll bookmakers. They cut out cardboard dolls, colored their faces, and glued gift paper wrap around the dolls with a strip of paper for a sash.
For Tango No Sekku (Japanese Boy's Day) or Kodomo No Hi (Children's Day) on May 5th, I displayed my son's bronze replica of a kabuto (samurai helmet) and his koinobori (Japanese colorful carp wind sock) fish banner on a bamboo pole. The flying carp symbolizes courage, strength, and perseverance. Japanese families hung one carp banner outside their house for each son. The students made origami samurai helmet to put on their heads. They colored, cut, and taped Japanese paper carp flags onto a wooden hashi (chopstick) to fly outside on the school yard.
I continued to teach my Japanese heritage to my sons, James and David. They attended OCBC (Orange County Buddhist Church) and participated in Buddhist events, such as Hanamatsuri (birth of Sakyamuni) on April 8and Obon in July. They learned bon odori (Japanese dances).
On Tango No Sekku, we displayed two flying carp banners outside our house and ate kashiwamochi (sweet manju wrapped in oak leaves). My sons, like myself, attended Saturday Japanese School to learn to speak, read, and write Japanese.
For Oshogatsu, I made the same Japanese food as my mother did on my birthday.
When I retired from 36 years of teaching, I noticed my mother began to exhibit signs of dementia and later was diagnosed with Alzheimer's. Her short-term memory began to diminish. She talked about her parents and brothers in Japan as if they were still alive. Her English disappeared and her first language, Japanese, became stronger. I had to relearn my Japanese to better communicate with her. Mom and I read The Rafu Shimpo together. She read the Japanese section and I read the English.
We looked at her photo album and she talked about her relatives in Japan. Her eyes drifted away from reality. Later, Mom stopped talking and eating altogether. Quietly, she closed her eyes, fell asleep, and never woke up. Mom seemed to return to her birthplace in Japan.
Before my mother's passing, she gave me her Koseki (family tree) of the Niikura family. I never knew my father and have a strong desire to obtain his Koseki of the Nakata family. I always believed in my heart that my returning to Japan and requesting my father's Koseki would honor my ancestors and my heritage.
Now, I realized that this phrase, "made in Japan" refers not only to my mother but also refers to me as well.