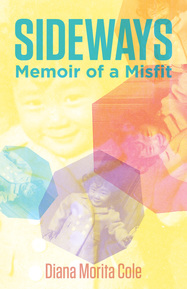 When I was growing up, my family aspired to meet the "model minority" myth that was set up to direct how we Nikkei should think of ourselves and live within the Canadian context.
Back in the post-war years, young Nikkei parents were scrambling to start new lives while the older Issei, like my grandfather, worked at odd gardening jobs until his seventies as he had no savings or pension to live on, as the government confiscated and then sold the Ibuki farm in BC.
Subsequently, as a community, there has been little discussion about what it was like for those families to start over from nothing. To some extent, this has to do with the dearth of Nikkei memoirs about experiences during those years. Sure, there are some (e.g., the works of Roy Kiyooka, Roy Miki, and Joy Kogawa) but the Canadian offerings, anyway, are scant.
Until the Redress victory in 1988, I never had much of a sense that there was much of a Japanese Canadian community. If anything, what I heard growing up were in denial and were rather dismissive of the internment experience even taking an odd sense of pride for surviving internment on cultural manna like "gaman" (perseverance) and "shigataganai" (it can't be helped) rather than be outraged at how our politicians and neighbours let it happen to us. Others became Japan/self haters.
In the 28 years since Redress, opportunities to share stories of these experiences are rare even though our old age homes are largely untapped treasuries of our JC history.
Still stranger is how the "model minority" myth has persisted and become engrained into the fabric of what our communities are today. I am reminded, having interviewed hundreds of internment camp survivors, that I was often sworn not to repeat colourful stories about Powell Street (e.g., gambling houses), prostitution, and sexual abuse (yes, it did happen) as the Nisei feared they would spoil that myth/tatemae image of that generation and somehow taint future ones. Today, to a large extent, that myth has become the reality what we perceive ourselves to be.
Even in this era where the names of human rights heroes like Martin Luther King, Jr., Nelson Mandela, and Muhammed Ali are household names, few know those who stood up for Japanese Canadians and Americans. I am anxiously waiting for the autobiographies of Art Miki, Roy Miki, Joy Kogawa, Frank Moritsugu, Grace Eiko Thomson, Raymond Moriyama, among others to be published. Isn't it time for our elders and leaders to share their stories so that we might be able to learn from them?
While Sideways: Memoir of a Misfit written by American ex-pat Nisei Diana Morita Cole, 72, is not available on either Amazon or Indigo (in Canada), it is available at several outlets across Canada. Given the context of the times and, now, 71 years after WW2, with our fading collective memory, these stories of our lived experience are dying along with the generation that can only really tell it.
Morita Cole provides an important and timely challenge to us then to reconsider a point of view of ourselves that needs to be changed. It is time for us to shatter that myth.
Morita Cole's story is a compelling, often funny, uncomfortable, and heart-breaking one that tells about what our community experienced when we were exiled to eastern areas of Canada and the US. Her story belongs to all of us.
Now a resident of Nelson, British Columbia, her family originally settled in the Hood River, Oregon area where they had an apple farm. Then, in 1942, upon being declared "Enemy Aliens", the entire family (including baby Diana) were imprisoned in concentration camps during the war. The photo of cute-as-a-button baby American born Diana whom the government had declared a "Non-Resident", sitting on a blanket covered chair outside a barrack in Minidoka, with her pet bunny is particularly unsettling. What excuse was there for that?
After the war, the father hoped to return to Hood River but with the local newspaper blaring headlines with ominous warnings like "So Sorry! No Japs Wanted Here in Hood River," even with sons serving in the US army, the Morita family felt it was in the better interest of the family to head to Chicago, Illinois, instead where daughters Dorothy and Ruth had resettled.
Readers of Sideways learn about the family's internment experience through hearing echoes of her own family stories when growing up in a ghetto surrounded by other "outcasts" including African Americans, Jewish exiles, and Hawaiian Japanese Americans, all starting over again after suffering the scorn and hatred of their countrymen and women.
Remembering that in 1940s Chicago, the Civil Rights movement was burgeoning and the tensions and racial pressure of generations were building across the United States. This historical backdrop provides some added drama and urgency to Cole's story.
Being declared an "Enemy Alien" by his government, her second cousin Frank Hachiya had to "leave"/was expelled from the University of Oregon where he was a student when President Franklin Delano Roosevelt (FDR) ordered 120,000 JAs removed from the Pacific coast of the US. Even after this, and perhaps seeing the need to be a role model even in the midst of the racism and bigotry, Frank felt compelled to join the US Army even though his father Junkichi Hachiya was imprisoned at Tule Lake Concentration Camp. Diana's brother Claude also enlisted. Her cousin, US Sgt. Frank Hachiya, made the ultimate sacrifice when he was killed fighting for the US in the Philippines on January 3, 1945. But this was still not enough. Racial hatred and the system that allowed it, prevented his father from bringing this American soldier back to US soil and to Hood River for burial until 1948.
Brother Paul also joined the US Army near the end of the war as did brother "Junior" who was drafted into the army during the Korean War and spent his time in Japan. So, after all of this proud service to her country, it was a bitter epiphany indeed when Diana understood that this placed her father in the position of the "villain" in the Morita family narrative.
And, even after World War Two, The Reed-Johnston Act (1924) still prevented Asians from settling in the US. Her soldier brother Claude worked on Private members bill 930 with a Chicago politician so that his Japanese wife and son, Chizuko and Rodney, could enter the US legally. Being of Japanese descent, Nikkei, in those war years meant that there were all kinds of legal barriers to correct too. (In Canada, we were barred from the professions, even banned from living in many urban areas that included Vancouver, Hamilton, Toronto, Winnipeg, and Edmonton until 1948. We lived in our own Canadian ghettos too.)
As a kid, Diana came of age at a time when her older siblings were going through their own deep and personal processes to become American. They had to reconcile the democratic facade with the reality of being in a country that believed it was okay to justify the imprisonment of innocent citizens because of their race and expect African Americans to sit at the back of the bus. Some Nisei heroes like Yuri Kochiyama were active members of the US civil rights movement too.
Diana's family had their share of travails: a Japanese sister-in-law who did not adapt to life in America well, brother Claude who lived in Tokyo after the war, the "long lost" sister Fumiko who was stuck in Japan through the war years and returned to live with her family afterwards, and the death of her grandfather in 1961 at nearly 90 having immigrated to the US in 1910.
All of us in fact are connected to Diana's family history continuum at one point or another. The honest and open telling of her story should give us courage too to look more closely at our own family stories that have all too often been carefully pruned from our collective memory. Hopefully, you'll ask questions and probe beneath the surface to get the real stories of where you come from.
Those generations paid dearly just because of their Japanese ancestry. Sideways raises important issues that are still very timely.
Diana's remarkable story deserves to be read by all Nikkei who are looking for a bigger picture of the Japanese immigration experience in both the US and Canada in its full complexity.
So, this summer, why not include Sideways: Memoir of a Misfit on your poolside/beach reading list? It will give you something meaningful to ponder upon and, most surely, help you to gain some deeper insight into the ongoing evolution of what-it-means-to-be you.
For information about where to purchase Diana's book in Canada and the US, click on the link below.
www.diasporapress.net/purchase-sideways.html