We are excited to ride the train whenever a new route is opened, but often don't consider the history of the railways and the effort that went into building them. I recently read a story about the history of Minato Gakuen, written by Rio Imamura. Until then, I didn't realize there were many struggles before Minato Gakuen successfully operated.
I learned about Minato Gakuen when Japanese classes were still held at Miramar College so it must have been in the early phase of development for Minato. My husband and I relocated to San Diego from Kentucky in 1977. When we settled in Mira Mesa, we found a Japanese neighbor five doors away—Taketo Arii, a landscape architect. We quickly became friends. Arii-san's children were enrolled at Minato Gakuen. One Saturday, Arii-san was unable to take his children to school, and I volunteered to take them to Minato.
In 1983, I first stood at Minato school platform as a substitute teacher. I later became a full-fledged teacher in 1985 and taught until 1990. After a five year interval, I returned to school in 1996 and served until 2001, the year I retired. I served at Minato a total of 12 years.
Every day Minato Gakuen opens with the morning meeting, where the principal addresses the teaching faculty and all of the students lined up outside the school grounds. The morning meeting is followed by radio calisthenics; the physical exercise nationally popular for years throughout Japan. It is set to nostalgic music and rhythms for adults raised in Japan.
There was one exception to this morning routine in January 1989. Principal Satomi, clad in a black suit and black tie, reported that Emperor Showa had passed away. There would be no radio calisthenics that day. Lead by somber looking teachers the students returned to their classrooms from the outside grounds.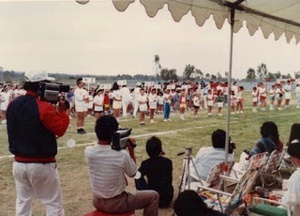 One of the school events the Minato students impatiently awaited was undokai, Field Day. Wangenheim School field, nothing but a wild plain field, became enlivened with a congregation of students, teachers, parents, and families, all surrounding a circular track of playground carefully drawn by lime powder. When races started, fathers competed to occupy the best locations for filming the event, equipped with movie cameras on their shoulders (all much heavier than those available nowadays).
I was the event convenor almost every year. I would call the names of students per the programs, line them up in order of the programs, and give start signals. For relay racing in the red and white color competition, I divided racers into two groups by grade and color. There were restless children who were unable to wait and disappeared when they were needed. In retrospect, it was a responsibility that I fully enjoyed.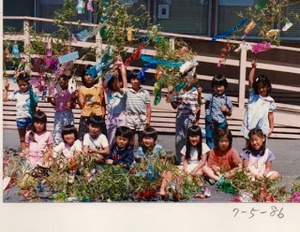 Picnic outings sponsored by the PTA were also delightful events. One year we had an apple picking trip to Julian, the gate of Cuyamaca Mountains. Another year we had a very organized Dixon Lake Park picnic in Escondido. I have very fond memories of the picnics.
The Minato Gakuen Office used to be on Miramar Road. Mrs. Kusano was always working diligently therein. There was a conference room that could contain 20 people if we packed ourselves in like sardines. Teachers treasured and shared one copying machine in that office. The teachers had to take turns to print teaching materials and were often accompanied with our children.
Eugene, my son, entered Minato Gakuen Elementary in 1985 and finished Junior High in 1994. He went to a local senior high, graduated from a university, and got a job at an IT-related company headquartered in Texas. He was sent to the Tokyo branch office, where he found the Japanese language skills developed at Minato immediately helpful. He came back to the U.S. after two years and opened his own business in San Diego. His experience in Japan deepened his appreciation of Minato, and relationships with Minato classmates increasing their reunion chances.
Aya, my daughter, entered Minato Elementary in 1986, and studied until she finished her second year of junior high. She graduated from a local senior high, as well as a university. While studying at the university, she had a chance to study at Tokyo International Christian University for one year. After graduating from the university, she traveled to China for a year and a half as an English teacher. She returned to the U.S. and got married in Florida. Her husband is a pastor. The two of them are among both the Chinese and Japanese communities.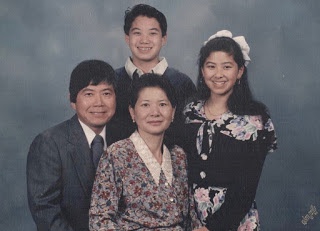 Minato graduates have a special feeling of fellowship as in "misery loves company." As they advance to higher grades, many students experience conflicts of interest. Since they commit to studies at Minato on Saturdays, students are unable to participate in weekend sports events or activities with their peers, which can lead to frustration. However, the shared frustration of Minato graduates builds a strong feeling of camaraderie between classmates.
The primary mission of Minato Gakuen is to help students preserve Japanese cultural values while they attend American schools, and to keep them on track with the Japanese studies, should they return to Japan. Even children who do not return to Japan benefit from Minato. Of the classrooms I was in charge of, two-thirds of the students were returnee students, children of corporate expats and of university faculty or researchers. The remaining third were children such as my own and children of international marriages between Japanese and Americans. In addition, Minato's mission has expanded beyond its primary objective by sharing Japanese cultural values with local Japanese-sympathizing Americans.
My grandson, my son's son, turned three-years-old this year. He started to learn the Japanese ABCs. I hope that my son will enter him in Minato in due time. I heard Minato Gakuen, a small school with 39 students, 38 years ago, now ranks within the top 10 Hoshuko in the U.S. The efforts of the pioneers who founded Minato came to fruition, as Minato has become a valuable and intangible asset to the San Diego Japanese community.
I hope that the next generation continues to maintain and further develop the Minato tradition, while honoring its founders, their spirit, and their effort to create this special place.