It's a misty Sunday afternoon, and I am walking down to the ferry dock at the Yaletown Marina. I barely make the recommended 3:15 p.m. arrival time, and a small group of about twelve people is already waiting. Among the group I'm happy to see Momoko and Maki, who both used to work with me until recently at the museum, local writer Lydia Kwa, and of course Cindy Mochizuki, the artist who has brought us all out here.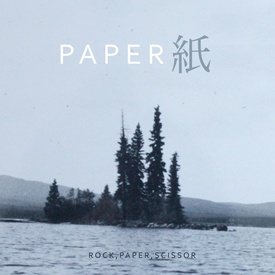 Cindy's assistant hands out oversized headphones and gives us instructions on how to handle them. Don't touch the buttons, he warns, as the headphones are all tuned to a certain radio frequency on which we will hear the story.
The last few people trickle in, including my friends Tina and Angus. Tina tells me she has been engrossed in Mothertalk on the way over, the book I'm to start leading discussions on at the museum soon as part of our new Nikkei Book Club. Lydia approaches Tina, and asks if her tote bag is from Singapore. Tina and Lydia are both originally from Singapore, and they begin a conversation. Everyone gets headphones. I accidentally press a button on mine and have to switch for a new pair. At 3:30 p.m., we all file into the small ferry boat. There are about twenty of us—the performance is running four times this weekend, and each time slot reached its maximum capacity on the first day to sign up.
We have all put on our headphones by now. The radio frequency is playing some Japanese music. The only words I can make out in one particular song are otoko nara…otoko nara… (based on the context, this might mean "if a man…," or, "if I'm a man," or "if there is a man"…). I have no idea what the (female) singer thinks will happen if there is a man, but I can imagine any number of amusing things that it could be, so I am laughing a little to myself.
The boat leaves the dock, and the music stops. Instead, we are listening to a story of a young woman named K, who helps run her family's restaurant on a small island in Japan. The inside of the boat is silent except for the sound of the motor, which we can barely hear inside our headphones. Outside, I see the shores slowly pass by, changing from the West End's muted winter greenery to the colourful signage of Granville Island, and then the flat green-brown-and-grey expanse of Vanier Park. The water is grey-blue and calm. Silverish light is quietly reflecting off the small waves.
The story is of K's encounter with a mysterious man who looks Japanese, but speaks English—maybe a Japanese American, she thinks—who comes to the restaurant and leaves behind a Japanese letter about a land abundant with lush forests and fish. The story has a magical element to it as well, with K discovering a mysterious portal through a hole in one of the restaurant's menus that allows her to peer through to a land full of trees—perhaps British Columbia.
The story ends just as we pull into the dock. We disembark and walk across Vanier Park. It is cold, but the morning's rain has stopped. During the ten-minute walk, Angus and I fall into and out of step with Tina, Lydia, Maki, Momoko, and Cindy at different times. Cindy says that although we're fortunate to not have to walk in the rain, the morning group got to enjoy their story in a different atmosphere, since the rain made the windows in the boat fog over. We reach a small building at the other end of the park, and go inside.
We are invited to sit down at two small tables which take up most of the room. Two young Japanese women serve us bowls of chagayu, a Japanese dish of rice cooked in tea until it is a thick porridge consistency. This was my favourite food as a child, although I have never heard it called chagayu before. It feels strange to be eating my number one comfort food in public, out of a styrofoam bowl. Cindy has provided a number of toppings, too, all of which are unfamiliar to my chagayu experience up until now: ginger, green onions, tiny dried sakuraebi, umeboshi, sesame seeds. Only the nori is part of my usual experience, along with the pieces of salted fish which we are served on top of our porridge. Cindy tells us later that the extra toppings were her idea, to make it a bit more interesting. It's quite different from the tempura and noodle special with seaweed soup that K describes preparing in the story, but it's much more special to me.
Tina is still talking to Lydia. Momoko is chatting with our servers. I am tipping some more sakuraebi onto my porridge. Maki sits on my left, and Angus on my right. We chat with Momoko's boyfriend, Haig, who is a cook, and a fan of the Japanese porridge—he compares it to risotto, a favourite of his. I don't know everyone here, but in a way I feel like I do.
I don't know how long we sit in the little room for—definitely longer than the thirty or so minutes it took for us to get there. At some point, it feels right to leave, and we begin to get up and gather our things. Momoko makes a point to thank our servers, and I take care to imitate her good manners.
We say thank you and goodbye to Cindy on our way out as well—and I ask her about the name "chagayu." My family always called it "okaisan," but when I lived in Japan, I was told it was called "okaiyu."
"Okaiyu is just the rice cooked in water," Cindy explains. "Chagayu is when it's cooked in tea."
My family has always cooked our porridge in green tea, so clearly we've been using the wrong name entirely all this time. But what about that last syllable?
Neither Momoko nor Cindy has ever heard of okaisan before. But Cindy has a pretty good guess of where it came from:
"It's baby talk," she says. "Like—talking to a little kid: here, have some okai-san…"
"Oh—like when you talk to kids about kuma-san or neko-san [Mr. Bear, Mrs. Cat]," I reply.
"Yeah, personifying it. When you're sick, it's comforting. But the fishermen from Wakayama all used to eat this out on the boats. It keeps you warm."
I'm a little embarrassed about this discovery, but I guess funny and babyish Japanese is just part of the Nikkei experience. Since my grandmother never spoke Japanese to her children or grandchildren, she probably didn't think it was important for us to know proper Japanese words—we only used this one because there was no English name for it.
My grandmother was born in Steveston, part of the community there of fishermen immigrants from Wakayama prefecture in Japan. Even my dad, who was born after the war and the community's dispersal from Steveston and grew up in South Vancouver, remembers having many fishermen uncles who would work sixteen or twenty hours a day out on the boats during the fishing season, and live on unemployment insurance the rest of the year. I never met these uncles, or if I did I was too young to remember.
It's not often I get to share this kind of thing with my non-Nikkei friends. I often make okaisan—I mean, chagayu—for myself at home, but my roommate has no idea what I'm eating. When I mention ochazuke to others in the Japanese Canadian Young Leaders group, or at the museum, I get responses of fond recognition, but it's something I rarely even try to explain to others. It's easy for me talk to anyone about the papers I wrote in school on the forced dispersal and redress, but I learned about these things mostly from researching those assignments, just as I learned about Japanese Takarazuka theatre, English Romantic poets, and the tension between politics and art in Cold War-era United States. I don't usually put okaisan into English words. "Umm…it's rice…cooked in green tea, like porridge…"
"Like congee?"
"I guess so. I've never had congee but it sounds similar."
Not that that properly describes the countless bowls of it I've consumed throughout my life. Leaving the little shed for a January twilight still thick with a cool mist, though, with Tina and Angus on either side of me, I feel like a lot has been more or less explained.
*This article was originally published in Nikkei Images, Spring 2016, Volume 21, No. 1