Born and raised in Pasadena, California, Naomi Hirahara is a writer with a love of Japanese American history. After receiving her bachelor's degree in international relations from Stanford University, Hirahara worked for many years as a writer and then the editor of The Rafu Shimpo. Among her many achievements as editor was the publication of a highly acclaimed series on inter-ethnic relations following the Rodney King riots.
In 1996, Hirahara left the newspaper to become a Milton Center Fellow in creative writing at Newman University in Wichita, Kansas. When she returned to Southern California in 1997, she began to edit, publish, and write books. Her credits include editing Green Makers: Japanese American Gardeners in Southern California (2000), published by the Southern California Gardeners' Federation and partially funded by the California Civil Liberties Public Education Program, and co-authoring Silent Scars of Healing Hands: Oral Histories of Japanese American Doctors in World War II Detention Camps (2004) for the Japanese American Medical Association.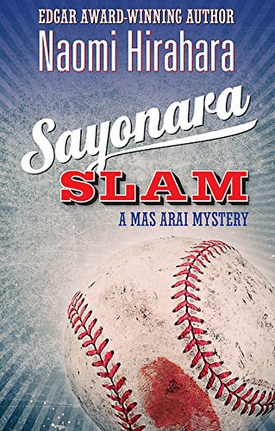 She seemed to hit a different kind of stride when she began writing and publishing mystery stories and novels. In 2004, Summer of the Big Bachi introduced the world to Hirahara's most beloved character, the amateur sleuth Mas Arai. An aging, laconic Japanese American gardener with a few secrets in his past, Mas makes for an unlikely hero through whom the author can evoke the many nuances of Japanese American history and culture. The third book in the Mas Arai series, Snakeskin Shamisen, received an Edgar Allan Poe Award for best paperback original.
On the occasion of the release of Hirahara's sixth Mas Arai mystery, Sayonara Slam, we sat down with the author to discuss her work and her process.


Carol Cheh (CC): As a fellow writer, I am intrigued by your evolution from journalist to award-winning mystery novelist. Can you talk about this transition and what inspired it?
Naomi Hirahara (NH): My goal was always to be a published novelist. I started writing novels at a young age—the summer after fourth grade, I think. However, it took me some time to figure out my voice and the material that I wanted to write about. Journalism gave me income (it was a lot better in the 1980s and '90s!), as well as opportunities to talk to diverse individuals, from the homeless to international political leaders. I became aware of people's self-serving agendas, and that probably has shaped my more suspicious outlook—perfect for the mystery genre.
As a reporter and editor for The Rafu Shimpo, I also became aware of the fascinating contradictions of Japanese American history. The more I dug, the more I found. The intersection of this love for ethnic and regional history and a passion for storytelling eventually led to my mystery book series.


CC: Which writers would you cite as your biggest influences, and why?
NH: Various writers have served as fellow travelers during different stages of my life. When I was in grade school, there was Lois Lenski, who wrote about itinerant farmers in the South, and Japanese fairy tales. In high school, I was drawn to Charles Dickens, Fyodor Dostoevksy, Doris Lessing, J.D. Salinger, and especially the playwright Arthur Miller; Death of a Salesman showed me how an everyman story can be so compelling.
In college, I discovered many Japanese writers, including Yasunari Kawabata, Natsume Soseki, and the women of Bluestocking, an early Japanese feminist magazine. Later, I got into Louise Erdrich and many other native writers, and of course, pioneering Japanese Americans such as Hisaye Yamamoto and Wakako Yamauchi. In terms of the crime genre, I was influenced by many African American authors, including Chester Himes, Walter Mosley, and Barbara Neely.

CC: Give us a sense of how you craft your mysteries. Where do you get your story ideas? How do you begin writing a book? Do you start out knowing the ending, or do you work your way there as you go?
NH: It really depends on the book. With the Mas Arai series, I often begin with the clue. Mysteries are very visceral. To solve it, readers need to use their senses, which seems strange because we are dealing with the printed page. But somehow the words need to evoke emotion and feelings.
I'm currently working on a standalone mystery and the construction (or should I say reconstruction since I'm rewriting it for the third time) of the story deals with character development. If you create strong, vivid characters, you need to allow them to fall where they may, and if you are dealing with tragedy, that can be rather painful. I rarely know "who did it" beforehand.

CC: Some say that Mas Arai is your most vividly drawn character. How do you manage to get inside the head of a seventy-something man so effectively?
NH: I was close to my late father, who was the inspiration for the character. Also, as a journalist, you are often interviewing men, and I had predominantly male coworkers for many years.
Aging bachelors were regular fixtures in Little Tokyo at one time. They would often come into The Rafu Shimpo offices and shoot the breeze. Many were strong characters and I could see how discrimination and racism had formed who they had become.

CC: Do you ever feel bad when you have to kill someone off in your books? Conversely, have you ever modeled a villain after someone you didn't like and taken great pleasure when they got their just desserts?
NH: I love all my characters, even the villains. There is a part of me in every major character. I think it's the victims that require the most love, because otherwise, why should the reader care who killed them?

CC: You write about Japanese baseball and have gone to games in Japan. What are the biggest differences between the Japanese baseball experience and the American one?
NH: The spectacle of Japanese baseball fascinates me. I went to a game at Yokohama stadium four years ago and they had a whole routine going. Whenever the Yakult Swallows hit a homerun, the fans would open up clear umbrellas and dance around. Then at halftime, soap bubbles were released all over the stadium to the tune of "Take Me Out to the Ballgame."
I'm interested in how culture translates between countries, so writing about baseball in Sayonara Slam was a great way to explore that.

CC: You've been open about your plans to end the Mas Arai series after the next novel, which will again take place in Hiroshima, like parts of the first novel did. Readers will no doubt be upset. What brought you to this decision?
NH: Shortly after the third Mas Arai book, Snakeskin Shamisen, I started plotting the arc of the entire series. I wanted the fourth, fifth, and sixth books to tackle more contemporary issues such as drug addiction, technology, and the cult of celebrity (as seen through the lens of sports). Then the last book in the series would return to Hiroshima.
My protagonist is an amateur sleuth. The longer the series goes on, the more it risks falling into a narrative trap like Jessica Fletcher's in the Murder, She Wrote TV series—why are all these people in this small community getting killed?

CC: In addition to the Mas Arai series, you also write the Officer Ellie Rush series, which is centered on a 23-year-old female bicycle cop. Is it easier or harder to write from Ellie's point of view?
NH: Ellie's voice is definitely easier. It's conversational and the books are written in the first person. She is much younger than me, but hey, I was young once! And I have a love of spoken language, so I file away dialogue in my head.

CC: Is it important to you that your books reach a large popular audience?
NH: Hmmm. That's an interesting question. Of course, every writer wants to be read widely, but I know from the things I write about that my books, at first glance, won't appeal to certain readers in the mainstream. That's why I do so many speaking engagements—to touch people and have personal interactions.
I am so amazed that one of my Mas Arai books won an Edgar Allan Poe Award for best paperback original. That the series is currently getting translated into French, and that Summer of the Big Bachi is currently in development for an independent feature film—this is more than I ever hoped for.

CC: What are the main things that you hope your mystery readers come away with after reading one of your novels?
NH: There are usually two opposite reactions to my books: either "This is a world I never knew existed!" or "This is the story of my father, grandfather, uncle, friend, or gardener." I feel thankful that I'm able to present this real, vibrant world that is hidden—both intentionally and unintentionally—from outsiders, and to affirm to the "insiders" that their lives, history, and experiences are important.
Naomi Hirahara's official website: www.naomihirahara.com
* * * * *
Author Discussion—Sayonara Slam by Naomi Hirahara
Japanese American National Museum
Saturday, May 21, 2016, 2 p.m.
Join author and social historian Naomi Hirahara for a discussion of the backstory behind Sayonara Slam, which includes a little-known Japanese-style garden at Dodger Stadium, as well her journey to bring Japanese American stories to a mainstream audience. A former editor of The Rafu Shimpo, Hirahara has published a number of nonfiction books on the Japanese American experience in addition to her mystery novels and books for younger readers.