This year, March 11th marks the fifth anniversary of the earthquake and tsunami that devastated the coastal Tohoku Region in Japan, wiping out towns and villages and changing life there forever.
As Vancouver filmmaker Linda Ohama nears the completion of her 3.11 documentary Tohoku no Shingetsu (New Moon Over Tohoku), it is an important time to pause and remember the thousands of lives lost and the tens of thousands that continue to recover.
Friend and Sendai resident, Tsutomu Nambu, works for Miyagi Prefecture and offers these sobering statistics on the number of people still in "kasetsu" or "temporary housing" in Miyagi:
Prefabricated temporary housing (completed by December 26, 2011): Number of units: 406 sites, 22,095 units; occupied units: 11,535 units, occupants: 24,746 (as of December 31, 2015)
Private rental temporary housing: 9,281 units occupied, occupants: 21,630 (as of December 31, 2015)
Other kinds of temporary housing: 337 units occupied, occupants: 748 (as of December 31, 2015)
Evacuees outside the prefecture: 6,026 (as of December 11, 2015)1
He explains two main reasons why getting these people into permanent homes is taking so long: "One is that the land where there used to be many houses are still being prepared for construction. Only after this, will they be able to start to build their own houses." According to forecasts released by Miyagi Prefecture, construction is expected to last until 2020 in many cities and towns.
Nambu-san continues, "The other reason is that there are many people who cannot afford to buy or build their own houses. They lost almost everything in the disaster. Moreover, the elderly cannot earn money or get a loan from a bank. In principle, they have to leave the temporary housing when they have lived there for five years. But some municipalities are allowing them to live in the temporary housing (rent free) for one more year, considering the situation."
Also of note, mental health issues like post-traumatic stress disorder (PTSD) suffered by both survivors and rescue/relief workers are issues (including depression, alcoholism) that will require ongoing health care attention for many, many more years to come.
My friend Shogo Horiuchi whose family's rice farm in Minami Soma, Fukushima, was flooded by the tsunami, gave me this recent update:
The reconstruction in Tohoku is advancing gradually. There is a difference in the speed of the reconstruction depending on the prefecture. It is more slow in Fukushima. The problem is the radioactivity. In places like Mimami Soma-odakaku, Namie, Okuma, Iitate… People can't live there even now. (Some Minami Soma-odakaku residents might be able to return in April.)
Shogo-san continues, "My family is all good. My younger brother and his wife are good. My nephew is a high school student and my nieces are junior high school students in April. The youngest is becoming a schoolchild. My younger sister and her husband are good. My nephew starts school in April."
As for the Horiuchi family farm, "The recovery effort is behind schedule so the rice paddy still can't be used. A part of it is being used for experimental planting. Overall, the rice crop from Fukushima is suffering from 'harmful rumours' too."
* * * * *
I know that you have been totally immersed in this project for the past several years. At what stage of production is the documentary?
After over 4.5 years working on Tohoku no Shingetsu (A New Moon Over Tohoku), we are just days from being completely finished for release. Sound mix is done. Subtitles done… We should have been finished last week, but as things go along there are unexpected delays that pop up now and then.
A lot of the time, it has been slower because we have been working with almost no money to do things, so have to figure out how to do multiple jobs at one time with two hands and one head.
Of course, we've had lots of great volunteers over the years that have helped tremendously. Without their help, I wouldn't be saying we're days from being finished now.
Knowing that the last post production things like sound mix and conforming cost tons of money and have to be done by professionals with proper facilities and equipment… I saved most of the money we had for this finishing end. So we're limited, but not completely helpless.
And the post production companies here in Vancouver have been giving us good deals. These companies are big and handle a lot of films…mainly movies, drama, TV weekly shows, etc. so it is only natural that their system has breakdowns now and then. It just happened on our project with just a few hours of work left to finish!!!
I have learned over the years that getting upset, worried, or stressed out by things out of one's control, does not remedy or speed up the process. It mostly makes things worse, or people feel badly. These are avoidable and everything eventually gets done.
That's been part of the success of finishing this big project. A lot of patience, a lot of long days and nights, a lot of supporters, and a lot of years…. Who would have ever guessed that it would take this long when I started back in 2011?
I got an email this week from a Tohoku disaster victim which I will share here. I think the Tohoku people express the process better than me.
He wrote:
Dear Linda,

... You were doing great things after the earthquake. You made a donation from the charity concert, and you were distributing a big amount of money through just two papers, making it easy for suffers. We Japanese are so thankful to you. But you were a movie director. I wanted you to make a film and let the people worldwide know about Tohoku.

At that time, I had no idea how hard to make a film is.

But when you started the project, many people who are struck by your fine character support your activity, and "東北の新月 (Tohoku no Shingetsu)" gradually began to take shape.

Now, many many supporters are surrounding you and "東北の新月" is becoming a spirit of Tohoku, or of Japan. Please spread the message I told you to the world; if we pass the Japanese spirit of 和 to younger generation, everything will be fine.

Take care of yourself though.

You are not alone. We are always with you.
This person is not the only Tohoku person that I met in 2011 who asked me to make a film to help tell their stories. There were several in different locations and situations. One person, a doctor, started crying and begged me on hand and knees. Everywhere I went, people needed someone to stop and listen to them.
As you know, for a long time while doing various other volunteer work in Tohoku with the fishermen in the fishing villages and the kids' cloth letters I felt even if they asked me, I declined as I felt no right to make a film to tell their story. I thought it was something that a Japanese filmmaker should do.
But maybe it helped them that I was a "foreigner" who didn't speak much Japanese, a woman, a mother, and grandmother. Most of the filming I did on my own, so there was no crew for them to face.
For three weeks, I had my cameraman from Vancouver come to help me. If I or my cameraman were Japanese, I think there are so much cultural taboos and customs that get in the way of expressing oneself…that these Tohoku people voices and actions would have been more restrained and together we would not have made this Tohoku no Shingetsu.

Can you please elaborate on how being Canadian helped people open up to you?
Not really. I think wherever Canadians go in the world to work, to holiday, or to volunteer, we are welcomed and respected. But it is not only about being Canadian, but having and expressing love and appreciation for life no matter the place, time, language, circumstance, religion, or race. Perhaps as Canadians we have built a healthy multicultural society that respects differences and individual needs and feelings.
It is hard to say why so many people opened up to me. I spent 2.5 years traveling around Tohoku and helping in various ways. Maybe if I had gone in and out in a week, a month, or even a few months, just quickly visiting people once or twice…this trust may not have had time to develop. After so many visits together over all the years, friendships, understanding, respect, love, and trust seems only natural to me.
So it's not just being Canadian. It's about being human.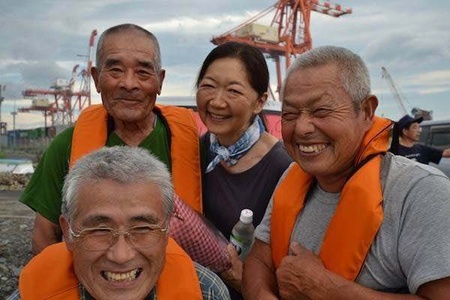 Note:
1. www.pref.miyagi.jp/site/ej-earthquake/nyukyo-jokyo.html