The famous Vancouver Asahi baseball teams have been well-documented and the latest, a movie made in Japan called Asahi was the "icing on the cake". Pat Adachi was the first to write the history of the Asahi franchise in her book titled Asahi: A Legend in Baseball. Jari Osborne followed with a documentary called Sleeping Tigers. Ron Hotchkiss (Diamond Gods of the Morning Sun), Ted Furumoto (More Than a Baseball Team), Norio Goto (Japanese version of Vancouver Asahi), and Ellen Schwartz (Heart of a Champion) continued the Asahi legend with their books.
In 2003, the Vancouver Asahi club was inducted into the Canadian Baseball Hall of Fame and some of the players living at that time were paid tribute before a Toronto Blue Jays game at the Sky Dome. In 2005, the team was inducted in the BC Sports Hall of Fame. Gold medallions were presented to former players or to their relatives. There is a plaque at Oppenheimer Park and a youth baseball league named after the famous Asahi to leave a lasting legacy.
Why did a simple game of baseball ease the negative political climate of the time? Beginning in 1907, it started with the Powell Street Riot. After that, the Hayashi-Lemieux Agreement limited Japanese immigration in 1908. Japanese Canadians were not given voting rights, forbidden to enlist in the Canadian Army in BC, and fishing licenses were curtailed. Well, baseball helped level the playing field somewhat. With their daring base running and bunting, the Asahi's style of play converted many Caucasian fans to cheer for the Japanese Canadian team. The Asahi teams won many championship trophies, and it peaked in 1938 when they won the Triple Championship: Burrard League-Commercial-Pacific Northwest. From 1937 to 1941, they won five consecutive Pacific Northwest Championship.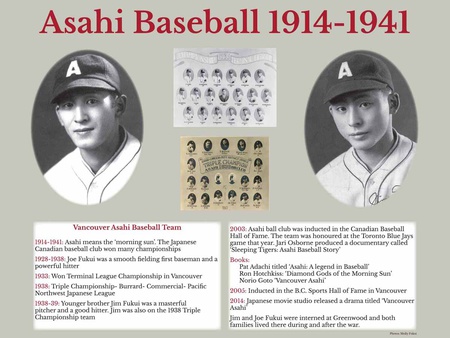 When World War II began, the incarcerated Japanese Canadians were dispersed throughout the internment camps in BC and elsewhere east of the Rockies. Some even went to Japan. The Asahi team was no more. However, many of the players still managed to keep the spirit of baseball alive in the camps.
The last remaining Asahi ballplayer, Kei Kaminishi, was relocated in a self-supporting camp of East Lillooet. Initially, the town of Lillooet did not allow the internees to cross the bridge into town. With the help of the RCMP (Royal Canadian Mounted Police), Kei was able to get a softball game with the local folks. From then on, Lillooet welcomed the new residents. The "ice" was broken.
In Kaslo, baseball broke the tension when local folks found out the skills of the Japanese Canadian ball players. At the Langham Hotel Museum, I found one quote: Hate turned to Love. A game of baseball brought the two groups together.
In other camps, baseball brought pleasure and joy to not only the players but to the fans. A baseball game was a social gathering place where people shared a common bond, cheering for their teams. Ever heard of New Denver Wolves? Tashme Yamatos? Lemon Creek had a league. Sandon found a field to play baseball.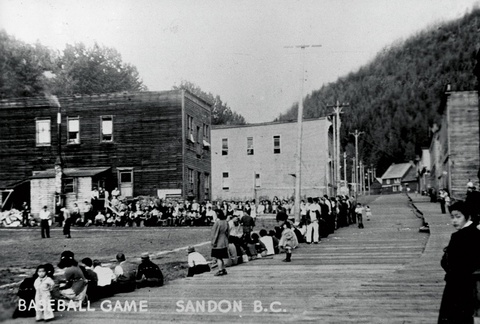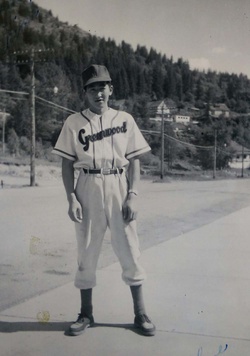 After the war, towns like New Denver and Greenwood had baseball and hockey teams that were integrated. The old saying, "You gotta have Wa" is so true in baseball. Harmony in baseball and in other sports brought people together.
Greenwood Nikkei learned to play cold-climate sports like hockey and curling. Yuki (John) Onizuka was a goaltender in Greenwood in the early years of the internment. He then took his hockey skills to Toronto and established a Nisei Hockey League. Many curlers resumed their passion for this sport when they returned to Vancouver after the war. Hiro Mukai and others started a Nisei Curling League in 1967 and it is still thriving. The venue is now located in Richmond. Many of the curlers came from Greenwood and Midway. Former Midway curlers went a notch above when Fuji Miki became coach of the Japanese Women's Olympic Curling team. His son, Bryan, was part of the world's curling championship team in 2000. Skip Greg McAulay, Brent Pierce, Bryan Miki, and Jody Sveistrup from Royal City represented Canada. Fuji was part of the Canadian Mixed Seagram Championship team skipped by Glen Pierce with Marlene Neubauer, Sharon Bradley, and Fuji in 1982.
Bowling was another sport that brought the Nisei together after the war. Masako Fukawa wrote an article on 5-pin bowling leagues in BC for Discover Nikkei. Reverend Ed Yoshida's introduction to this sport began in Grand Forks in 1947 when he started off as a pin boy. When Ed moved to Toronto, he started his church's Youth Bowling Night in the 1960s.
The first Nisei Bowling League was formed in 1957 at Deluxe Lanes on Hastings and Homer Streets but moved to Commodore Lanes a couple of years later. Fishermen's League bowled at Shellmont in Richmond as well as in Vancouver. YABA or Young Adult Buddhist Association League began in 1965. Mitz Nozaki was called "Mr. Bowling." Fuji League celebrated 50 years of bowling in 2015. Basically, bowling was a "Boy Meets Girl" league. This was where many Nisei found their mates!
Some of the traditional martial arts soon became a sport. Vancouver Kendo Club was one of the earliest when it began in the early 1900s. Steveston Kendo Club opened in 1914. The dojo was named "Yokikan" and the head instructor was Tsuzuki Kenta. In 1920, a 19-year-old Rintaro Hayashi became the head instructor and in 1927, Yuichi Akune took his place. Mr. Hayashi taught kendo in Kaslo during the internment years. When the Japanese Canadians were allowed back to the coast in 1949, Mr. Hayashi, Mr. Akune, and also Mr. Tanigami resumed kendo in Steveston. In 1990, Ray Murao became the club's head instructor and carried through to the 21st century. As a result, Ray was inducted into the Richmond's inaugural "Sports Wall of Fame," located at the Richmond Olympic Oval.
Judo was started by Shigetaka "Steve" Sasaki in 1924. It was a grassroots beginning. Mr. Sasaki had to canvas the local community for financial support. In 1926, Mr. Sasaki's students, Tom Doi and Takeshi Yamamoto, started a club in Steveston.
In the 1930s, judo gained popularity when the R.C.M.P. detachment was invited to a judo tournament. They were so impressed that judo replaced boxing and wrestling in police training.
The highlight of BC judo was when the founder, Jigoro Kano, visited Vancouver for the very first time after attending the 1932 Olympics.
During and after the internment, judo spread right across Canada, wherever the judo instructors chose to live. It wasn't until Doug Rogers of Canada earned a silver medal at the 1964 Tokyo Olympics that judo's popularity took off. There are many judo clubs in BC and other provinces.
Many of the judo pioneers have been inducted in the Judo Canada Hall of Fame.
Sports became life-long hobbies for many Nisei kids. Golf and bowling tournaments are held as fundraisers. Judo and kendo clubs were pioneer sports and they are now established in various parts of Canada. Karate became popular when Bruce Lee became a rage in the 1970s. Many Nikkei youths are now playing hockey and football—the Kariya boys (Paul, Steve, and Martin) and Devon Setoguchi to name a few.
With the Nisei population growing older, they find sports like gateball and lawn bowling more to their liking.
*This article was originally published by The Bulletin: a journal of Japanese Canadian community, history + culture on September 6, 2016.