Most Japanese language schools in Los Angeles, established by Issei nearly a century ago, have the word gakuen in their names—such as Pasadena Gakuen. However, the original Japanese name of "Japanese Institute of Sawtelle (JIS)" is "Sawtelle Nihon Gakuin." 
The difference between the terms gakuen (学園) and gakuin (学院)lies in the original Chinese characters: gakuen means "a garden for learning" while gakuin means "a temple for learning."
For a long time, I mistakenly assumed that "Sawtelle Gakuen" was the Japanese name of the Japanese Institute of Sawtelle. In December 2015, I was invited to JIS's 90th anniversary event, where I heard Miwa Takahashi, principal of the school, say the name gakuin; I also saw the word gakuin printed in the event program.
In Japan, schools rooted in the philosophy of Christianity often have the word gakuin in their names, such as Meiji Gakuin, a university in Tokyo; Kobe Jyo-Gakuin, a women's college in Kobe; and Hiroshima Gakuin, a high school in Hiroshima. Since most gakuen in Los Angeles were established and operated by Buddhists, I speculated that "Sawtelle Nihon Gakuin" may have been founded by Japanese Christians.
I was able to confirm my suspicions at the 90th anniversary event. There, I met Randy Sakamoto, a grandson of Gisuke Sakamoto, who was the founder of Sawtelle Nihon Gakuin. Through several interviews and email exchanges with him, I learned about the history of Japanese Christians in Sawtelle before World War II.
The Japanese community was established in Sawtelle in the 1920s. West Los Angeles Buddhist Church was established in 1928 and West Los Angeles Community Methodist Church was established in 1930. The two organizations are located less than one block away from each other.
According to records from 1930, Sawtelle Nihon Gakuin was operated by a joint coalition of Christian and Buddhist Issei for the purpose of teaching the Japanese language to their Nisei children.
Gisuke Sakamoto came from what is now known as Iwaki City, Fukushima Prefecture, Japan, and he was already a Christian before he came to the United States. He learned English at a school in Tokyo. He then attended Doshisha Academy (now Doshisha University) in Kyoto before serving in the Sino-Japanese War from 1894 to 1895 and the Russo-Japanese War from 1904 to 1905.
Sakamoto ran a silk factory in Iwaki, but as the business began to decline, he was forced to look for new opportunities. In 1907, at the age of 37, Sakamoto moved to the US alone, leaving his wife, his eldest son, and his parents in Iwaki. In 1913, Sakamoto returned to Japan and came back to Los Angeles with his wife Fusa. By 1924, he was also able to bring over his mother, Masa, and his eldest son Orie.
By 1920, Sakamoto was running a grocery store called G.S. Supply Co. near the present-day location of the LA Convention Center in downtown LA. In 1921, he moved the store to the Sawtelle district and in 1925, he was able to build a large new home for his family in the neighborhood. That home is still owned by the Sakamoto family.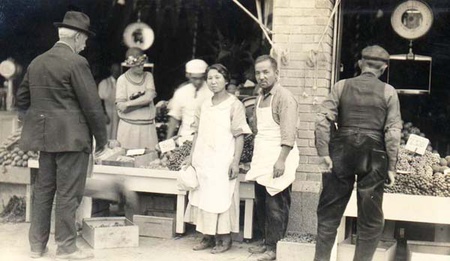 In November of 1925, four children of Japanese immigrants began learning Japanese in a room in Sakamoto's newly built house—this was the start of the Japanese Institute of Sawtelle. Around the same time, a Methodist pastor launched a gathering for Christians, which also took place in Sakamoto's home.
Sakamoto had been a member of the Baptist Church in Japan. He looked for a Japanese Baptist pastor in Los Angeles, but could not find one. Since he had met a Japanese Methodist pastor who promised him regular visits in Sawtelle, a Methodist service was started.
These Japanese Methodists established the West Los Angeles Community Methodist Church in Sawtelle in May 1930. Today, it is known as the West Los Angeles United Methodist Church.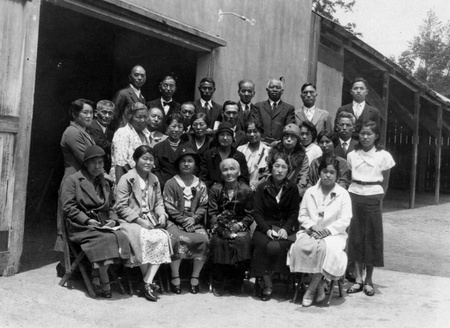 In 1940, the Quaker missionary Herbert Nicholson (1892–1983) came to West Los Angeles Community Methodist Church. Nicholson had just completed 25 years of missionary work in Japan and was a friend to the Japanese community. At that time, the church already owned its building at 1913 Purdue Avenue, and there was a Japanese pastor named Junichi Fujimori. However, Pastor Fujimori developed an illness and Nicholson, who had become fluent in Japanese, was called to take his place.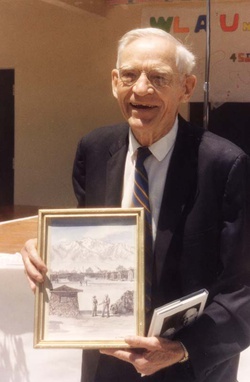 The most difficult period for Japanese people in America was about to begin, and Nicholson experienced it firsthand. On the night of December 7, 1941, Sakamoto and other West Los Angeles Japanese were arrested by the FBI—an event that Sakamoto had predicted to Nicholson. Sakamoto was transported to a federal prison in Missoula, Montana, before the end of that month. Within six months, he was transferred to Manzanar, where his family was imprisoned.
Nicholson became a noted advocate for the Japanese American community during this time. Among many other acts of caregiving, Nicholson drove his truck between LA and Manzanar multiple times to bring supplies to the prisoners and hold services in camp.
After the war, Nicholson helped with war recovery efforts in Japan. He raised money to send hundreds of goats to Okinawa and other devastated areas of Japan to help with food production, earning the nickname Yagi no Ojisan (Uncle Goat) in Japanese textbooks. In addition, Nicholson helped Sakamoto with the establishment of a Christian welfare facility for the physically challenged called Iwaki Fukuin Kyokai (Iwaki Gospel Association) in Sakamoto's hometown.
As for the Japanese Institute of Sawtelle, a classroom building and an auditorium/dojo (training hall) were constructed at 2110 Corinth Avenue in 1929. These two buildings are still in use today. The auditorium/dojo was built with the sponsorship of the Sawtelle Judo Club, and is still owned by the club today.
After the passing of Gisuke Sakamoto following the war, teachers and parents at Sawtelle Nihon Gakuin never had a chance to learn that the founder of their institute was a leading Japanese Christian in Sawtelle.