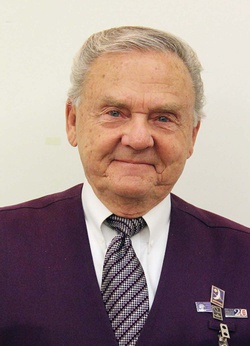 As a volunteer docent at the Japanese American National Museum, Nahan Gluck leads his tours with pride, compassion, and conviction. What many find surprising, and maybe a bit refreshing is that this particular docent does not have an ounce of Japanese in him, biologically that is.
Born in New York, Nahan moved to California when he was six years old. One accidental encounter in the 1950s changed his life in ways he could never have imagined, he befriended Kazuto Hirata, a Nisei. This opened a wide gateway of interest to Japanese American history for him.
They became close friends. When he learned that Kaz was sent to Rohwer Concentration Camp during WWII, he said, "I was really surprised, because he is a Nisei." Nahan, a Korean War veteran, was baffled that an American citizen could be incarcerated for doing nothing wrong.
The friendship between the two continues today, after more than 60 years. Kaz was married in 1957, and Nahan brought his fiancée, whom he married the following year. Nahan said that Kaz's four children grew up at the same time as his two children.
Nahan joined the Los Angeles County Department of Weights and Measures after graduating from college with a BS degree in electronic engineering. He retired from the department, after 38 years, as Deputy Director.
While Nahan and his wife Carolyn were socializing at a restaurant in Little Tokyo with Kaz and his wife Alice, Alice said to Nahan, you know all about the camps, have you seen one? This was late in 1993. Kaz and Alice took them over to the JANM where a barrack from Heart Mountain concentration camp was on display in a parking lot, where the Pavillion sits today.
Alice also suggested that Nahan volunteer there, now that he was retired. He scoffed at the idea. "They're going to take me?" he said. This was an honest reaction from the son of an Irish-born mother and a father of German decent.
Alice mentioned that there was a lecture on the following Saturday about the Museum's next exhibition, Fighting For Tomorrow. Nahan attended it, and it was there that he learned, in depth, about the 442nd Regimental Combat Team and their degree of bravery, loyalty, and patriotism. It is unimaginable that these men, some who were once incarcerated, volunteered for battle. "Here are American citizens put in concentration camps—120,000 of them—for doing nothing but looking like the enemy. This is unbelievable."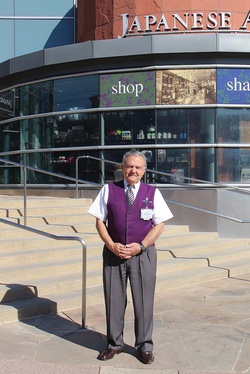 Nahan volunteered in early 1994, "I've been here ever since," Nahan says, almost 21 years later. "This is a wonderful place."
Some of Nahan's most satisfying moments come when he has the opportunity to talk to older people. "When I have senior citizen groups, people over 60, most hakujin (Caucasians)." Nahan explains, "…they tell me, 'When our parents came from Europe; the Irish, the Jews, and the Italians, they experienced racial prejudice too, so what is the big deal?' I tell them the laws. The difference is the laws."
Here are some of the laws he is referring to:
The Chinese Exclusion Act of 1882—the first major law restricting immigration to the U.S.
The Naturalization Act of 1790—limiting naturalization to immigrants who were "free white persons of good character."
California Alien Land Law of 1913—prohibiting "aliens" from owning agricultural land.
Cable Act of 1922—revoked the citizenship of any woman who married a non-citizen man.
Nahan is also in awe of the Military Intelligence Service. "Can you imagine going to the Pacific, at that time, to help with interpreting and translating documents and even interrogating prisoners?" he says. "Can you imagine how brave that soldier has to be, he looking like the enemy?"
Nahan hopes that future generations can study Japanese American history with the same aim outlined in the Museum's mission, "to promote understanding and appreciation of America's ethnic and cultural diversity."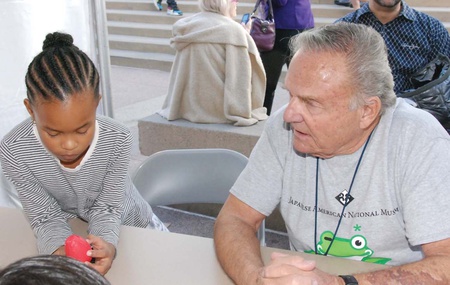 * Mr. Gluck was interviewed by Alice Hama and the article was written by Cathy Haruka Uechi for Voices of the Volunteers: Building Blocks of the Japanese American National Museum, a book presented by Nitto Tire and published by The Rafu Shimpo. This story has been modified slightly from the original.
Presented by