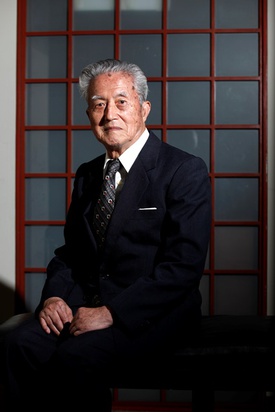 Manuel Yoneyama was 16 when the atomic bomb devastated Hiroshima. It was 8:15 a.m., and Manuel was at home with his parents and siblings. He remembers an intense light ("like a camera flash") covering the sky, and five minutes later a loud bang, or as he describes it, a "powerful boom."
He lived 12 kilometers from where the bomb landed and no one in his family was hurt. For a month after the bomb attack, his parents forbade him from going to the city or the military factory where he worked.
"Luckily that was a day of yasumi (rest)," he says. Teenagers didn't return to school; they had to help out because of the scarcity of labor. Education was a luxury for times of peace. "Everyone had to work, whether they wanted to or not; it was obligatory," he recalls.
After the month-long restriction imposed by his parents had ended, Manuel went to the city, "full of fear and curiosity." Hiroshima had been reduced to rubble. "Everything was burned, everything was destroyed," he remembers. He still didn't know that an atomic bomb had caused the destruction. The details of the catastrophe only gradually became apparent.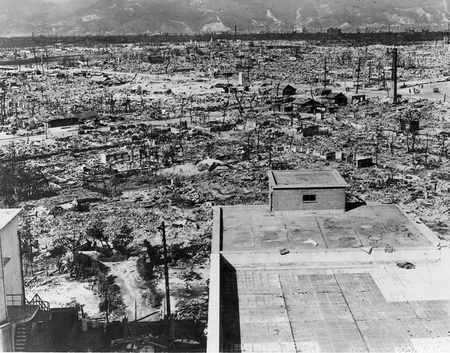 Manuel, who is 86 years old, still remembers the message from Emperor Hirohito announcing Japan's surrender. He was relieved that the war was finally over. Two or three months later, he returned to school, but now there were many fewer students. Almost one-fifth of the students at his school had died in the atomic bomb attack.
After completing his studies Manuel began working on the farm with his parents. Life was normal again. But his future wouldn't be in Japan; he chose to go to Peru, where an aunt and uncle were waiting with open arms. But he would have to stay in Bolivia for almost three years before he could get there.
In 1952 the Peruvian government wasn't accepting Japanese immigrants,1 so he went to Bolivia and from there began the process of immigrating to Peru. It wasn't until 1955, hidden under a blanket in a car, that he crossed the border, traveling through Puno and Arequipa before arriving in Lima. Yoneyama-san often smiles while recounting his dramatic arrival in Peru, which he recalls as a youthful adventure.
In Lima he began working at the store owned by his aunt and uncle and in 1959 he got married.
Since then he has returned three times to Hiroshima. The first time was in 1967. He was surprised at how quickly the city had risen again; the transformation was impressive. There were numerous modern buildings and infrastructure.
Seventy years after the launch of the atomic bomb, Yoneyama-san uses only one word to describe what happened, referring not only to the lethal device dropped by the Enola Gay but to the war itself: disaster.
He remembers the triumphalist rhetoric he heard in school, where the message that Japan must be victorious no matter what was drummed into the students' heads, as if history had predestined it to use military might to prevail over other countries.
But triumph through war, he now reflects, is senseless and devoid of meaning since it comes at the expense of human life.
Manuel Yoneyama is not the only member of his family who survived the atomic bomb and is still alive today; he has a 90-year-old sister who lives in Hiroshima.

"A TRAGEDY, AN OPPORTUNITY"
Pedro Komatsudani, president of Perú Hiroshima Kenjinkai, says the radio was the only way that Japanese immigrants could find out how the war was progressing. And not everyone had a radio, so people met in groups to listen to the news.
Because of static, they couldn't hear the signal clearly. There was a tremendous amount of uncertainty. Was it true that Japan was losing the war?
He recalls that in Peru's Japanese community, two groups formed: the kachi-gumi, who were in denial about Japan's defeat and believed that all information was manipulated by the United States, and the make-gumi, who accepted reality.
In short, all that is in the past.
The descendants of Hiroshima immigrants in Peru don't want to be held hostage to the tragedy. "We don't forget it, but we're looking forward. That's the Japanese spirit of reconstruction, of being better than before. The enterprising attitude is admirable, not the defeatist one. A tragedy, an opportunity," says Pedro Komatsudani.
For his part, Francisco Okada, past president of the Japanese Peruvian Association, would like Hiroshima to be remembered "not for the disaster, but for the technological progress and economic growth it has been able to achieve after suffering that tragedy," and for "transmitting to the world that power and feeling of unity, development, and progress."
He adds that although it is important to remember the tragedy, "We should give more priority to the current situation as an example of development toward humanity."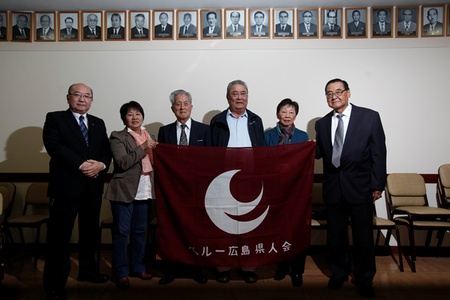 LIFE LESSON
Asami Kawaguchi is 21 years old, and in 2008 she was awarded a scholarship to travel to Hiroshima to learn about the history of the land of her ancestors and become an ambassador for peace upon her return to Peru.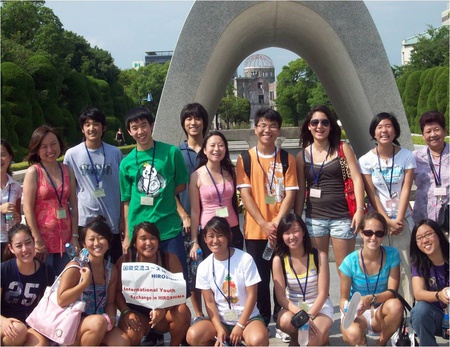 "It was an extraordinary experience. I went thinking, 'How cool, I'm going to Nihon,' but I came back with the idea that 'I've learned about the history of the city that my great-grandparents came from.' It teaches you something, not just as a simple travel experience, but more like a life lesson."
Asami, who studies medicine, recalls that what most impressed her as she walked through the streets of Hiroshima was the difficulty in imagining that an atomic bomb had fallen on that modern, dynamic city.
"You have the idea of 'The atomic bomb, poor people,' but more than feeling 'Oh, how sad that happened to them,' you think, 'OK, it happened to them but they moved forward.' I came back with the idea that it doesn't matter what happens in life; we're always going to have the strength to forge ahead."
"Things may be difficult, but you always have to think about what is ahead. Don't get stuck thinking 'Shoot, this happened to me, poor me.' That's the most important thing for me. To not look for excuses why it didn't work out for you; if it didn't work out this time, next time it will," she adds.
Gonzalo Kitayama is 17 years old and traveled to Hiroshima with the scholarship program in 2012. His experience was more disturbing, as he went to visit the Hiroshima Peace Memorial Museum. According to Gonzalo, one thing is what they tell you or what you've seen in movies and another thing is being there and understanding the magnitude of the destruction.
From the museum, he remembers the clock that stopped at the instant the bomb dropped; the tricycle and helmet belonging to a three-year-old boy who was out riding when the bomb fell;2 and, more than anything else, the impression left on a rock of a person who had been sitting on it and was obliterated by the bomb, leaving their shadow as the only trace of their existence.
From the museum, Asami remembers the plastic figures representing the survivors, with serious burns on their bodies and wandering amid the city's ruins.
Gonzalo, who studies business administration, emphasizes the fighting spirit of the people of Hiroshima. "They always hold their heads up high. They pass on to you that strength, that energy, they make you feel good," he says. He learned two lessons from his experience: to always move forward and to not hold grudges.
Notes:
1. Manuel Odría was the president of Peru. During his term (1948-1956), he was hostile to the Japanese and prohibited cyclist Teófilo Toda, the son of Japanese immigrants, from representing Peru in a South American tournament. Although Toda's papers were in order, the government—without saying why—denied his request for a passport.
2. His father found him still alive, holding onto the handlebars of his wheeled companion. The boy died that night and his father buried him in his garden along with his tricycle. Forty years later, he exhumed his body to re-bury it in a cemetery and donated the tricycle to the museum.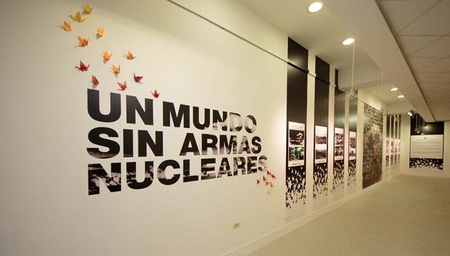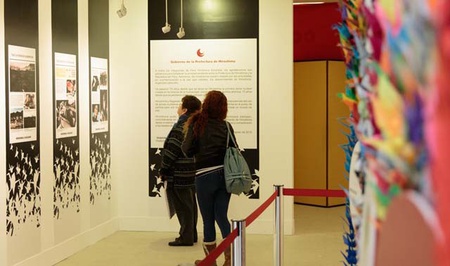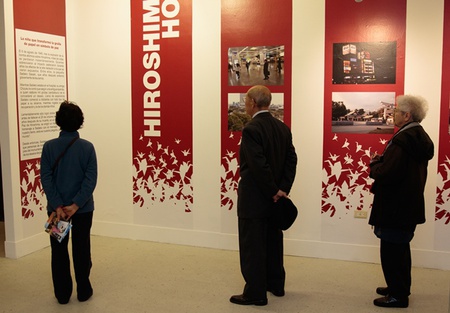 * This article is published as part of an agreement between the Japanese Peruvian Association (APJ) and the Discover Nikkei Project. The article originally appeared in the magazine Kaikan No. 99 and was adapted for Discover Nikkei.