George "Horse" Yoshinaga, a longtime columnist for The Rafu Shimpo and The Kashu Mainichi, passed away peacefully on Monday at his home in Gardena. He was 90.
Born in Redwood City, San Mateo County, to Issei parents from Kumamoto Prefecture, Yoshinaga grew up on a farm in Mountain View, Santa Clara County. After Executive Order 9066 was issued in 1942, he was interned with his family at the Santa Anita Assembly Center and the Heart Mountain War Relocation Center in Wyoming, where he got his start in journalism as a reporter for the camp newspaper, The Heart Mountain Sentinel, edited by Bill Hosokawa. He also befriended many Nisei from the Los Angeles area.
Yoshinaga was among the former internees who were interviewed for The Legacy of Heart Mountain, a documentary produced and written by ABC7's David Ono and produced and edited by Jeff MacIntyre. A football star in camp, Yoshinaga recalled that his team was allowed to play Caucasian teams from nearby towns as long as they came to Heart Mountain.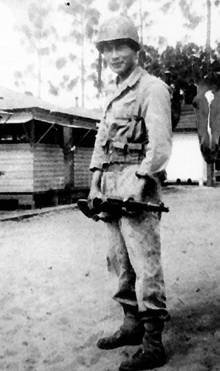 "They probably couldn't play their best game because they would come to camp and the fans circling the field were all Japanese faces," he said. "They couldn't imagine that we knew how to play football because most of the people thought that we were really Japanese. They were totally amazed."
Yoshinaga served in the Military Intelligence Service during the U.S. occupation of Japan. In an essay for the National Japanese American Veterans Council, he shared some of his experiences as a member of the Army's Counter Intelligence Corps (CIC).
"Using our Japanese language skills, we were assigned to interrogate former Japanese military officers in an effort to take into custody those who were considered to be on the 'wanted list' by the U.S. Army," he wrote. "On one assignment we took into custody a high-ranking naval officer who was alleged to have been part of the Pearl Harbor attack. We turned him over to the proper Occupation Forces department in Osaka."
He learned that most Japanese were completely ignorant about Japanese Americans: "As I moved around on my official duties, the most frequently asked question was 'Anata wa Nihonjin desu ka?" (Are you really Japanese?) When I explained that my parents immigrated to America and I was born there, therefore I was classified as an American, they seemed just as puzzled. Some comprehended my explanation but many were befuddled.
"When told of my parents were from Japan, the next question usually was (in Japanese of course) 'Where in Japan did they live before going to America?' 'Kumamoto,' I would tell all of them. During these give-and-take discussions, the tension between us seemed to lighten considerably."
Yoshinaga was among the Nisei veterans who received a bronze replica of the Congressional Gold Medal that was awarded to the MIS, 100th Infantry Battalion, and 442nd Regimental Combat Team in 2011.
Actor, Sports Promoter
His postwar career spanned a wide variety of experiences, including sports management and acting. He appeared in the 1959 movie The Crimson Kimono, a murder mystery set in Little Tokyo. His character, Willy Hidaka, has a scene with LAPD Detective Joe Kojaku, played by James Shigeta. Yoshinaga also had roles in the 1961 movies Operation Bottleneck and Sniper's Ridge.
Yoshinaga created and produced the Japan Bowl, a college all-star football game. A week after the Hula Bowl, the athletes would play in Japan.
In the early 1960s, Yoshinaga went to Japan to work with Rikidozan, a professional sumo wrestler, and was the first person to bring sumo to the U.S. in 1977.
Yoshinaga managed professional boxers who had fights all around the world, including Great Britain, Australia, and Japan. His duties included making all of the travel arrangements.
Walter Dilbeck, who tried to form a third major league of baseball, the Global League, hired Yoshinaga to travel to Japan in November 1968 to recruit a Japanese club or two; he was successful in securing a team. The club would be called the Tokyo Dragons after their manager, Toru Mori, a former star of the Chunichi Dragons. Mori was a five-time, power-hitting All-Star first baseman and right fielder for three clubs in Nippon Professional Baseball from 1958-68. Mori, who had copped the home run and RBI crowns in 1959, had just retired. He brought 20 players and two trainers with him to spring training.
However, the Global League, which also had a Latin American team, was plagued by financial problems and ultimately collapsed.
"I remember one time when all the baseball players were staying at our house," said Paul Yoshinaga, one of George Yoshinaga's four sons. "There were 40 professional-level Japanese baseball players living at our house. Playing catch at the middle of our street—pretty incredible."
Community Newspapers
Through his column, "The Horse's Mouth," Yoshinaga engaged and entertained generations of Japanese Americans, serving as an outspoken commentator on issues in the community, voicing the thoughts, opinions, and interests of many of his fellow Nisei. First appearing in The Shin Nichi Bei and The Kashu Mainichi and, since 1991, featured twice weekly in The Rafu, he earned many fans through his humor, wit, and upfront style of writing. Even those who disagreed with his views would read his column to see what he had to say.
"He's kind of like Donald Trump—you love him or you hate him, but he'll speak his mind," said Paul Yoshinaga.
Michael Komai, publisher of The Rafu, first met Yoshinaga in 1992, shortly after his column first began to appear in the newspaper. Kashu and Rafu were rival publications, but Komai said that he connected with his new columnist through shared memories of working on the linotype machine.
"George kept the community on its toes. Sometimes he was humorous, sometimes serious," Komai said. "A lot of people would read Horse to know what he said, not necessarily because they agreed with him."
"Horse" also worked for The Pacific Citizen, JACL's newspaper, and two San Francisco-based dailies, The Hokubei Mainichi and The Nichi Bei Times.
Yoshinaga often noted that he was one of the few remaining Nisei community journalists. He spoke at the funeral of one of his contemporaries, former Pacific Citizen editor Harry Honda, in 2013.
His son—who as a kid would accompany his father to the office on weekends—recalled the routine at a community paper in the pre-computer days: "When he wrote his column at Kashu, they were setting the type and it was a lot more hands-on … He would write the column, type it on the linotype. Characters would come down [and he would] slide it across, firm it all up, and put it on the press. They actually created the page from the linotype machine. Then they would set the machines off. So from nuts to bolts [it was all done] right there."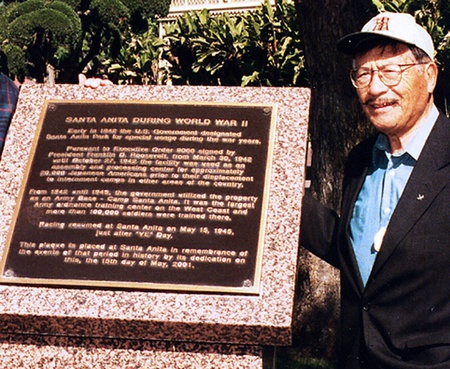 Remembering Santa Anita
Among his many community endeavors, Yoshinaga worked diligently to preserve the memory of the Santa Anita Assembly Center. For many years, he organized reunions for Japanese Americans who remember their time living in the horse stables, and he was also instrumental in securing the installation of a plaque at the racetrack honoring the internees.
During a Santa Anita reunion last year, Yoshinaga received a proclamation from Assemblymember Al Muratsuchi calling him "a distinguished Nisei Japanese American journalist and devoted community activist [who] has brought credit and distinction to himself through his career and civic achievements, and through his many activities, he has improved the quality of life within the local community and throughout the state."
Yoshinaga said that he got his nickname at Santa Anita. "They say it's because I ran on the track, but it's because I smell like a horse," he joked.
He was also honored by Arcadia Mayor Mickey Segal and Los Angeles County Supervisor Michael Antonovich for his efforts. Antonovich noted that Yoshinaga was 15 when he was among 19,000 Japanese Americans who lived in converted horse stalls and hastily constructed shacks from March 27 to October 27, 1942.
Gardena Mayor Paul Tanaka, who has known the columnist since childhood, declared "George Yoshinaga Day" in Gardena.
In recent years, Yoshinaga talked about the possibility of ending his column, but his readers urged him to reconsider. In the last few months, health problems prevented him from writing on a regular basis. In his memory, The Rafu plans to continue running "The Best of Horse's Mouth."
Em Kato Yamada, the 1952 Nisei Week Queen, first got to know Yoshinaga at Los Angeles City College in 1950. He also drove her car in the Nisei Week Parade.
Yoshinaga's wife influenced his writing, she said. "Because of Susie, George mellowed quite a bit. He was quite sarcastic in the beginning."
Yamada fondly remembered her friend. "I said, 'George, we're starting a bowling group.' … He said, 'How about (calling yourself) the Daikon Ashis or the Gutter Gals?' I lost a very dear friend who was always there for me. George had a brilliant mind, a great sense of humor, but mainly we shared lots of laughter together … I shall miss you, but many happy memories remain."
Survived by his wife, Yoshiko Susie Yoshinaga; three sons, Paul (Carey), Mark (Shuxia), and Tim (Mifumi) Yoshinaga; granddaughters, Erika and Juli Yoshinaga; grandson, Vincent Zhao; sister, Mary Mollie Hamasaki; and many nieces, nephews, and other relatives in Southern California, Hawaii, and Japan. He was preceded in death by his son Robin Joji in 2013.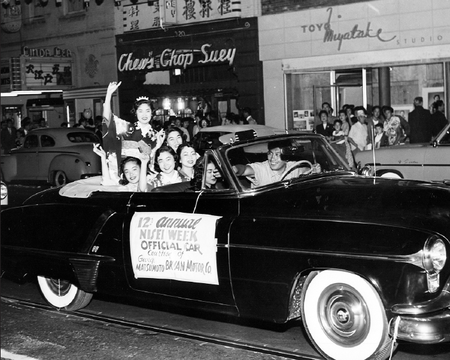 *This article was originally published by The Rafu Shimpo on August 22, 2015.