Sometimes I wonder what my standing is as a Nihonjin here in Seattle. I came from Japan in 1970 and was born in Japan before the war. We are called Shin Issei because we came here after the war. It is good to be distinguished from Issei who came here before the war to pay our respects. They had a hard life and built honorary and reputable positions in U.S. society as Nikkeijin. The train I am riding comfortably while looking at the grand scenery of this great land from the window is indebted to the hard work and loyalty to America of these predecessors who worked in railroads, sawmills, farms, and orchards.
My group of people attending the Montana Tour was made of sixteen people who were mostly Nisei or second generation Japanese Americans. My appreciation goes to Yukie Quick of Nikkei Horizons Seattle and Michiko Pesek of JTB who organized this tour for me to introduce the roots of a Japanese immigrant in Montana to our Seattle Nikkeijin friends.
Our focus of the trip was to visit Whitefish, Montana, where over one hundred years ago, Issei Japanese Mokutaro Hori from Oita Prefecture immigrated and became a successful businessman operating a hotel, restaurant, ranch, farmstead, etc. and donated most of his estate to the City when he passed away.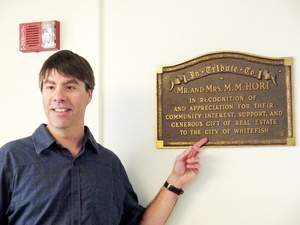 Hori was awarded the "Cowboy Hall of Fame" a few years ago for his achievement within the community. People of Whitefish remember Mr. Hori well even now and the metal plaque in honor of Hori's contribution to the community decorates the front entrance of City Hall. So far, I do not know any other cities in the United States who do this. Our group visited with Jill Evans of Stumptown Historical Society and Mayor John Muhlfeld.
Circa 1900, close to 500 Japanese people lived in Whitefish working mostly on the Northern Pacific Railroad to make their American Dream come true. There was a Japanese public bath, bookstore, and restaurant in town. Hori organized a Cherry Blossom Festival inviting Sumo wrestlers from Japan. Cherry trees he planted in Whitefish never blossomed because of the climate.
In our group, there were several Nisei Americans whose fathers came from Japan and worked as section foremen of the Northern Pacific in Montana. It should have been a sentimental reminiscence trip for them to find their roots of life in America.
Nisei people often mentioned in their conversation during the trip such words they remember, "mottainai," "shikataganai," and "gaman." These words well reflect what they learned about facing adversity on a new continent.
Once, right after I came to this country, I was waiting in a long line to check out of a hotel. A man behind me taught me " Young man, be patient. Patience is virtue." That means gaman and we tend to forget what we learned many years ago.
I was lucky to travel and share each meal with my Sansei and Nisei friends for a few days. Our life goes on from one generation to the next. I hope more young people from Japan come to America to find out their future and make cherry flowers blossom to fulfill the dream of Mr. Hori.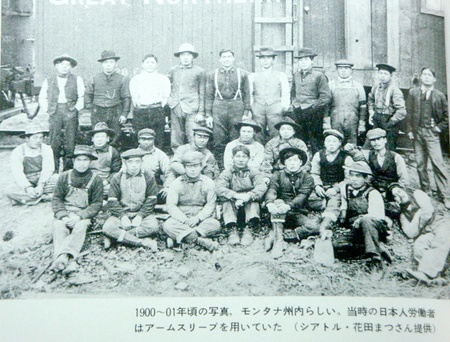 * This article was originally published on The North American Post on June 4, 2015 (Vol. 70, issue 24).