"We were in a number of dangerous situations. But the five days that I spent with 'I' Company and this mission, were really the most memorable. It was five days where I didn't remember days from nights."1 —Susumu "Sus" Ito
The Rescue of the Lost Battalion during World War II is one of the most significant missions carried out by the segregated all-Japanese American 442nd Regimental Combat Team. The haunting details of this suicide mission are widely covered in scores of books and articles.2 However, due to the intensity of the fighting, few images of the actual battles exist. Sus Ito's photographs of the Lost Battalion mission are some of the only known combat photos taken during this mission.3 When the photos are examined as a body of work, there is an unexpected common thread: the men are smiling in some of the photographs. Their expressions did not seem to match up with what is known about the history of the Lost Battalion mission. An examination of the rescue, an explanation of the photographs, and a discussion of historical hindsight here provide some possible answers.
Sus Ito was a member of the 522nd Field Artillery Battalion, C Battery also known as "Charlie" Battery. Sus Ito was a soldier first and a photographer second, and when it was safe he took pictures of his military experience with his 35mm Agfa camera. The 522nd FAB served as the firepower for the 442nd Regimental Combat Team. In this role, they rotated between the front as Forward Observers, and communicated with those in their unit behind the front lines to accurately shoot at the enemy. Many in the 522nd FAB had backgrounds in science and engineering, excellent skills in mathematics, and with precision calculated the distance required to shoot the 105mm Howizter guns toward their targets.4
In the last week of October 1944, after ten days of fighting to liberate Belmont, Biffontaine, and Bruyères in northeastern France, the 442nd Regimental Combat Team received new orders. Without rest or time to recuperate, they were sent on a mission to rescue the 1st Battalion of the 141st Infantry Regiment, made up of men from Texas. The soldiers of the 141st were trapped behind enemy lines and surrounded by German troops in eastern France with very little food, water, and medical supplies. Two other units had tried to rescue the so-called Lost Battalion without success; the Germans had a tremendous advantage in terms of position, and repeatedly ambushed the American troops from their sniper nests.
The terrible weather conditions compounded the challenges of the rescue. George Oiye of the 522nd Field Artillery Battalion, "C" Battery, remembered the conditions: "The rain, snow, heavy clouds, dark fog, and the huge carpet of pine trees overhead made it hard to tell day from night."5 There were no roads in the mountains except for trails, and most were too narrow for large tanks. The forest was so dense and dark in some areas that they had no visibility and had to hold on to the pack of the person in front of them while walking. Furthermore, it rained constantly, making it difficult for the soldiers to keep their feet dry. They did their best to avoid getting trench foot, a condition where sustained foot moisture could result in pain, swelling, and permanent damage to one or both of their feet.
History tells us that General John Dahlquist sent the Japanese American unit on this mission knowing the odds for success were slim. It took six days of intense fighting to rescue the Lost Battalion. S. Don Shimazu, veteran of the 522nd Field Artillery Battalion, Headquarters Battery recalled the mission, "I saw so many wounded and dying fellow soldiers. There were friends holding their comrades in their arms. I ran into 'I' Company, which at that point only had four guys with a PFC (private first class)—Clarence Taba—in charge…the fighting had been that fierce."6 By the end of the mission, I Company had eight men who survived, out of a full strength of 198 men.7 In total, some 800 Nisei soldiers suffered casualties in the process of rescuing 211 men. Their efforts were not in vain as Virgil Westdale, veteran of the 522nd Headquarters Battery remarked in his memoir: "Military strategists would later conclude that our unit should have never been sent into action to save the 141st Battalion. However, if the soldiers and families of the 141st were asked, I'm sure they would answer differently."8 Years later, Senator and 442nd veteran Daniel Inouye recalled: "I am absolutely certain that all of us were well aware that we were being used for the rescue because we were expendable."9
Sus Ito did not take many photographs during the actual rescue of the Lost Battalion. However, he did take a photo of Sgt. George Thompson during the battle, which Ito deems the most memorable photo he took. George Thompson was not even supposed to fight on the front lines, but he had begged Ito for an assignment so he could see what war was like. Ito agreed, allowing Sgt. Thompson to carry an extra set of radio batteries for the unit. Little did they know at the time that they would be a part of a rescue with such historic significance. Reflecting on this striking photograph, Ito said: "George Thompson didn't put his hands in front of him because he was down, or because he hated the thought of war. He was just trying to hide. Maybe he was trying to erase some of the images of what the Lost Battalion mission was like."10
Other photographs from the Lost Battalion mission that Ito took include men riding on a jeep in the forest, several men in a tank, and soldiers standing and talking to each other. The thick forest is prominent in the background of each photograph, the men appear fatigued yet relieved, and there are several men smiling. Their smiles seem inconsistent with what we know about the tremendous difficulty and number of casualties sustained by the 442nd RCT. At the time the rescue of the Lost Battalion was taking place, the men in the 442nd RCT did not know they were making history. They did not have the hindsight that we have. All they knew was what their individual assignments were. Their objective was to survive intact while digging foxholes, stay dry, protect their feet, all the while eating dry meat hash with crackers for days. It was only after the casualties were accounted for that the dead and wounded outnumbered the living and uninjured.11
Perhaps the men photographed after the Lost Battalion mission were smiling because they succeeded in the near-impossible rescue effort. They survived against harrowing odds and their happiness was captured by Sus Ito's camera. Although the soldiers' expressions are at odds with our expectations of the aftermath of a grisly mission on a World War II battlefield, the images teach us a lesson. The photos are a reminder that we in the present have a responsibility to view them as primary sources within the context of their time and place in history, even though it is not what we would expect.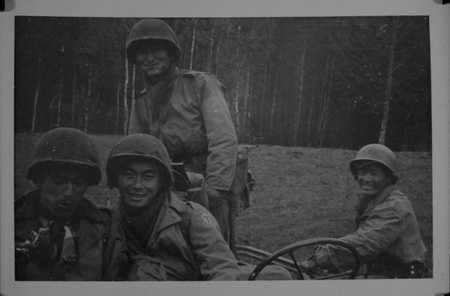 Notes:
1. Sus Ito, oral history interview with JANM staff, Boston, MA, October 2014.
2. For more information about the Lost Battalion mission see Thelma Chang, "I can never forget" Men of the 100th/442nd ,, 1st edition. (Honolulu: Sigi Productions; December 1991); Lyn Crost, Honor by Fire: Japanese Americans at War in Europe and the Pacific. (Novato: Presidio Press, 1994); Chris Shigenaga-Massey, "The Rescue of the Lost Battalion" Honolulu Magazine, November 1985, Issue volume 100-101, 152-156.
3. Many of the photographs from the Susumu Ito Collection are showcased in the exhibition, Before They Were Heroes: Sus Ito's World War II Images.
4. 522nd Field Artillery Battalion http://encyclopedia.densho.org/522nd_Field_Artillery_Battalion/, (Date accessed 19, February 2015).
5. http://www.freerepublic.com/focus/vetscor/839074/posts, February 9, 2003 (Date accessed 19 February 2015).
6. Ibid.
7. Edward Yamasaki, ed. And Then There Were Eight: The Men of I Company 442nd Regimental Combat Team, World War II (Revised 1st Edition, 2007) Item Chapter; 1st edition (2008), 56.
8. Virgil Westdale with Stephanie A. Gerdes, Blue Skies and Thunder: Farm Boy, Pilot, Inventor, TSA Officer, and WWII Soldier of the 442nd Regimental Combat Team. (New York: iUniverse, 2009) 144.
9. Brian Niiya, editor, Encyclopedia of Japanese American History: An A-to-Z reference from 1868 to the Present (Los Angeles: JANM, 2001), 260.
10. Sus Ito, Oral History Interview with JANM staff Boston, MA, October 2014.
11. Yamasaki, And Then There Were Eight, 72.
* The original version of this article was published on First & Central: The JANM Blog on July 16, 2015. It was expanded for publication on Discover Nikkei.
* * * * *
Before They Were Heroes: Sus Ito's World War II Images
Japanese American National Museum
July 14 – September 6, 2015
Before They Were Heroes: Sus Ito's World War II Images is the inaugural exhibition in Sharing Our Stories, a new series of exhibitions drawn from JANM's extensive permanent collection. A celebration of the donation by Susumu "Sus" Ito of his vast archive of photographs and negatives taken while on duty during World War II, Before They Were Heroes gives the public a rare and breathtaking look at the daily lives of the 522nd Field Artillery Battalion of the celebrated all-Japanese American 442nd Regimental Combat Team.